In terms of dramatic progress, Samsung only made little improvements on the Galaxy Z Fold generations it launched. But that is something the company is looking to change in future models and possibly starting on the Galaxy Z Fold 5. This is all thanks to a full-rotating hinge and specialized display.
During CES 2023, Samsung's subsidiary Samsung Display has shown off a prototype foldable smartphone with a type of flexible panel which is dubbed "Flex In and Out" as stated by The Verge. Accordingly, the display can be folded inward and outward unlike the single flex-direction on the current Galaxy Z Fold 4 (and previous models). It added that the design is enabled by a new waterdrop hinge that supports 360-degree rotation.
Fewer dust and fewer wrinkles on the Samsung Galaxy Z Fold 5
Besides the full folding mechanism, the hinge is said to remove the U-shaped gap between the display and allows the two sections to be completely flat when in folded form. This may also give Samsung's next-gen foldable a higher dust protection rating on top of the water-resistance protection.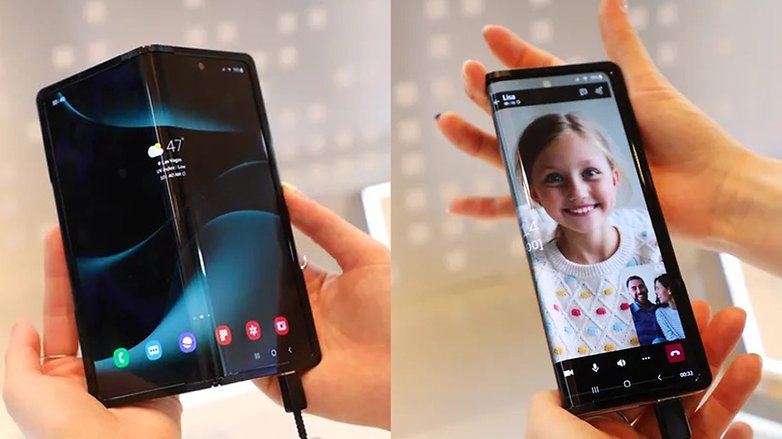 Another matter Samsung could be able to solve, or at least minimize, by incorporating the component is the amount of crease at the center of the display. To recall, the Galaxy Z Fold 4 (review) arrived with a screen crease when fully opened, but it has been slightly reduced coming from the Galaxy Z Fold 3. 
It's unclear if all of these technologies will debut on the upcoming Galaxy Z Fold 5. But what has a slightly higher chance of arriving is the waterdrop-shaped hinge that was earlier reported by a South Korean publication. Also, it is worth noting that Samsung Display and Samsung Electronics are separate divisions in the (huge) Samsung group, so even though the CES prototype is using One UI, there is no guarantee that it was the future Fold 5. 
Samsung's Galaxy Z Fold 5 and Galaxy Z Flip 5 are expected to be announced in August this year. There are no words yet about the other specifications aside from that they could ship with Qualcomm's premium SoC. Likewise, what new foldable tricks are you looking forward to seeing most?