Xiaomi has inflated its inexpensive fitness tracker to the size of a smartwatch with the Smart Band 7 Pro. How much better is the device compared to the Xiaomi Smart Band 7? That's exactly what we set to find out in this detailed review.
Good
Large, beautiful AMOLED display

Appealing design

Integrated GPS

Good workmanship

Many sports modes supported
Bad
Still no NFC

A bit too expensive

Chaotic app experience

Too little innovation for a "Pro"

Vibration motor is annoying

No wireless charging supported
The Xiaomi Smart Band 7 Pro in a nutshell
After the Xiaomi Smart Band 7 (review), Xiaomi also introduced the Pro model and introduced it in various parts of the world, Europe included. What can the Xiaomi Smart Band 7 Pro do? Basically, it does everything that its little brother churns out, in addition to integrated GPS and a larger AMOLED display. Thus, the watch becomes a wearable that blurs the lines between fitness tracker and smartwatch somewhat, at least in terms of its looks.
Technically, not much has changed compared with the standard model. Therefore, the "Pro" in the name is a bit of an overkill for me.
The Smart Band 7 Pro is the fitness tracker for people who are looking for an inexpensive tracker like the Smart Band 7, but with a larger display. It also caters to those who want to leave their smartphone at home during sports. 
The device is available for an MSRP of $120. Currently, Xiaomi itself offers the Smart Band 7 Pro for just $110, which is pretty reasonable.
Design and display
The display grows to 1.64-inches and presents itself in a wider, rectangular smartwatch format compared to the previous models. The design also suggests a smartwatch rather than a fitness tracker with a rather high-quality look despite the plastic chassis.
---
What I liked:
Appealing design.
Good workmanship.
Nice and large AMOLED display.
Adaptive display brightness.
What I disliked:
Display could be a bit brighter.
Adaptive brightness could be improved.
No speaker included.
---
If there is one thing that I can say about this, the device does look great on my wrist. I like the change from the elongated form factor to the rectangular look as it looks nicer and more sophisticated. In addition, this makes the display easier to read compared to its slim predecessors. Compared to the Smart Band 7, the diagonal size of the display increased only from 1.62- to 1.64-inches. However, that tiny bit of improvement has made a huge difference in distributing information. Everything is presented in a far more logical and clearer manner, and the legibility of information shown increased by leaps and bounds.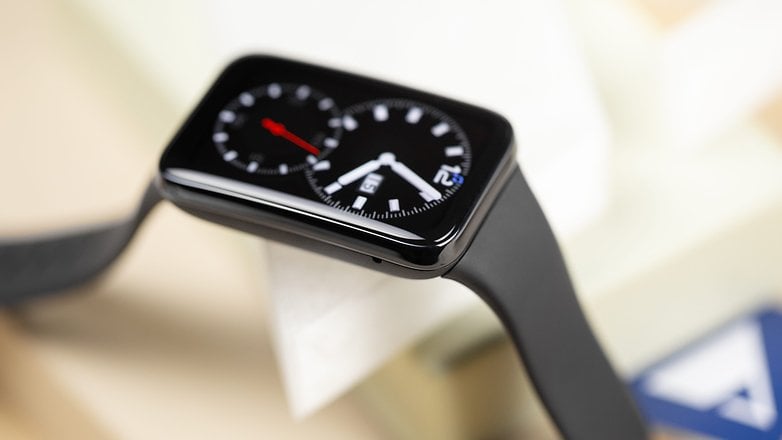 The Pro's dimensions are as follows: 44.7 x 28.8 x 11 mm, tipping the scales at 20.5 grams. In comparison, the Smart Band 7 measures 46.5 x 20.7 x 12.25 mm and weighs 13.5 grams. This means that the tracker has shrunk by a wee bit not only in terms of length but thickness as well. Despite the additional weight, the device wears almost as comfortably as before and is hardly noticeable on your wrist.
The closing mechanism has been revised, with the solution selected here featuring a pin that closes better to my liking and also holds better. By the way, the wristband is once again made of plastic (TPU), and replacements are offered in several colors to suit your taste. Speaking of colors, there are black and white to choose from. We received the black model as our review unit. Both variants are made of plastic, whereas the frame wants to look as if it is made of metal with its paint finish. Don't go trying to see how durable it is, because it isn't!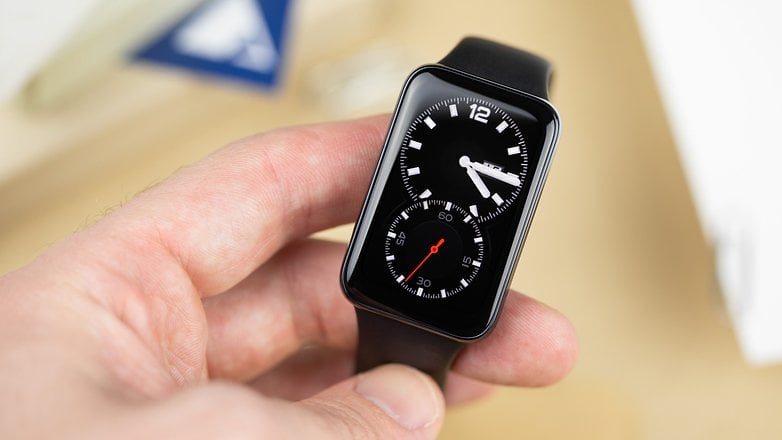 Once again, there is nothing much to complain about in terms of workmanship.
Despite the liberal use of plastic, the fitness tracker looks more expensive than it actually is. The AMOLED display is also very appealing to the eyes.
The pixel density remains at 326 ppi with a resolution of 280 x 456 pixels. The 500 nits actually provide enough brightness, but I somehow hoped that Xiaomi would improve the Pro version.
However, that is just complaining on a high level. Even when outdoors, the screen is mostly easy to read. When I forgot to switch to DND mode last night, I suddenly looked into a display that seemed so bright at three o'clock in the morning that I briefly considered running with my sunglasses on.
Unfortunately, there is a step backwards in terms of brightness: While the Smart Band 7 introduced a stepless brightness control, I can now only select one of five levels again. Weird. However, the long-desired ambient light sensor is finally included, which automatically adjusts the brightness whenever you select this mode in the settings. Xiaomi calls this "adaptive display brightness".
Software and operation
Operating the Xiaomi Smart Band 7 Pro is a pretty straightforward matter via the display. Thus, there is no physical controls like a crown or a button.
---
What I liked:
Optimized user interface.
Logical operation.
What I disliked:
App could be refined further.
Too many steps required to access the desired sport mode.
Vibration motor is annoying.
---
The 
big plus point of this model, in my opinion, is the clear layout of the user interface
The various screens make perfect use of the width of the panel, so even those with less-than-perfect eyesight can still view all information shown with but a single glance. Unfortunately, this does not apply to all areas of the software. For example, the music widget could easily show me more of the song title than just the first few letters, which doesn't really help.
The situation is similar when it comes to notifications: You receive every WhatsApp message, weather forecaset, and information about incoming calls delivered to your wrist. However, you can only read the first letters in each case. I also noticed that not all emojis in WhatsApp can be displayed properly.
Speaking of notifications: I was really scared when the vibration motor fired up for the first time. What's good about it is how you can change the intensity of the vibration in the settings. As for what's not that great, the only change you can make is to have it vibrate at an even stronger level.
All in all, this is not really a problem for me. What I found worse was how Xiaomi did not receive any memo about its chaotic app. When setting it up, I first tried Zepp Life (previously Mi Fit), but the QR code cannot be scanned. You cannot use this app, which the Smart Band 7 supports without a problem, with the Pro version.
So we tried it out with the Mi Fitness app. It took me several tries before the QR code could be scanned. Alternatively, you can also find the model in the app, and the pairing process worked smoothly. The unrefined app is also annoying because both apps do not offer identical features. Google Fit is supported by Zepp Life, but not by Mi Fitness. I would finally like to see decent software support from Xiaomi for the Smart Band 8!
Otherwise, I do not miss any hardware buttons or any other physical element during operation. If you swipe down, you can view notifications. A swipe up will take you to the app drawer. A swipe to the right presents you with the quick settings and to the left lets you scroll through the various widgets.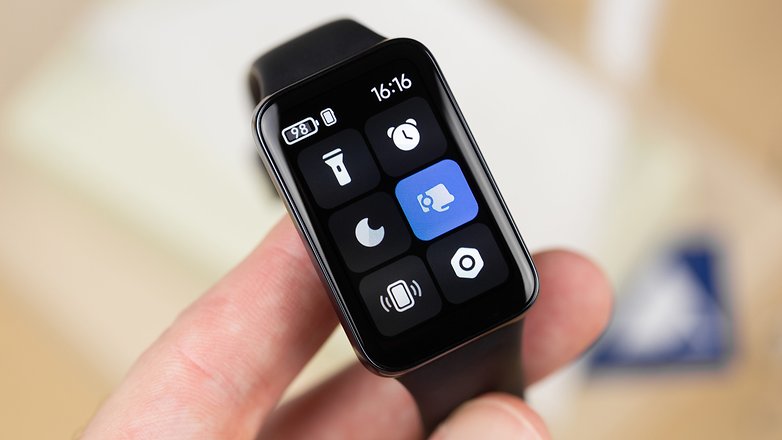 I found it a bit annoying when I selected an activity that goes beyond walking, running, or cycling. Sometimes it takes a lot of steps to get to the desired activity in sports mode. Swiping up from the bottom, tapping "Training", and then selecting the sport – there is no guarantee. You'll only find a handful of sporting disciplines there, where you then have to tap again at the bottom to display more. There, you will be presented with different options like "Dancing" or "Ball sports", which summarize several sports. You then tap on them and search for the appropriate sporting activity. Either that, or you remain in the previous screen and select another menu at the bottom, where you can even choose something else like racing.
It is great that there are so many supported sports modes, but it is rather mediocre to downright annoying when you have to navigate through the menu for a long time to arrive at your desired sporting activity. Otherwise, the Mi Fitness app does at least offer you options to organize apps and widgets according to your preferences. By the way, you will also find what you are looking for in this app when you want to change the watch faces. Five of them arrive preinstalled, and you can download a few more online. However, there are significantly fewer watch faces available than Xiaomi promises on its site with its "over 150 watch faces".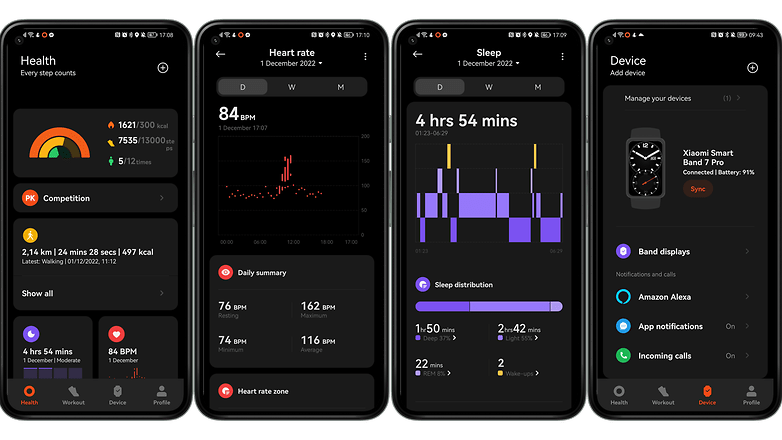 Aside from that, the app's layout is familiar to anyone who has used it before for another device. You choose from the four tabs "Health", "Training", "Device" and "Profile" and have all the recorded data shown there. Unfortunately, there is still no "mobile payment" option in the app.
Features and tracking: Where are the new functions?
Pulse, SpO2, sleep tracking, cycle tracking and more:
The Smart Band 7 Pro can pretty much do what the Smart Band 7 can do – plus GPS!
---
What I liked:
GNSS/GPS.
Alexa support.
Many sports modes…
Competition mode.
What I disliked:
… fewer sports modes than the Smart Band 7.
No NFC supported.
Not much more value compared to the standard model.
---
This is the section that I will keep short, or where I refer to the review of the Xiaomi Smart Band 7. Heart rate monitoring and SpO2 tracking takes place constantly since the Smart Band 7 was released, and the other functions remained almost identical. The only new feature is a competition mode, which gives you the option to compete against friends.
The biggest feature update is undoubtedly having GNSS support. This is the long-awaited integrated GPS, which is finally part of the setup. Users can now leave their smartphones at home and track their routes with the help of the fitness wristband.
By the way, I did not emphasize on whether the tracking worked well in a standalone device. That is because I ran into a few difficulties during the review. Basically, the Xiaomi fitness trackers offer very reliable and precise tracking. Now, I wanted to create a fancy comparison picture for you: This is how the Smart Band 7 Pro tracks with smartphone support – as well as with the standalone GPS.
The results were rather out of whack, because there was a segment which was tracked using the smartphone in the initial days, while tracking using the identical route with nothing else but the Smart Band 7 Pro was interrupted. I'm still thinking about what caused the tracking to pause several times during the running route. Before I make a final assessment, I want to spend a few more days with the device and will then update this section of the review accordingly.
But I will say this much: Initial laps with smartphone delivered the usual precise results, and apart from the dropped signal, the tracked route looks very good even with the smartband's own GPS. Therefore, I suspect a different type of error occurred and do not want to let that negativity be reflected for the moment. You'll receive an update on the matter in a few days' time, I promise!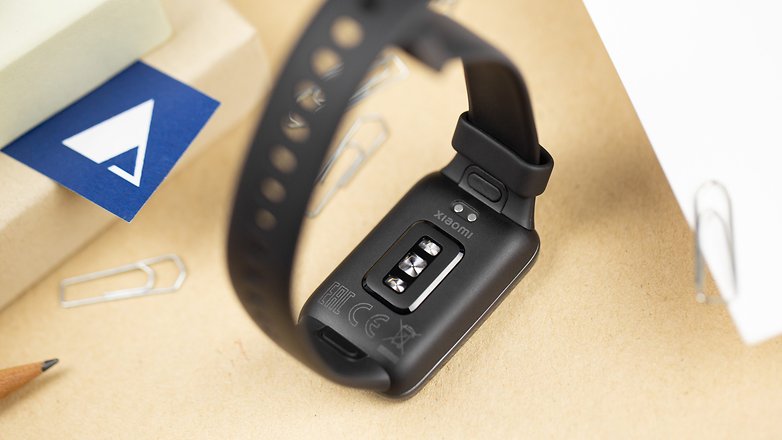 Beyond that, there is very little else in terms of new features. Pulse, SpO2, sleep tracking, the now common "women's health" aka menstrual cycle tracking, we know all this from its little brother and of course, find it again in the Smart Band 7 Pro. As with the Smart Band 7, there are again a three-digit number of sports modes supported. Only my favorite sports – archery, cream pie eating, and karaoke – are unfortunately still not included.
But all jokes aside, there are actually "only" 117 sports modes instead of the 120 on the Smart Band 7 for some reason, so that's a strange downgrade, isn't it?
Also, please bear in mind that the tracking only ever shows approximate values. Steps and distances sometimes differ from more expensive wearable devices and values for pulse, etc., do not replace proper medical advise in any way. I find the "stand up" tracking rather curious in this context as I don't know how the tracker got the idea that I only got up five times today and suspect that the displayed value is simply made up.
To test this, I got up several times in a row and also walked around for a few steps. Not to brag, but I stood up more times during this review than Rocky Balboa did in the first four parts combined. Still, the app detected that I only stood up twice.
What is the reviewer trying to say? That there is basically not very much that is new functionally in the Pro model and I ask myself whether we are actually dealing with a Pro variant here or merely a Smart Band 7 "Plus".
Xiaomi Smart Band 7 Pro battery
More capacity, but also a larger display: In reality, this means that the battery capacity is higher, but the battery runtime drops. It is a pity that there is still no wireless charging supported.
---
What I liked:
Charges completely in one hour.
Battery life is sufficient.
What I disliked:
No wireless charging.
Short charging cable.
---
The battery has grown from 180 to 235 mAh. On the other hand, the battery life communicated by Xiaomi dropped from 14 to 12 days. In reality, I am somewhere in day 6 out of 14 on a full charge, and that with some pretty heavy usage pattern. Now the damper for those of you who want to purchase this Pro fitness tracker: With very intensive use, you will drain the battery empty in just two to three days!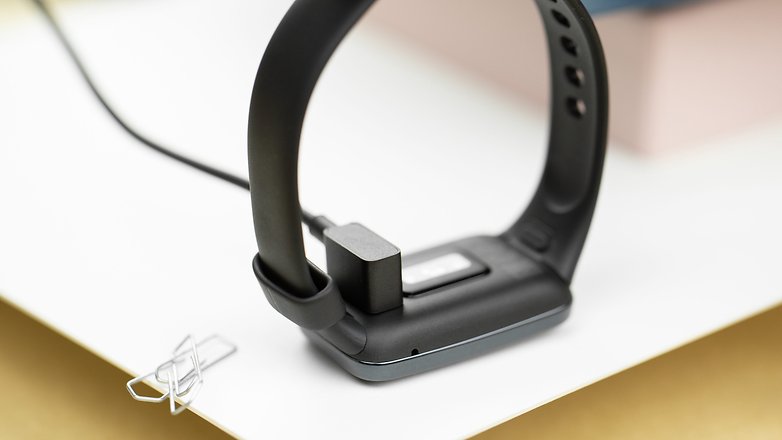 It sounds scary, I know. However, I don't think you'll have to make the trip to the opwer outlet every 48 hours. During the review, I turned on everything the device had to offer. Always-on Display was activated at all times, I really had every notification sent to the device, and so on. Without AoD and trying out every feature, I am sure that it would have lasted at least twice as long with daily intensive use. Twelve days is somewhat a stretch in my opinion, but with very minimal usage, you should be able to achieve anywhere from six to seven days of use.
Finally, my usual gripe with Xiaomi's fitness trackers once again: there is a short charging cable included that charges the fitness tracker magnetically. Why can't they just make that cable some 20 to 30 inches longer? Wireless charging is also still not supported. However, the device charges quickly: It takes only an hour to fully charge the device.
Conclusion
Well, what do we think of this device? I've looked at reviews of the Smart Band 7 Pro on other sites and some of them consider it the best fitness tracker around. I can't quite share this optimism. I love the larger display and the GPS support. But does that alone make a Smart Band 7 a Smart Band 7 Pro?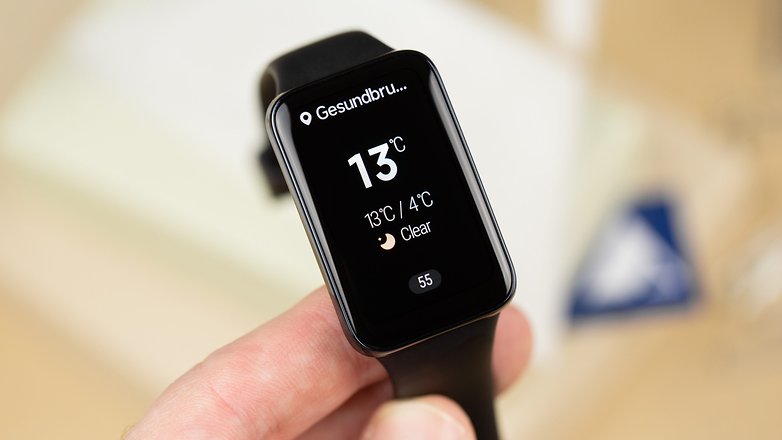 To be honest, I just don't see this as a "Pro" model. Functions have only been added in a very minimal manner. There is even a downgrade in the sports modes and in terms of brightness level! I believe that the fitness tracker does all that it can do similarly well as its little brother. The bottom line is, the best inexpensive fitness tracker has received a nice display and GPS upgrade. The problem is that the device is simply not that cheap this time around. Xiaomi itself charges $120, which is too much in my opinion. Sure, GPS is not par for the course in this price range, but the competition offers much better training support and statistics.
Xiaomi has simply not moved ahead enough over the last two to three years. The time has probably been spent on making sure that we users are completely confused by the confusing app. This is because price and performance do not go well together with the Smart Band 7, hence I would only like to award it four out of five stars. Despite all the complaining, I think that is justified because the Smart Band 7 Pro still does many things very well.
So, is this a buy recommendation or not? I think $120 is just too much for such a device. My personal sweet spot would be around $80, so keep your eyes peeled for corresponding deals!
If you already liked the Smart Band 7 and want a larger display and GPS, you can buy it without hesitation.
No editors were tortured or injured for this review.