You don't have to go to the desert to enjoy the World Cup. Fortunately, we're bringing the World Cup to you and the winner gets a Dreadbox Hades. Want to play? Follow on to find out how.
How to play?
To begin with, we have The Synth World Cup Group Stage.
It's very simple to play:
STEP 1: Choose who you think would win in a head-to-head between the two synths in the picture
STEP 2: Submit your answers at the end
That's it!
We will then monitor which synths receive the most votes and they will be moved on to the next stage to be played next week.
We appreciate the group stage in Qatar is a mini-league but we'll be here forever trying to logically work that out. Therefore forgive us, but the group stage is also knockout…!
What does the winner receive?
A Dreadbox Hades worth £349 inc VAT.
Full Analog Circuit only with Through Hole Components
1x VCO with 2 suboctaves (3 voices in total)
Pulse width and Glide controls
3-pole 18dB/oct Resonating Low Pass Filter
OTA Distortion Circuit for extreme sounds
OTA based VCA
2 envelope Generators
– Attack, Decay/Release, Sustain (extra snappy and patchable)
– Attack, Release (VCA hardwired)
Triangle Wave LFO
8 point patch matrix Eurorack compatible
5 MIDI Octaves from C0 up to C5 or unlimited via CV/Gate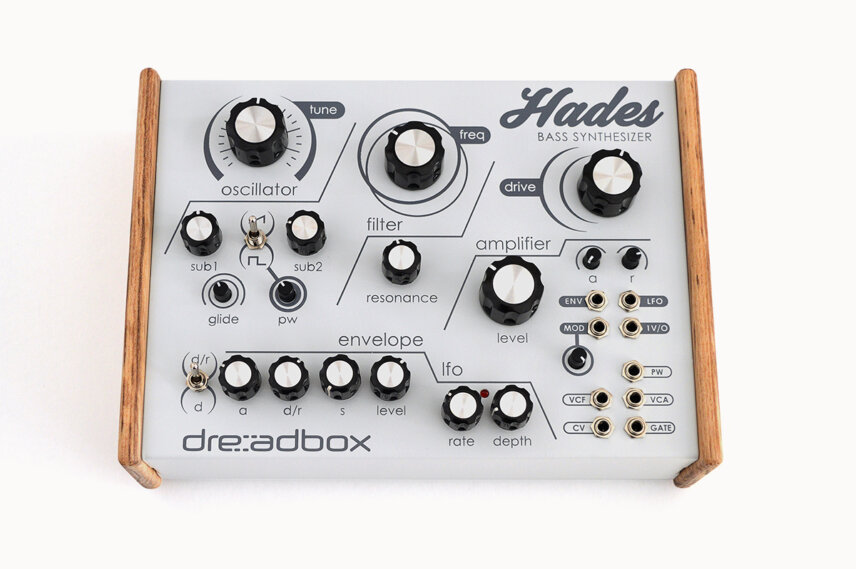 When will the winner be announced?
There will actually be two winners announced on December 20th on Attack Mag and Attack Magazine socials.
WINNER 1: The synth that has made it to, and won, the final. I.E Which is the most popular synth.
WINNER 2: A player, decided at random, from those who chose the winning synths at every stage of The Synth World Cup. They get to win the Dreadbox Hades and be The Synth World Cup Winner. What a honour..!
Let's go – Golaaaaaaazzzzzzzzoooooooo!!
About KMR
KMR Audio is home to all the best and latest analogue and digital recording studio equipment. We are the UK's leading pro audio supplier, and can set up new studios from design to installation. We also provide technical assistance and support on everything we supply.

FULL TERMS & CONDITIONS
Standard prize draw terms and conditions apply.
Our competitions are open to anyone from around the world **
The competition closes on December 20th 2022 at midnight GMT.
No purchase is necessary to win.
The winners agree to provide a photo, by email only and will allow us to display it on the Attack Magazine website, social media and newsletters along with their first name and county or city of origin. Please send photo's at the original size, we will edit them to the correct size. The photo must be of you and the prize with any text we provide. The winner must be visible in the photo with their face clearly in view.
We may occasionally ask for a picture before the Facebook prize is sent out as recently we have had many winners forgetting to send us picture.
If the winner refuses to provide a photo their claim will be void and another winner will be selected.
Winners will be announced on the Attack Magazine website or social media channels.
Winners must claim their prize within set time limits, within one month after the winner is announced on social media and Attack Magazine.
Attack Magazine and KMR Audio will offer free delivery to all UK winners. If the winners are located outside the UK standard delivery charges will apply. All delivery charges must be paid before the prize is despatched.
We are a UK based company so all timings are at UK time.
Liability for any applicable taxes imposed by any government, if any, on any Prize won is the sole responsibility of the winner of such Prize.
Employees of Attack Media Ltd or KMR Audio are not eligible to enter our prize draws.
By entering this competition you agree to receive a newsletter from Attack magazine and KMR Audio. You will of course have the option to remove yourself from either mailing list at any time.
Winners are selected at random from all valid entries.
The winners MUST be a fan our Facebook and Instagram page to be eligible.
If your prize is returned to us through the post marked 'undelivered', through no fault of our own, you will be responsible for the delivery charge to cover the second delivery attempt before we can send your prize back out to you.
Prizes cannot be returned for a refund or exchanged for other products. If the prize is broken or defective on arrival we will replace it with the same make and model where possible. If we are out of stock of that product Attack Magazine and KMR Audio will pick a suitable alternative of equivalent value.
You cannot earn VIP points for winning prizes.
Attack Magazine's decisions are final and no correspondence will be entered into.
**Countries we can not ship to and are exempt are Russia, Israel, North Korea & China.
Related