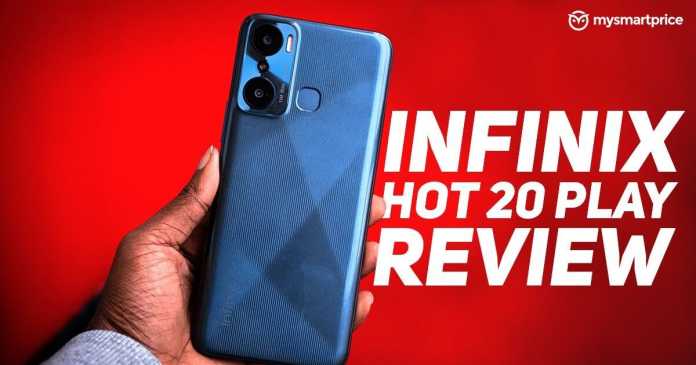 Infinix has been trying to prove its mettle in almost every product category in India. The company's recent foray into the market has seen it make laptops, audio products, and TVs. But, the China-based tech maker's forte has always been budget smartphones. Infinix smartphones have been playing ball in the sub-Rs 10,000 price segment for a couple of years and have been favourites for budget-conscious young audiences.
This brings us to two brand new devices in the Hot 20 series, namely Infinix Hot 20 Play and Hot 20 5G. In some regards, this is a leap forward from their bestselling Hot 12 series. For this review, we will be taking a look at the Infinix Hot 20 Play, the lower-priced 4G sibling among the two.
With specifications such as an Helio G37 SoC, a 90Hz HD+ display and a 6,000mAh battery packed in a box worth Rs 8,999, the Hot 20 Play goes up against the Moto E22s and Realme C33 (Review). So, is it the right pick? Find out in our review.
Infinix Hot 20 Play Review: Design and display
There's usually not a lot of room for experimentation in smartphones under Rs 10,000 as there are obvious budget constraints. However, most OEMs try their best to keep the phones in line with some upper-budget series of devices. The Hot 20 Play is not the best-looking device out there, but the back panel looks fairly decent, and the dual-camera setup could raise questions about its price. The device is available in four colourways: Luna Blue, Fantasy Purple, Aurora Green, and Racing Black, the last of which we received. This colour looks rather bland, and if you are someone who likes flashy colours, the green colour variant might entice you.
Unlike the flamboyant approach of the Realme C33, the Hot 20 Play seems to be a bit more conservative in terms of its design approach. The back panel showcases a bunch of straight-lined patterns on it, but it has no texture. It's a glossy finish and does not entertain a lot of fingerprint smudges or dust, at least on this colourway. It's made out of plastic, and a few casual drops did not cause any harm. It comes bundled with a TPU case for such unfortunate events.
The rear panel is home to a dual-camera setup and a LED flashlight. The camera setup does not protrude much, and the imbalance, when kept on flat surfaces, is minimal. It also houses a fingerprint sensor at the back. The sensor is placed a bit higher than what we would've preferred, getting used to the placement needed some time. The right side of the device has a power button and volume rockers. The button quality is fairly decent and feels clicky.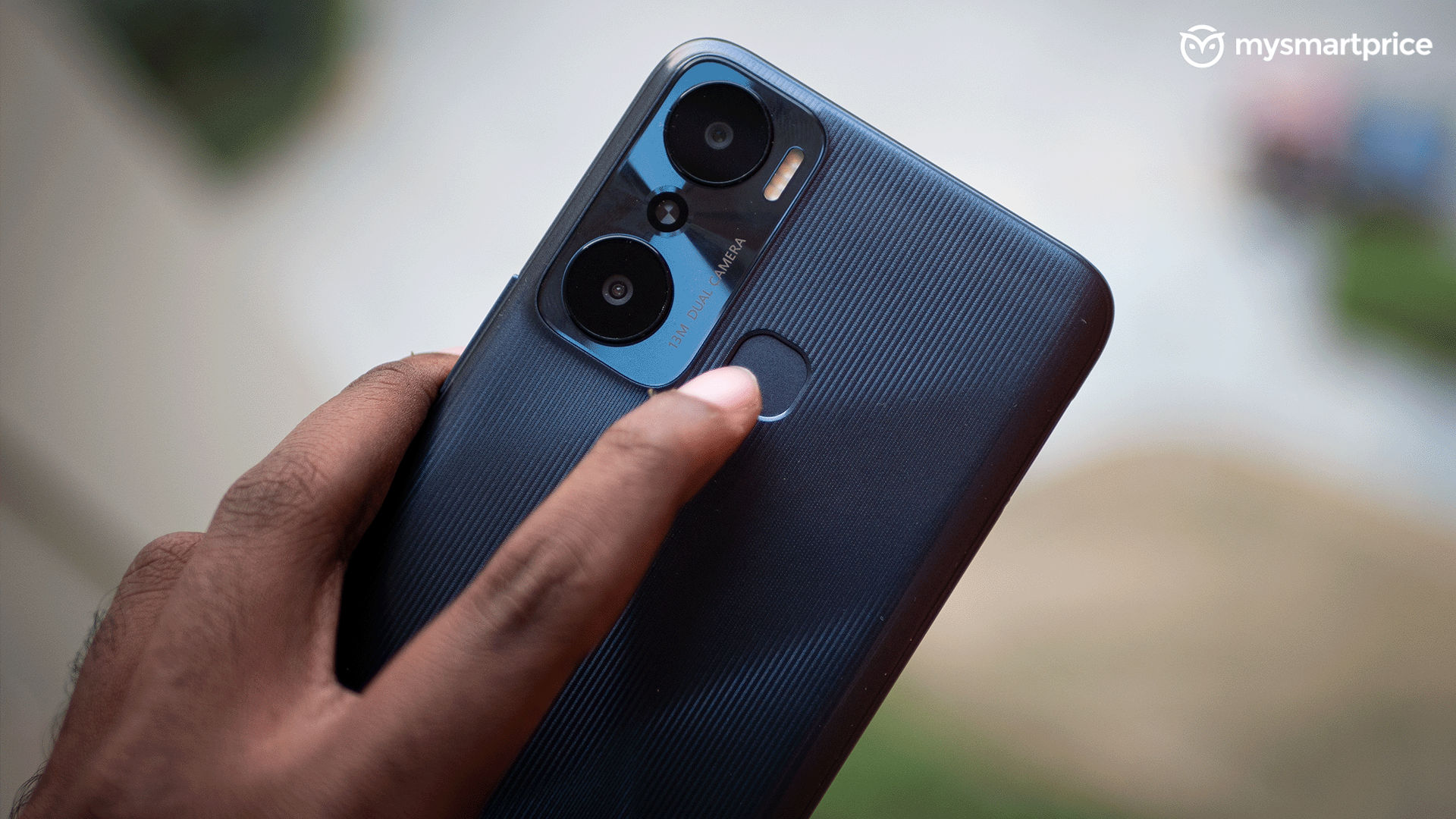 The bottom side holds in place a speaker grille, a 3.5mm headphone jack, a primary microphone, and a USB Type-C port. Phones in this price range usually come with a micro USB port. It's nice to see more companies implementing USB Type-C in this price range. The top part only has the earpiece, while the left side houses a full-size SIM slot. It can carry two SIM cards and a microSD card simultaneously.
The 'Hot Play' series from Infinix is mostly known for its huge screen, and the Hot 20 Play is no different. It sports a massive 6.82-inch HD+ LCD display which refreshes at 90Hz. The Moto E22s is another device that comes with a high refresh rate display, while the Realme C33 falls short of that. Nevertheless, it's good to see 90Hz displays in this price segment because when you put things into perspective, the base iPhones have 60Hz displays.
It has relatively thin bezels on all sides except for the bottom portion, which eats up much of the screen real estate. A hole-punch camera sits at the top with a black outer ring.
The Hot 20 Play comes with a 1640×720 display, and the first clear indication of a lower resolution display is the jagged edges on the app icons and texts in the UI. The colours on display are fine, and the viewing angles are also decent. It lacks the oomph in general due to the lacklustre contrast and vibrancy. Watching content on YouTube and TV shows on Netflix and Amazon Prime Video was an acceptable experience. Sadly, it does not support the Widevine L1 certification, which means all the OTT platforms can only showcase content in standard resolution.
This is common across almost all the devices in this price segment. We could not find additional settings to tweak the colour preset of the display, so you'll have to stick to the default one. The Hot 20 Play has a peak brightness of 500 nits. Using the device under sunlight was not an issue, and the content on the screen was legible. The device comes with a single bottom-firing speaker, which gets fairly loud enough but lacks depth. The sound does not distort much at higher levels, which is good.
Infinix Hot 20 Play Review: Performance and software
The Infinix Hot 20 Play is available in a single variant in the Indian markets. It is powered by a MediaTek Helio G37 SoC, which is quite common in this price range. The Moto E22s is one of the devices that uses the same chipset. It is an octa-core processor built on the 12nm fabrication process. The chipset is rated at a 2.3GHz clock speed and is coupled with IMG PowerVR GE8320 GPU.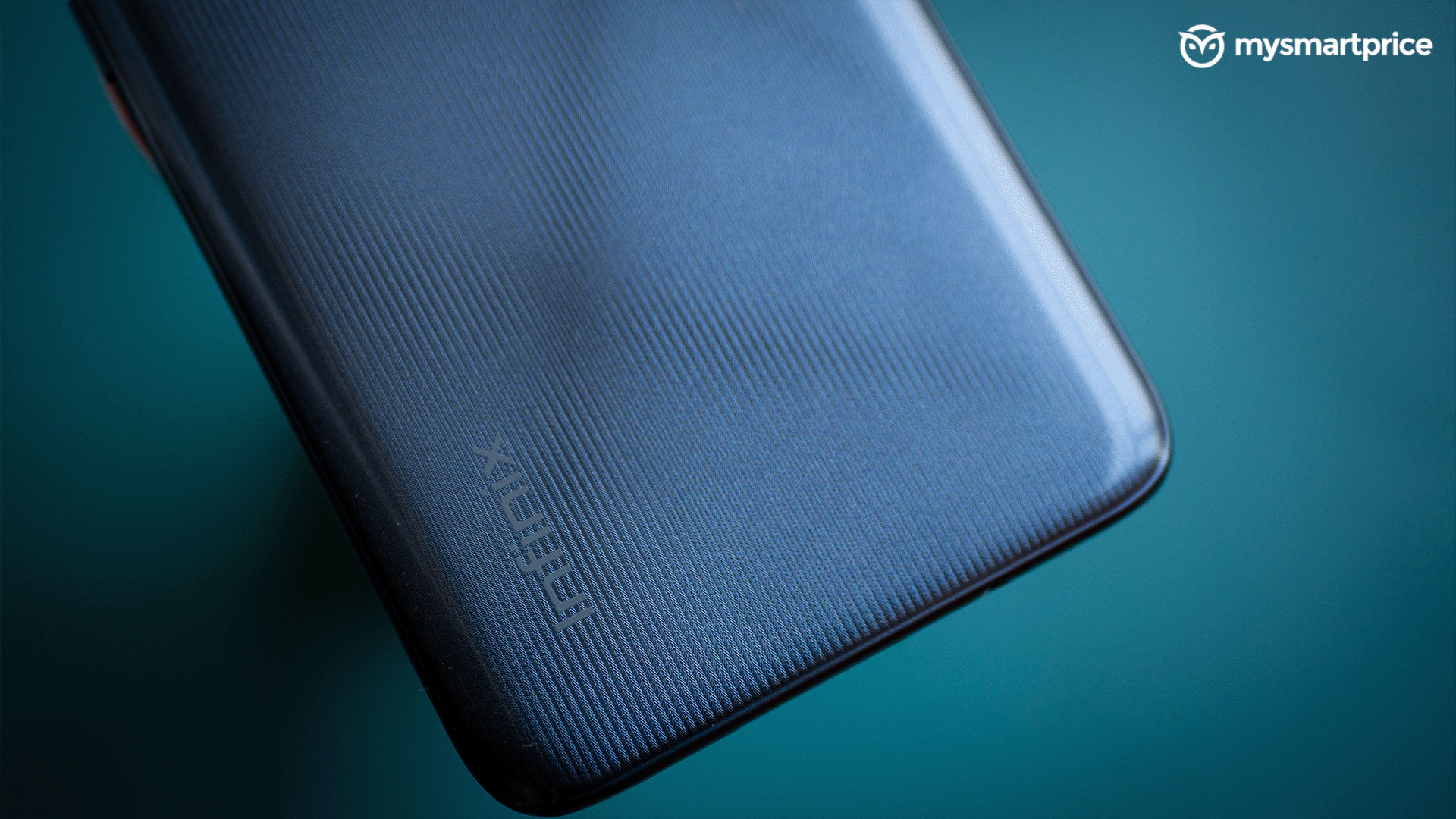 This is paired with 4GB of RAM and 64GB of storage. The Hot 20 Play also has support for MemFusion, which is virtual memory. You can allot up to 3GB of storage space to be used as additional RAM. The Realme C33, in comparison, was powered by the Unisoc T612 processor, and it performed decently in our day-to-day usage. Sadly, the same cannot be said for the Infinix Hot 20 Play. The device needs to be optimised to perform at its best. Scrolling through the UI is not pleasant at all because of the constant sluggishness.
Due to this, the high refresh rate experience is also massively hampered. Receiving multiple notifications caused mayhem, and we had to keep the phone aside for a couple of seconds. There was a noticeable delay when opening apps or even settings, for that matter. To put this in perspective, the Realme C33, which sells at a similar price, is also marred by speed issues, but they weren't that consistent.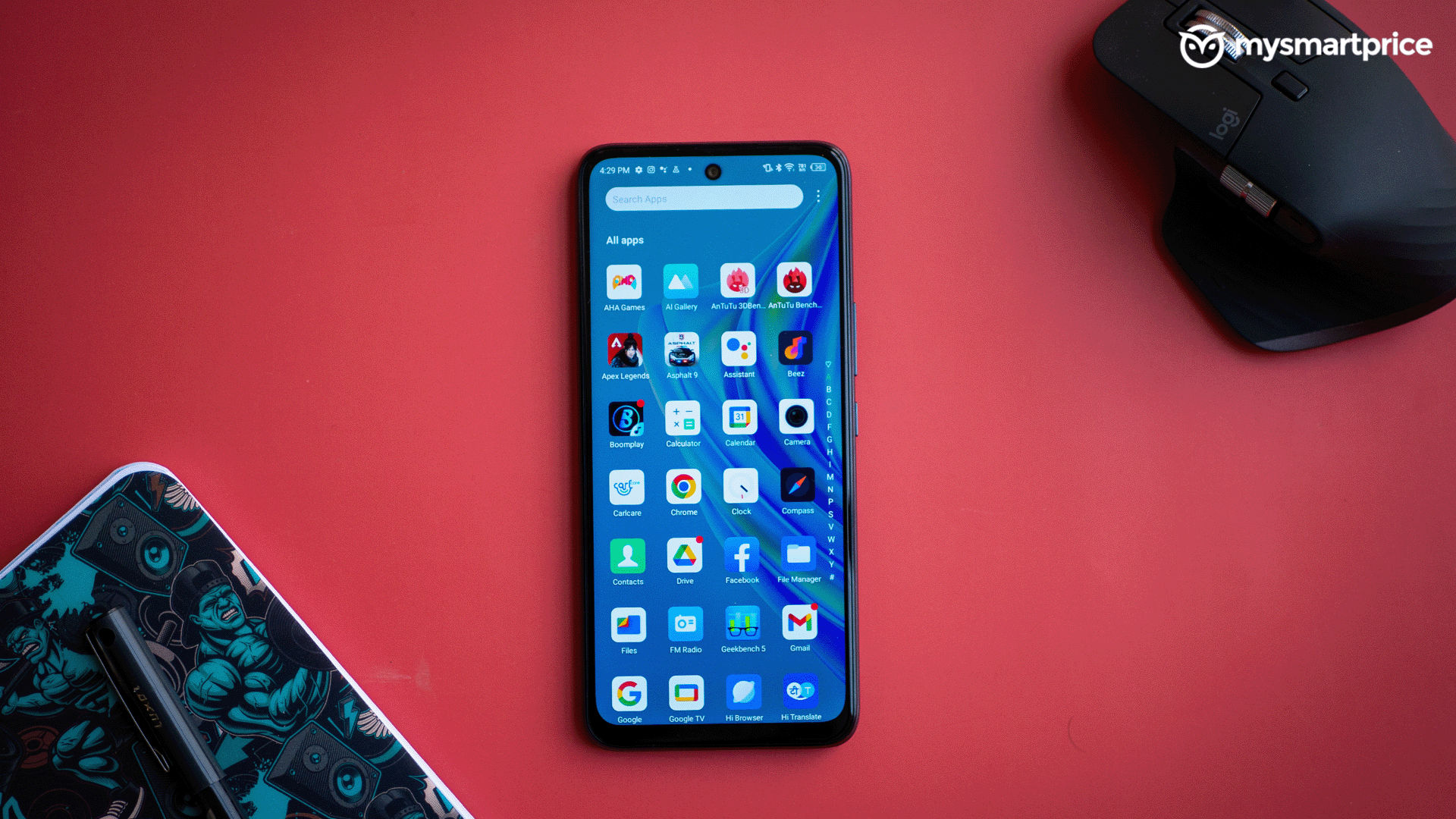 It would've been nice to see UFS 2.2 storage used in the Hot 20 Play, as other brands have also started using it. But that's not possible as the SoC doesn't support newer storage formats. The Hot 20 Play comes with a bunch of bloatware apps such as Palm Store, AHA Games, Hi Translate, XArena, XClub, and a bunch of other apps. Unfortunately, you cannot uninstall any of these apps – you can just disable them.
Now, let's talk about some special features of the Hot 20 Play. First, it sports a 'Smart Panel', which can be activated by dragging in from the left or right side of the device. This is somewhat similar to the infamous 'Edge Panel' of Samsung Galaxy smartphones and is useful for multitasking. It also has a 'Game Mode' and 'X Clone', which lets you create dual accounts for any social media app, similar to Parallel Space.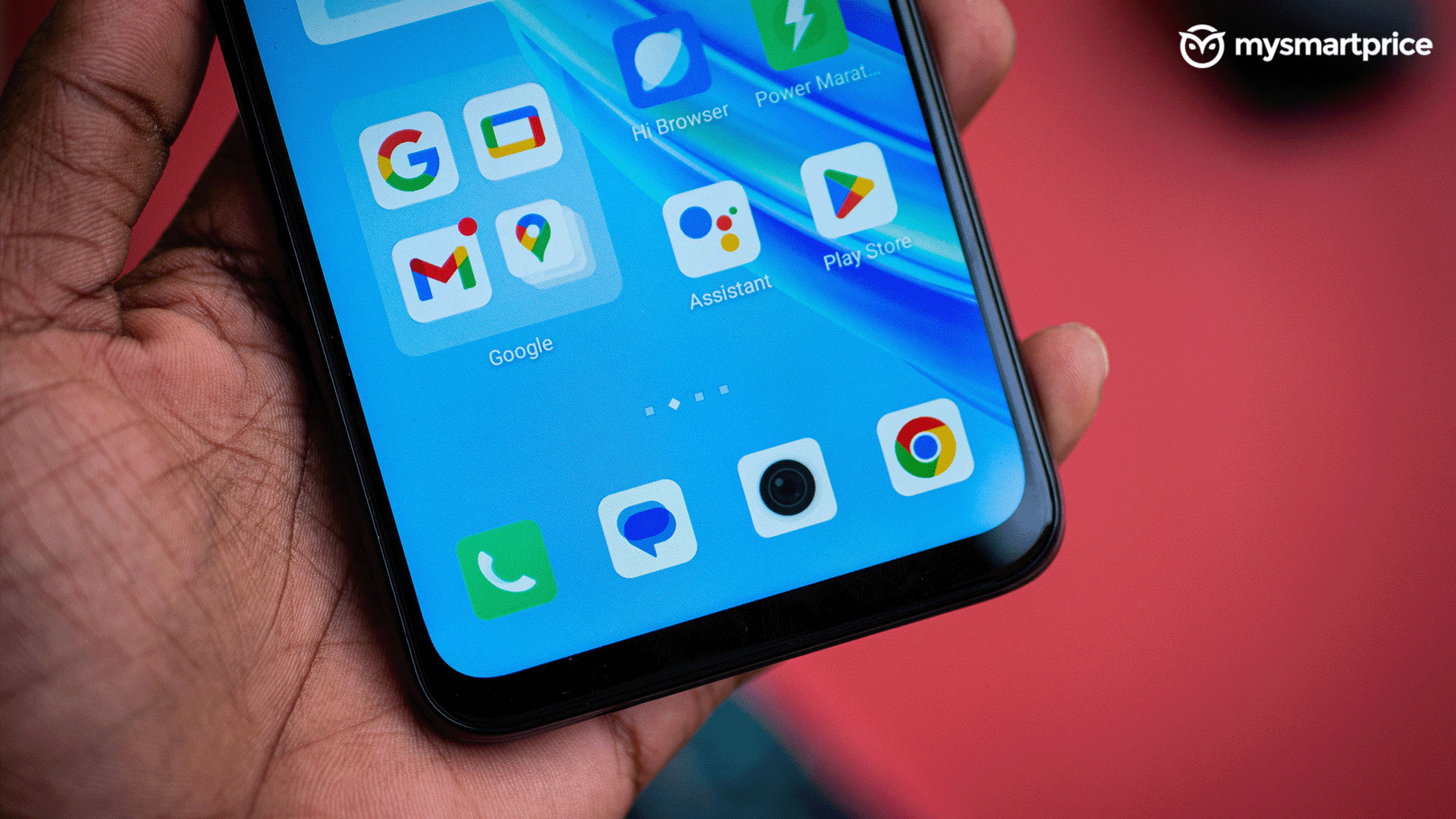 The fingerprint sensor and face unlock work flawlessly, but as mentioned earlier, there's a slight delay after recognising the biometrics. Surprisingly, face unlock works well in dull lighting conditions, which was impressive.
The Hot 20 Play runs on XOS based on Android 12 out of the box. Our unit was running on the September security patch. As of now, there's no official word from Infinix regarding future upgrades for the device. We'll update this section as soon as an announcement is made regarding the same. We ran our usual stress test on the Hot 20 Play with Google Maps running on PiP, with us scrolling through the UI and opening up a couple of apps. The device struggled for a bit but was still usable.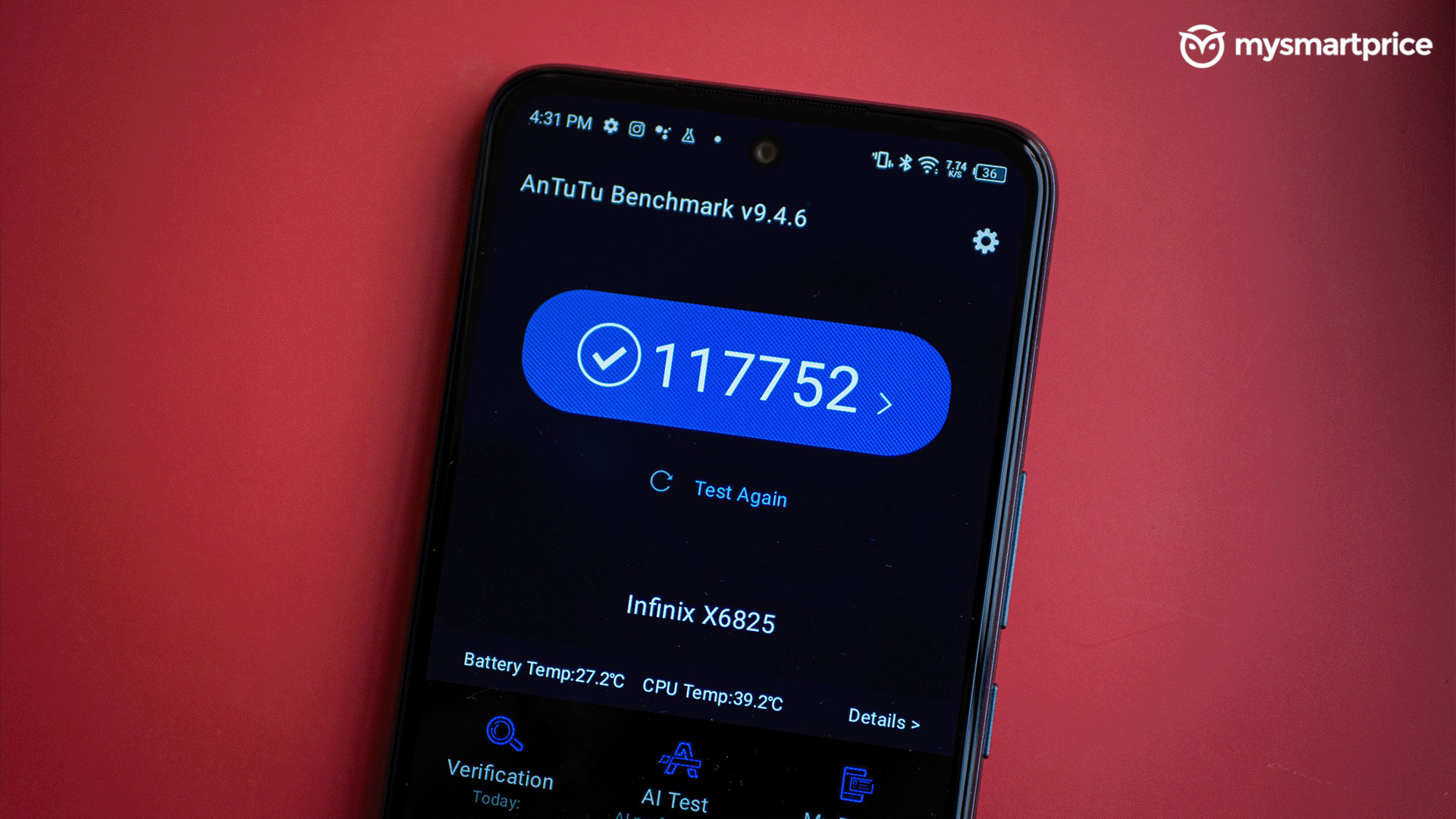 We also put the Hot 20 Play through a bunch of synthetic benchmarks. The scores captured by these tests pretty much put our usage with the device into perspective. AnTuTu v9 managed to record a score of 117752, which is lower than that of the Realme C33, which managed to score 209418. Moving on to Geekbench 5 scores which recorded 161 and 874 in single-core and multi-core tests, respectively. As for scores on 3DMark tests, the Hot 20 Play scored 468 in the Sling Shot Extreme (OpenGL) tests. The MediaTek Helio G37 SoC is a gaming chipset, and Infinix is said to implement a couple of features such as Dar-Link Memory Engine 2.0 and an Aerospace cooling tech. The former claims to enhance performance in terms of energy consumption and temperature control.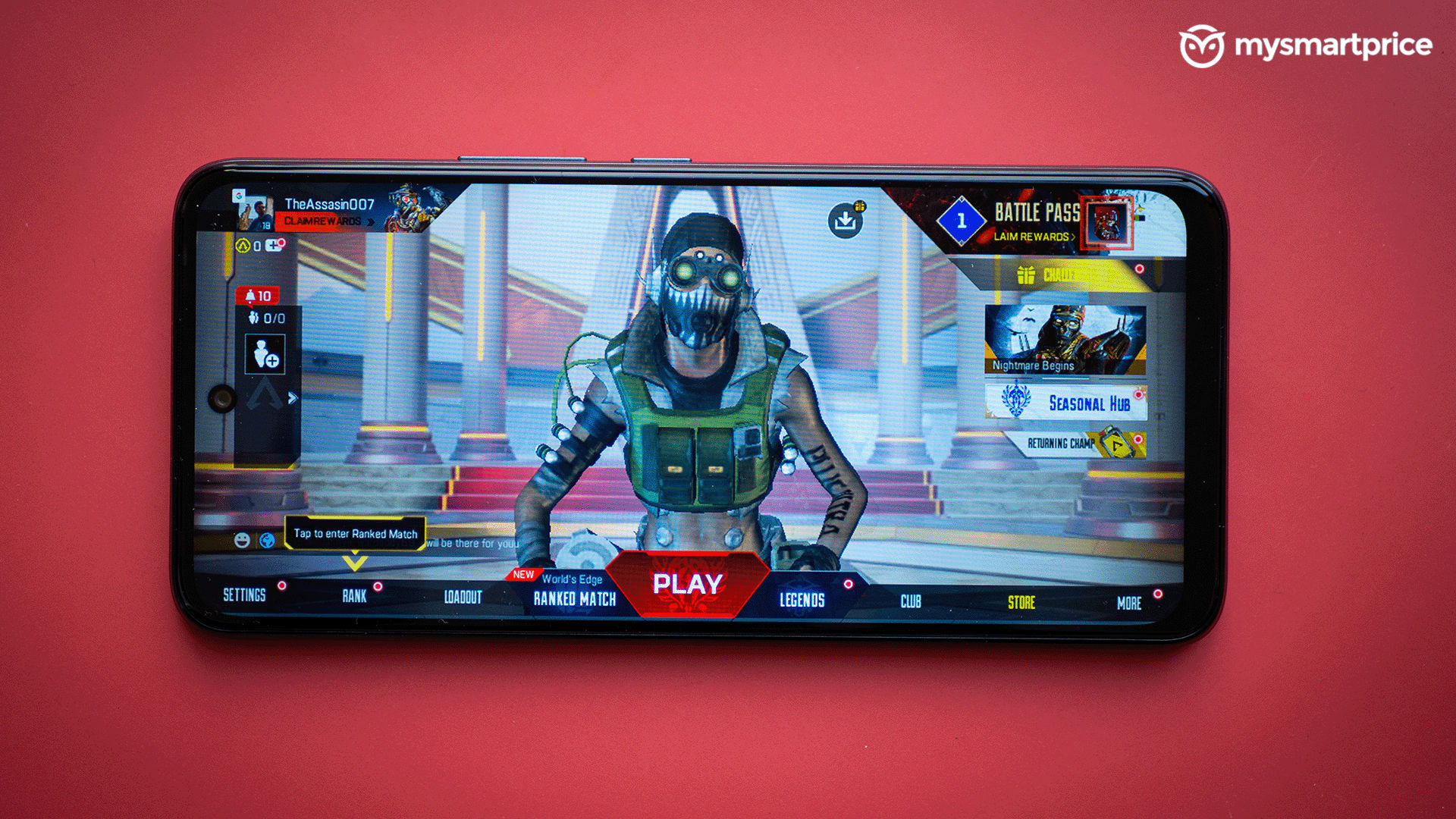 We also played a couple of games, such as Asphalt 9: Legends and Apex Legends Mobile, on the Hot 20 Play. Asphalt ran well on the 'High Quality' graphics preset, but we noticed minor stuttering when crashing into an opponent's car or using boost. Nevertheless, it was playable to an extent. Switching things to a more graphic-intensive game, such as Apex Legends Mobile, stretched the device.
It ran on Smooth graphic settings and High frame rates. It managed to render 30fps for most of the time but dropped to 18-20fps while loading up assets or when engaging in a squad fight. During our gameplay, the back panel of the device was slightly warm to the touch but nothing too concerning. The Hot 20 Play can be used for casual games such as Asphalt, Among Us, and more.
Infinix Hot 20 Play Review: Cameras
The Infinix Hot 20 Play sports a 13-megapixel dual-camera setup at the rear and an 8-megapixel front camera with LED flash. This flash can be used in challenging lighting conditions for a better overall output. Infinix also allows you to enable '360-flashlight', which enables both the back and front flash. This was very useful. The camera UI is pretty straightforward, with all the necessary elements placed at arm's length. It lets you enable HDR mode from the top menu and choose the aspect ratio and resolution of the export. The AI Cam can recognise conditions well and adjusts accordingly. It also lets you know with a small pop-up notification. It's a hit or miss in certain situations.
Infinix Hot 20 Play Daylight Camera Samples
Photos taken in daylight were fairly average, but the colours looked decent. It lacked a certain hint of vibrancy and contrast. Besides that, the images displayed a watercolour-like effect on them, indicating the absence of adequate details. The dual-camera setup tends to crush the shadows, but photos were still usable. The 50-megapixel camera setup on the Realme C33 clicks brighter and slightly more detailed photos. Portrait Mode is available, though background blur is not prominent.
Infinix Hot 20 Play Low-light Camera Samples
Coming to its low-light capabilities, the images see a drastic degradation in the details. Images have a lot of noise, and the blacks in the shadows are also crushed to an extent. The AI Cam is able to detect it as Night View/Street View, but sadly there's no 'Night Mode' to salvage the photos. Images clicked near a light source are slightly better, but they still contain noise.
Selfies taken on the 8-megapixel front shooter of the Hot 20 Play were also average. While taking photos, we noticed that even a minor twitch of the wrist caused the photos to be blurry and unusable. Photos, when clicked properly, were decent and had some details. However, the dynamic range was all over the place. Photos clicked against the light were blown out, but overall, the selfie camera captures are palatable.
Infinix Hot 20 Play Selfie Camera Samples
Selfies taken in low light had a bunch of noise, but standing under a light source helped improve the image quality to a certain level. The Hot 20 Play's video capabilities max out at 1080p 30fps for both front and back cameras. The videos shot with the rear camera were decent but lacked any stabilisation, which is quite obvious. Low-light videos contained noise, and we noticed a few shimmers. Nevertheless, both videos were usable.
Infinix Hot 20 Play Review: Battery and charging
The Infinix Hot Play series has always packed a humongous battery. Such is the case with the Hot 20 Play. It comes with a 6,000mAh battery inside. The device easily ran for over a day and a half with our usage, which included a bit of camera work, casual gaming, and YouTube. If you are someone who uses their device conservatively and does not game a lot, the device can easily last you over two days. We even managed to get over nine hours of screen time, so overall, the battery life of the Hot 20 Play is good.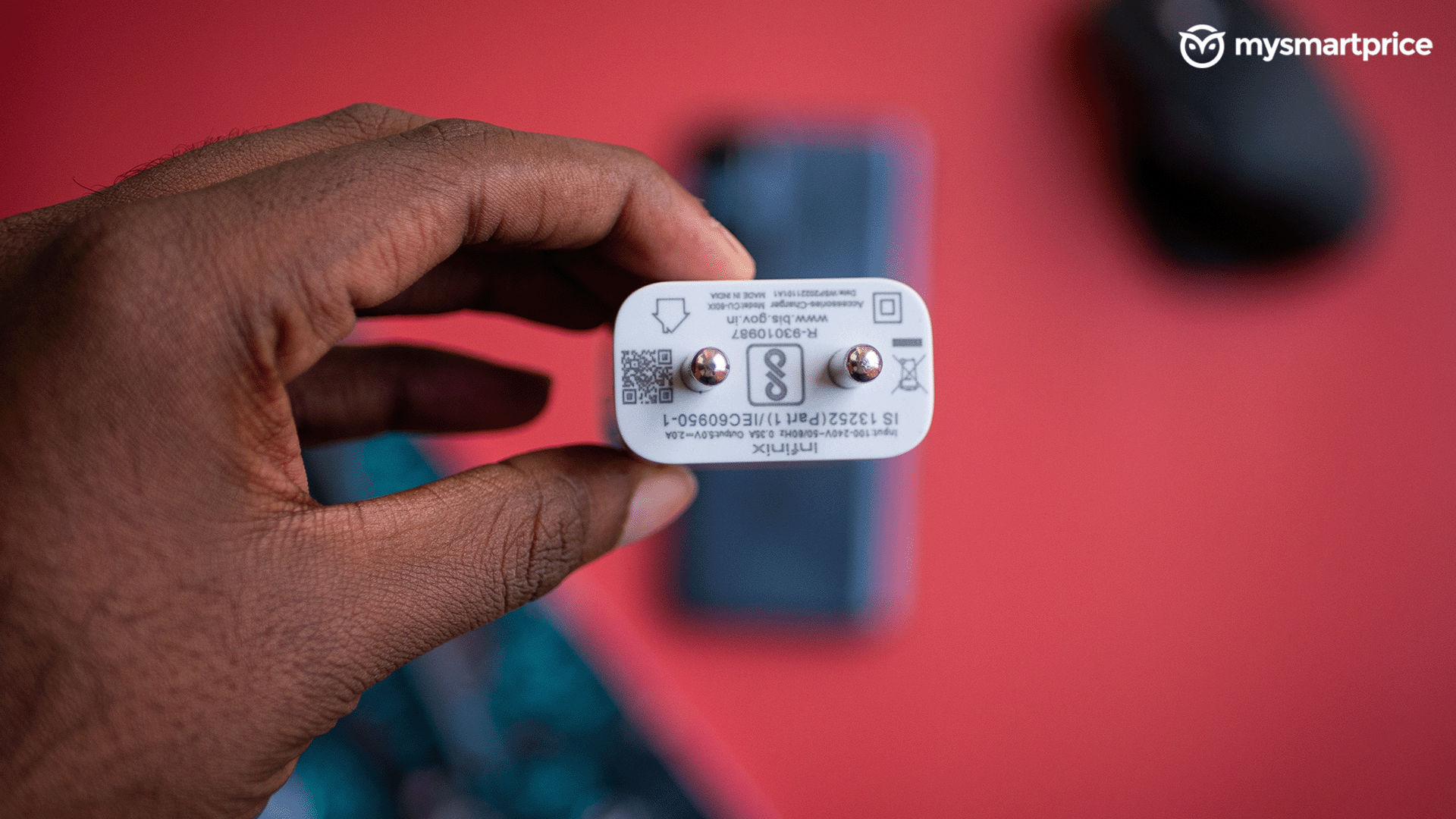 As for charging, it's quite a letdown. The Hot 20 Play comes with a USB-Type C port and an 18W charger, unlike the Realme C33, which comes with a 10W micro USB charger. Despite the slightly fast bundled charger, the massive battery took over three hours and 15 minutes to charge from 0% to 100%, which was a bummer.
Infinix Hot 20 Play Review: Verdict
The Hot 20 Play has a lot going for it on paper in terms of specifications and its Rs 8,999 price tag. It has a simple design approach with a bunch of colourways available that should attract some young audiences as well. It's also good to see the company implementing some much-needed standards in this segment, such as USB Type-C and a slightly faster charge. The massive display is a good addition to the package, and watching content on it was a decent experience. We also enjoyed using the Hot 20 Play for its amazing battery life. The camera quality was also adequate and should suffice for most people. If you are someone who wants a better camera, the Realme C33 could be a good alternative.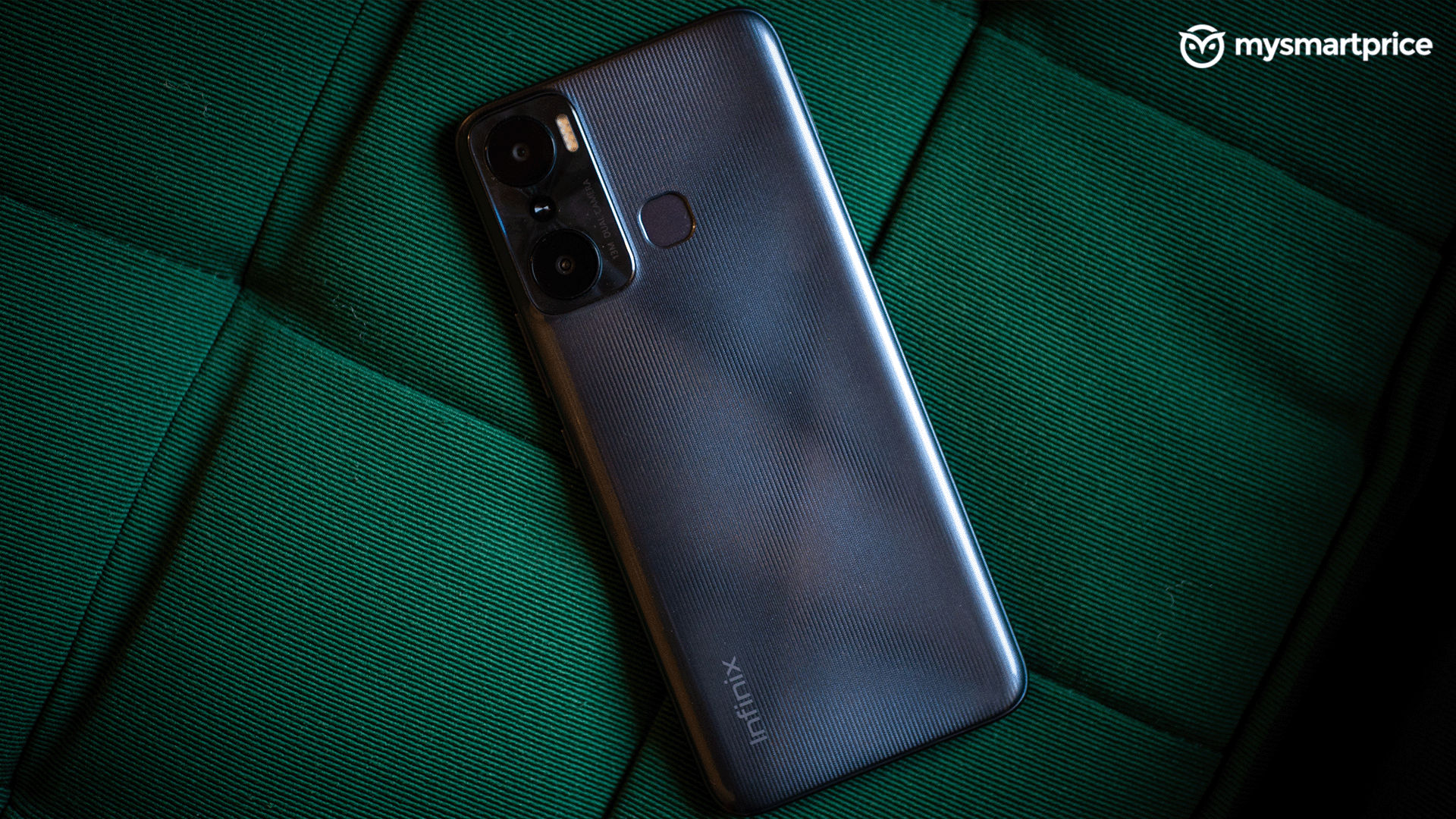 Sadly, the performance of the device in our day-to-day usage was a letdown for us. We are hoping Infinix pushes out an update that optimises the software well. As for the charging, despite the 18W included charger, the charging times are a lot when compared to 2022 standards. Gaming on the Hot 20 Play is possible, though we would suggest playing casual games at low graphic settings for a better experience.
If you are someone who spends most of their time watching content and needs a big battery to get by the day, the Infinix Hot 20 Play could be considered. Other alternatives in this price range include Moto E22s and Realme C33, which are also very capable devices and do not suffer in the performance department. If you want to join the 5G bandwagon, the Infinix Hot 20 5G has also been launched at Rs 11,999.
Infinix Hot 20 Play
Rs 8,999
What Is Good?
Big, 90Hz display
Good battery life
USB Type-C charging
Average camera performance
What Is Bad?
Disappointing performance
Slow charging
Filled with bloatware
Thanks for reading till the end of this article. For more such informative and exclusive tech content, like our Facebook page