The Bluetti AC500 is a modular power station that boats an output power of 5,000 watts. What is its special feature? There is a single 120-volt output that provides 50 amps, making it perfect for plugging into the household grid. NextPit reviewed the power station for you and would like to share our thoughts on the matter.
Good
Single 120-volt output with 50 A

5,000 watts continuous output power

Modular design for a maximum of 18 kWh
The Bluetti AC500 in a nutshell
The unit that we reviewed consists of two components. First is the Bluetti AC500, an inverter with up to 5,000 watts of continuous output power and up to 10,000 watts of peak power. What would be of interest to owners of solar-powered systems, this model is capable of handling up to 3,000 watts of DC input power, making it a suitable inverter for small to mid-sized rooftop systems.
The second part is the power storage unit. In the NextPit review, this is a single Bluetti B300s with a capacity of 3,072 Wh. Theoretically, you can connect up to six of these batteries to the AC500 and achieve a maximum capacity of 18,432 Wh. That is pretty impressive, being enough to power a single-family home for several days in the event of a zombie apocalypse.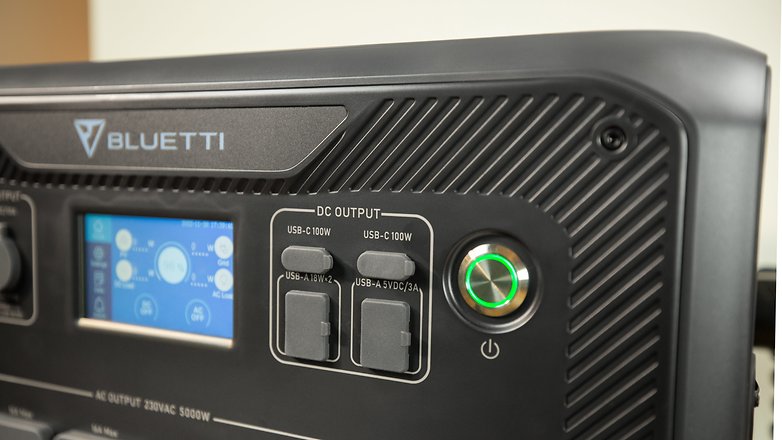 The system as such is not cheap, though. The AC500 alone costs a regular $2,599, for the bundle with a Bluetti B300s you normally pay $4,499. With two or four B300s, the price increases to $5,198 and $10,396, respectively. Bluetti currently offers numerous Cyber Week discounts, which allows you to save a lot.
Keep in mind: The AC500 itself does not have an integrated battery, so you'll need at least one B300s in order to actually store any energy.
If you invest in the Bluetti Smart Home Panel, you're able to connect up to two AC500 and a total of 12 B300s to your house, resulting in a whooping battery capacity of 36.864 Wh. That's roughly enough energy to keep you going for one to two weeks, depending on your household's energy consumption. Alternatively, you can hire an electrician to manually install the fitting connector in your fuse box.
---
This article is part of a cooperation between NextPit and Bluetti. This cooperation had no influence on NextPit's editorial opinion.
Design and equipment
The Bluetti AC500 boasts a high-quality build and offers more outputs than you will probably ever need. The technical specifications are also impressive across all levels and offer great flexibility.
What I liked:
Solid and high-quality workmanship.
Modular expandability.
120-volt output with 50 amps.
What I disliked:
Does not work with B300 batteries.
Like most other Bluetti power stations, the AC500 arrives in a solid black plastic box. The material used feels like it is made from very high-quality stock and does not look cheap. At the top, there are two handles that remain flush with the case, making it easy to carry the 30 kg inverter. At the bottom, there are four non-slip rubber feet to ensure a secure stand.
The Bluetti AC500 and the connected batteries are operated via the large on/off button on the right front and the touchscreen. The touch-sensitive display responds well but looks a bit out of date with the plastic coating and the rather low resolution.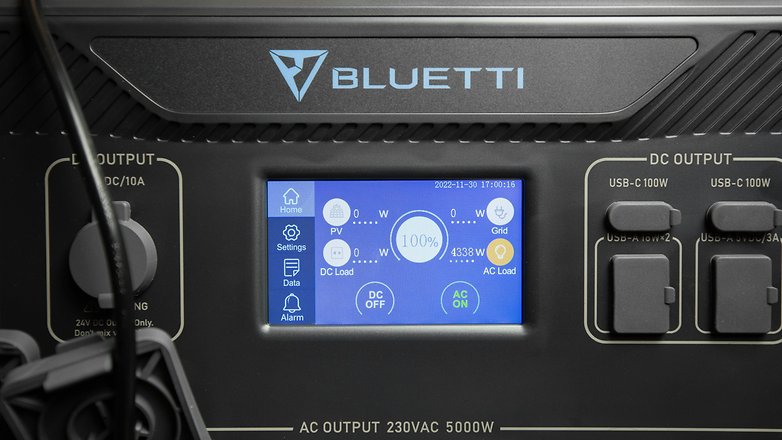 All of the AC500's outputs remain in front. When it comes to DC, you will find two cigarette lighter sockets at 12 and 24 volts and 30 and 10 amps, respectively, which you should avoid getting confused with. A corresponding warning is also found on the case below the 24-volt socket. There are also four USB-A ports (maximum 18 watts) and two USB-C ports (maximum 100 watts).
Below the DC outlets, you'll find six 120-volt sockets seated in a long row. The first three are fused at 20 amps each, two at 30 amps, with the last at 50 amps. Unlike the 20 & 30-amp sockets, the 50-amp socket has standard NEMA14-50 under its rubber cap. This socket is one of the Bluetti AC500's great strengths.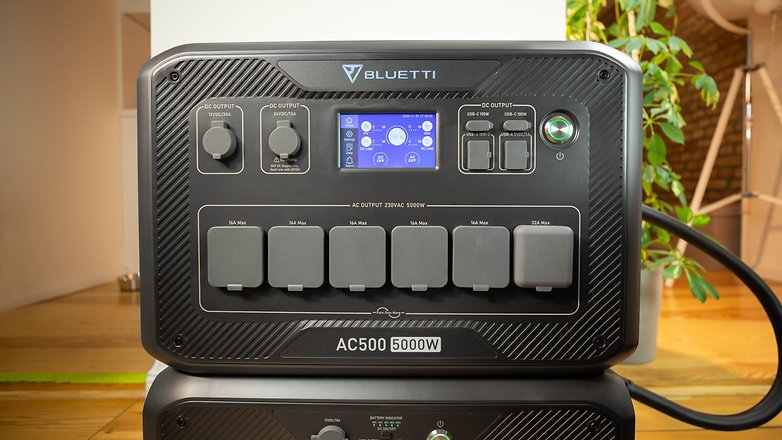 This 120-volt socket with 50 amps allows you to power your entire household at up to 7,320 watts via a single port. With a little effort, an electrician will install an appropriate connection to your power box which you can connect the AC500 to. The only important thing here is to provide an appropriate grounding in emergency power mode (keyword: IT network to TN network) and to integrate a switch between mains and emergency power, which has a completely separate intermediate position.
At the top of the Bluetti AC500, you will find two Qi charging pads as is the case with most Bluetti power stations. You can charge compatible devices at a maximum of 15 watts each via these.
Let's move on to the inputs: There are a total of five ports on the right side of the AC500. Two ports are used to connect additional Bluetti batteries to the inverter. As mentioned at the beginning, you can connect up to six B300s here. According to the Bluetti website, you can also connect up to four B300s or mix a maximum of four B300s and B300s. However, the cables that come with the B300s, unfortunately, do not fit into the sockets of the AC500 despite having a similar pin arrangement. Therefore, we could not test out a mixed operation.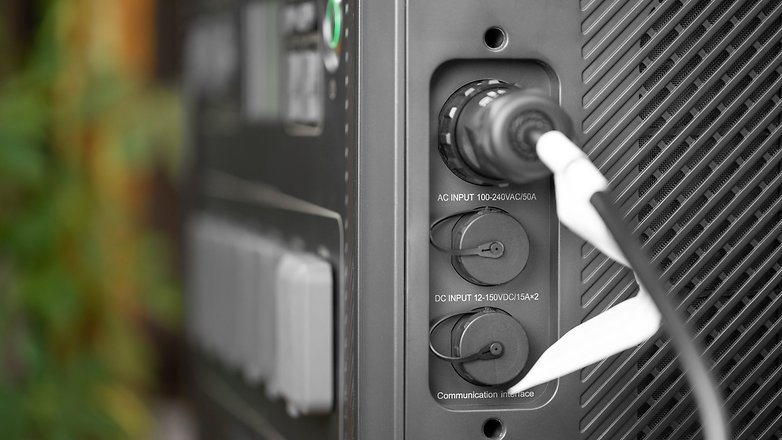 Finally, you'll find another DC input on the side of the AC500, that makes it suitable for solar-powered systems. The port supports voltages between 12 and 150 volts. If your solar-power system has a higher voltage, you will have to connect the optionally available Bluetti D300s, which then is streamlined lower from 550 volts to 120 volts. According to Bluetti, the maximum input power here is rated at 3,000 watts.
Last but not least, there's an AC input for charging the AC500 or the batteries via your mains. In the review, we charged it at just under 2,300 watts. The last port is labeled "Communication Interface" and is used to connect two AC500s with the Bluetti Smart Home Panel, which is unfortunately only available in the US at the moment.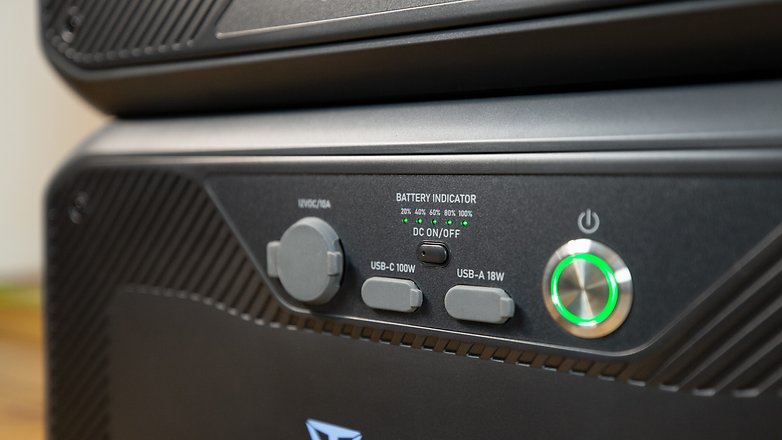 The bottom line is that with these features, the Bluetti AC500 is a real jack-of-all-trades among home batteries. Thanks to the modular design, the system can also be used in a semi-mobile manner and can be expanded over time. For instance, if you want to expand your solar-powered system, want to get through longer power outages, or simply need additional juice when having it operate as an island system in vacation homes, then you won't go wrong with this.
Operation and performance
The Bluetti AC500 offers a permanent maximum output power of 5,000 watts, where even 10,000 watts is possible for a short time at peak power. Charging via a solar panel works at a maximum of 3,000 watts. Thanks to the optionally available Bluetti D300S, this even works in a flexible manner.
What I liked:
5,000 watts of continuous power, 10 kW at peak.
Maximum 3,000 watts solar charging power is possible.
Single 120-volt connection at 50 amps.
App with many setting options.
LiFePO4 technology translates to longer battery life.
What I disliked:
Unprotected Bluetooth connection.
Accessories can be difficult to procure.
First of all, is it easy to use? You have two options to control the Bluetti AC500. One would be via the touchscreen, while the other is through the smartphone app. The options on both are exactly the same. Connecting the AC500 to the smartphone via Bluetooth is lightning fast, although there is no password protection or confirmation on the power bank itself. Therefore, we recommend activating the Wi-Fi connection and then deactivating Bluetooth. Otherwise, anyone within range can access your power station with the Bluetti app and, for example, turn the outputs on and off.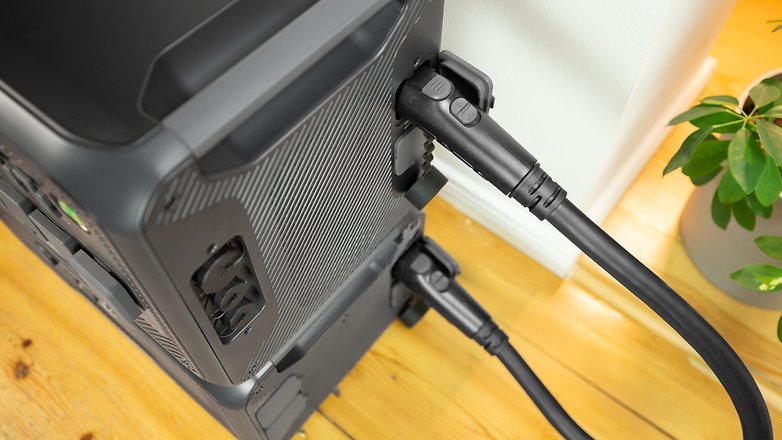 However, you can only switch all DC outputs or all AC outputs via the app. Switching individual sockets is not possible here. In addition, you can view the current charge of the connected batteries in the app, as well as the power that is currently arriving or being output, which is also separated into DC and AC.
The various operating options that the AC500 offers are also exciting. Like the EP500(Pro), for example, there are four operating modes here:
In standard mode, the power station always charges to 100 percent when connected to the mains. When the battery is fully charged, connected consumers are supplied with power via a pass-through. Should the power fail, the AC500 steps in as an uninterruptible power supply (UPS) and supplies connected consumers with power almost immediately. A simulated power failure in this way actually ran without any interruption in the NextPit review.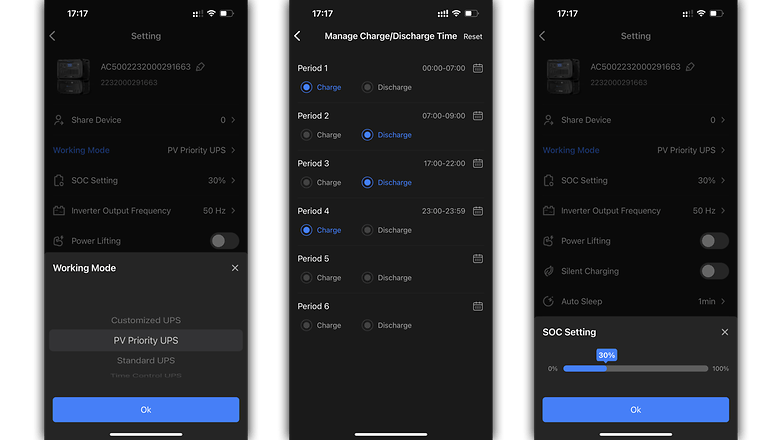 In addition, there are the two modes, "PV Priority UPS" and "Time Control UPS", to choose from. In solar-power priority mode, you set a threshold on how long the AC500 is allowed to charge from the grid. The remaining capacity in the batteries is then available for the connected photovoltaic system and is therefore only filled by direct current. At the same time, however, you always have a certain capacity in the battery when connected to the mains, in order to be prepared for power failures. The time-controlled mode, on the other hand, always refuels and discharges the AC500 or the B300s batteries at certain times. Finally, in the "Customized UPS" mode, you can set all parameters according to your personal preference.
Unfortunately, we did not have the necessary accessories to test the AC500's 50 amp output during the review. Therefore, we could only try out the maximum output power of 5,000 watts distributed over the five 20-amp sockets, and that worked wonderfully without any hiccups. The AC500 fired up a kettle, toaster, various chargers, and a microwave at the same time with just under 5,000 watts without breaking a sweat. The fan naturally started up, but its low, humming noise remains in the background without being intrusive to your surroundings.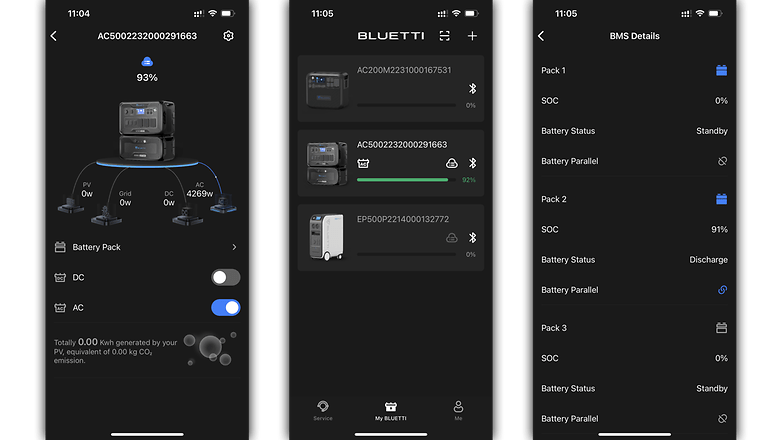 Last but not least, the durability of the batteries is another interesting point. Bluetti relies on LiFePO4 technology for the B300s. Compared to conventional lithium-ion batteries, these offer a slightly lower capacity density, but are much more durable and safer. According to the manufacturer, the iron phosphate batteries will still retain at least 80 percent of their capacity after 3,500 charging cycles – which corresponds to ten years of daily discharging. Another advantage is safety: unlike lithium-ion batteries, LiFePO4 batteries don't start to catch fire as easily. You can search for such videos on YouTube of how those who like to experiment even drill holes in iron phosphate cells.
Final verdict
The Bluetti AC500+B300s is an incredibly flexible system. It can be expanded at will thanks to its modular form factor and can also be used in semi-mobile situations such as in a caravan or at events in the middle of nowhere. At home, on the other hand, the AC500 serves as an MPPT (maximum power point tracking) inverter and storage solution for small to medium-sized solar-powered systems and can be flexibly expanded thanks to its modular nature.
To enable stand-alone operation or emergency power supply, the 50-amp output is particularly exciting, allowing you to fully utilize 5,000 watts of output power or even 7,320 watts for a short time at peak. The bottom line is, Bluetti offers a really amazing system here, which of course also comes with a corresponding insane price tag.