Earlier this week I was able to attend an event with members of the OnePlus software team. The purpose of these was to discuss some of the new features that will become available to OnePlus 10 Pro 5G and 10T owners, (the former is available now and the 10T will be out before Christmas). This was by no means the headline of the event.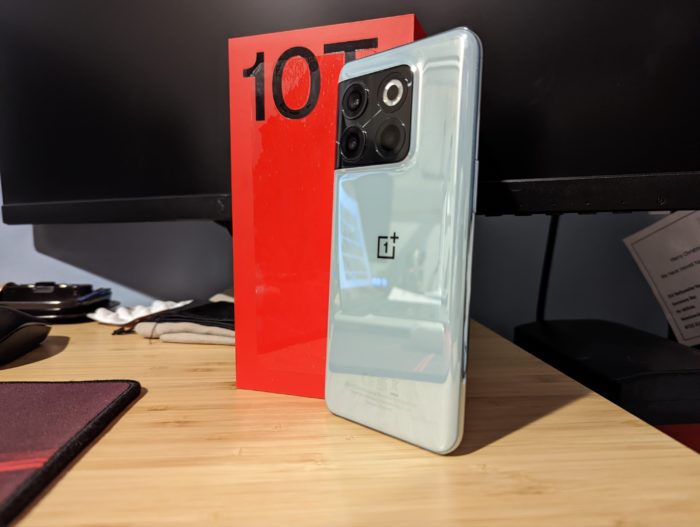 The event was presented by Gary Chen, Head of Operating System Products at OnePlus and OPPO, Crayon Hsieh, Head of OneLab at OnePlus, and hosted by Ben Wood of CCS Insight. The panel presented various different aspects of the development of OxygenOS 13 for the current phones and what may come in the future with OOS 14.
There was a lot of talk about the new Always On Display features that will come along with the new software feature sets. These include Homeland AOD and Spotify AOD. These are two new features for Android that OnePlus are claiming to be an industry first for them.
I particularly liked the implementation of Polar Bears on an Iceberg to represent the temperature changes in the local temperature. The idea is that the diminishing size of the Iceberg represents the increase I heat and this will dynamically change throughout the day. This animation will only be active during a short time period when the phone identifies that you are wishing to interact with it. This is being done via the front camera and detection of you looking at the screen. However, the exact way this works was not divulged on the day but it sounds awesome.
The Spotify AOD will allow you to see what is playing on your Spotify playlist but more importantly perhaps, it will allow you to interact with it without having to unlock the phone. Again it is using the same method of being aware of your presence as above.
OnePlus have been very conscious of what it can do to preserve battery life within these two additional functions. This is why they will not be always active and the Music AOD will only allow actions when the user is detected. I will be keen to see how these work in reality when they are available to download onto my OnePlus 10T in the next few weeks.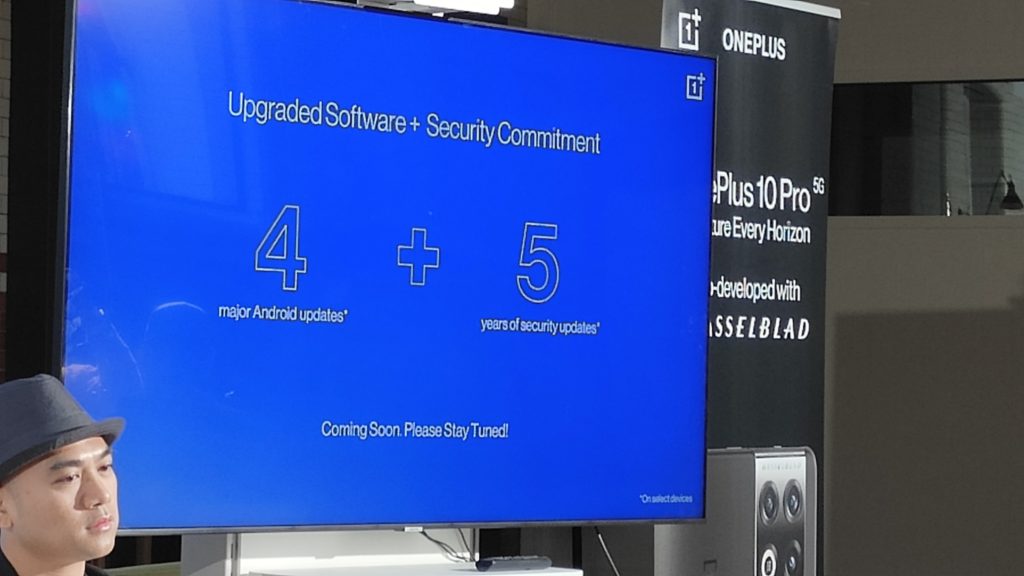 The main headline of the event however was that OnePlus have committed to providing 4 years of OS Updates and 5 years of security updates. This brings them in line with offerings from the likes of Samsung. It actually surpasses that offered by Google itself. Why is this such big news? Simply because we are now keeping phones longer.
This 4 + 5 model will only support devices that are to be released in the coming months in 2023 and it is most likely only going to be premium flagship tier devices. This is a bit of a downer but they need to draw the line somewhere. It was also unclear how timely these updates would be and whether they would be released in line with Google OS release. As for security updates, I believe Gary Chen stated that these will be bi-monthly at least that is aimed release cycle.
I am happy to see this happening with more and more Android manufacturers coming to the realisation that this has to happen for a few reasons the main one being more sustainability as a brand. This empowers users to give the phone a second life with either another user through pre-owned marketplaces or by allowing it be refurbished and offered up for sale again at a discounted price. It is better than simply recycling as long as the phone is still smooth and fast in terms of UI there should be no reason other than hardware failure to need to replace the phone. The next piece of the puzzle is repairability by the end user. This one's a tougher nut to crack and will take more time. Apple has only started on this road with mixed results as far as I can tell I don't have an Apple device that is new enough and that I have broken sufficiently to test this out yet).
So if you have OnePlus 10 Pro 5G or a OnePlus 10T then keep your eyes open for the new Oxygen OS update coming to your phone soon. If not then keep an out for their new line up which will be coming in the next few months. As we are only a few months away from MWC time and rumours have that there are plans afoot (these are unsubstantiated rumours from the technosphere and may be total hogwash).