Pros
Sleek appearance

Basic features work well

Unlimited entry codes
Cons
Connectivity issues

Sensor doesn't match
The major appeal of this new smart lock is undeniably its sleek, contemporary design.
Fall is here, let's get cozy. We're giving away a Solo Stove Bonfire with a stand. Enter to win between now and Nov. 18, 2022.
About the Yale Assure Lock 2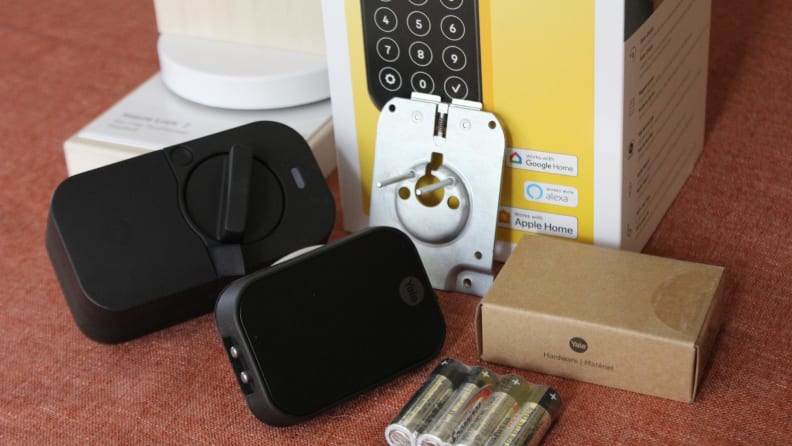 Backset: 2 3/8″ or 2 3/4″
Facebore: 2 1/8″ or 1 1/2″
Edgebore: 1"
Door thickness: 1 3/8″ to 2 1/4″
Code capacity: Unlimited
Weight: 4.5 pounds
Power source: 4 AA batteries
Operating temperature: Outside: -22° F to 140° F; Inside: 5° F to 158° F
Smart assistant support: Apple HomeKit without Smart Module; Google Home, Amazon Alexa, Apple HomeKit, Phillips Hue, and Samsung SmartThings with Smart Module
The Yale Assure Lock 2 was released in September 2022. The line of smart locks was upgraded to be sleeker and 30% smaller than previous models, and there are several versions of the lock available: keyed or keyless designs; touchscreen or keypad; and Bluetooth or Wi-Fi. The locks are available in three different finishes, and they run on four AA batteries.
To see how the new Yale Assure compares to other smart locks on the market, we tested the key-free touchscreen model with Wi-Fi, which costs $259.99.
We were able to use a lock stand for testing, but if you plan to buy one of these locks, you'll want to measure your door carefully to check that the hardware will fit properly.
While the brand claims the lock is compatible with most doors, there are quite a few specifications that need to be met—in fact, the first 14 steps in the app's installation instructions involve measuring your door to make sure the lock will fit.
What we like
It has an extremely sleek, stylish design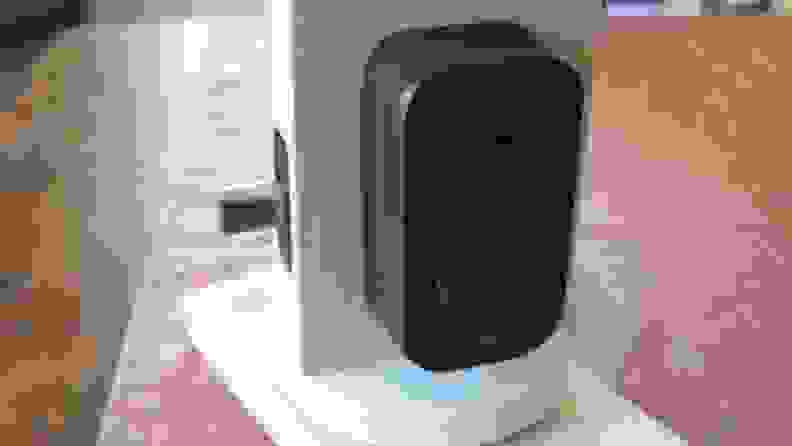 As far as smart locks go, the Yale Assure 2 is a good-looking option. The model we tested has a Black Suede finish, and it looks extremely sleek and modern, especially from the outside. The keyless touchpad, which mounts to the exterior of your door, has a low-profile design that appears blank until you tap it, which causes the number pad to light up. Your guests are then able to enter a numerical code that you've assigned them to unlock the door.
The interior component of the lock, which features the manual deadlock latch, is a bit bulkier, measuring around 2.75 by 4.75 inches. It sticks out from the door a little more than 1.5 inches, but it's not so large that it would be obtrusive in your home. Overall, I was really impressed by the lock's high-end contemporary form—I can be a bit of a design snob, but this is a gadget I'd happily welcome into my home.
The basic functionality works well
We tested the Yale Assure 2 with Wi-Fi, which has a more comprehensive set of smart skills than the Bluetooth-only version. Once the lock was installed and set up, I was able to easily lock and unlock the deadbolt using the Yale app, both while I was at home and when I was using cellular data. I also assigned my partner an entry code, and he had no problem unlocking the door that way, either.
The lock comes with a sensor, called DoorSense, that goes on the door frame next to the lock, and it lets the lock know whether the door is open or closed. If the door is open, the circle design in the app has a perforated edge; if the door is closed, the circle is whole.
Similarly, if the door is locked, the circle will be filled in, and if it's unlocked, the circle has an empty center. It took me a while to get used to this imagery, but it became second nature after a few days.
The lock can also be set up to automatically lock and unlock as needed. The Auto-Lock feature can either be tied to the DoorSense sensor, automatically locking the door when it's closed, or you can put it on a timer, so it will lock 5 minutes after being unlocked (or whatever time duration you choose).
The Assure 2 had no issues with this feature in our testing, automatically locking after a set period of time, and it even plays a little jingle to let you know that the deadbolt is closing.
The Auto-Unlock function, on the other hand, is based on your proximity. To set up this feature, you select your home's location on a map, and the app creates a 200-meter, or roughly 656-foot, geofence around the area. (Unfortunately, you're not able to adjust the distance of the geofence perimeter.)
When you leave this area, your lock will go into Away mode, and when you return, the lock will go back into Home mode. Once it's back in Home mode, the Assure 2 automatically unlocks when you're within 20 or 30 feet, saving you from having to open the app or enter a passcode to get inside.
This feature worked as expected, unlocking when I returned home from Away mode, but I didn't like that it only works after you go more than 200 meters from the lock. For instance, if I went out to the car to get something and the door auto-locked behind me, it wouldn't unlock when I came back to the house because I didn't go far enough away to trigger Away mode. If you tend to go in and out a lot during the day like I do, you're probably best off not using the Auto-Lock feature to avoid this.
It has unlimited entry codes
Another benefit of this lock is that you can create an unlimited number of entry codes. Many other smart locks limit you to 50 or 100 codes, which may force you to delete codes down the line if you tend to have a lot of visitors or use the lock on a rental property. With the Yale Assure 2, you can make as many entry codes as you want, and the app makes it easy to share the codes with the intended user.
I also really liked that it keeps a history of who unlocks the door, including the date and time. The activity log is stored in the app, and it also keeps track of when the device is manually locked or if it Auto-Locks or -Unlocks.
What we don't like
There are the occasional connectivity issues
Unfortunately, my user experience with the Assure Lock 2 didn't go off without a hitch. When I first set up the Wi-Fi, it struggled to connect to the lock, and I had to redo the whole process—taking the batteries out and syncing it to my phone again—to get it functioning properly. There also were a few instances, usually when I was away from home and on cellular data, when the app wasn't able to connect to the lock. When this happened, I often had to restart the app completely to get it to sync up and let me control the lock remotely.
There were also times when I didn't receive notifications as expected. For instance, during one test, I purposefully left the door ajar before taking my dogs for a walk. The lock was supposed to send me a notification after five minutes (you can adjust the length of time in the app) to tell me the door was left open, but it never came.
While these small glitches aren't the end of the world, they do make the user experience a little frustrating, and I can see it being a problem for those who aren't tech-savvy enough to troubleshoot connectivity issues.
The DoorSense sensor doesn't match
One of my pet peeves when it comes to electronics is when the different components don't match. For instance, I've frequently encountered lights and LED panels where the product itself might a black finish but the power cord is white. If you ask me, it looks weird and makes the cable stick out more, and the Yale Assure Lock 2 has a similar issue with its DoorSense sensor.
The oval-shaped sensor is designed to be mounted on your door frame, and its job is to signal to the lock whether the door is open or shut. It works well in function, but the little sensor is white, conspicuous, and, frankly, somewhat cheap-looking.
The lock comes in three finishes—Black Suede, Bronze, and Satin Nickel—and the sensor doesn't match any of them. I do like that you can recess the sensor into your doorframe to hide it, but if you're not able to do that, having the sensor a completely different color than the lock itself just makes it seem out of place.
Privacy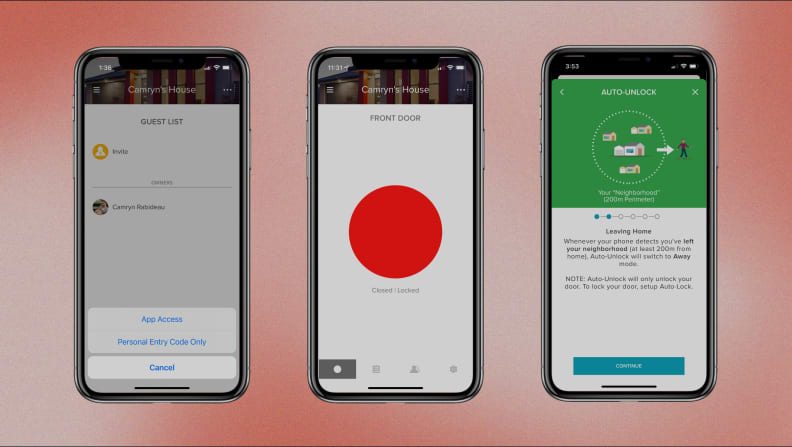 It's natural to be concerned about the privacy of a smart lock—after all, it's the main line of defense for your home! Thankfully, Yale has several security requirements to help ensure no one gains access to your account without your permission.
The app requires a strong password, as well as two-factor authentication, and you're required to verify both a unique phone number and email address for each account.
Further, all the lock's information, as well as its passcodes, are secured with multiple layers of encryption using the brand's patented encryption method.
If you opt for one of the key-free versions of the Yale Assure Lock 2, there's also the added benefit that it cannot be picked or otherwise forced open. Of course, the flip side of this is that you'll need to stay cognizant of the lock's battery life—otherwise, you may find yourself locked out of your home.
Should you buy the Yale Assure Lock 2?
Yes, if you're fairly tech-savvy to begin with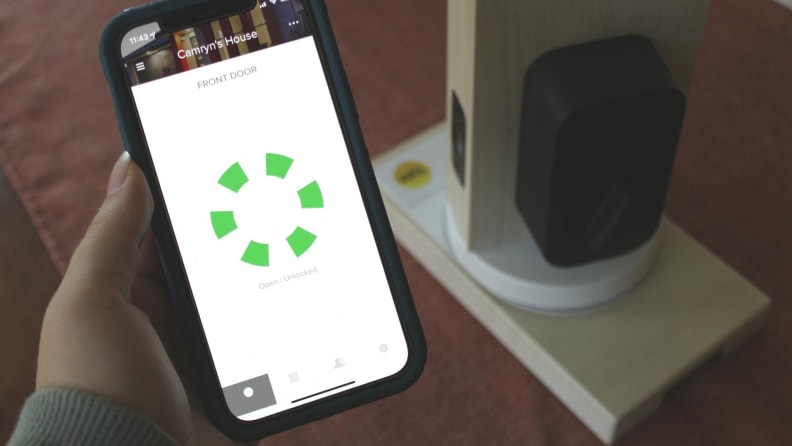 The Yale Assure Lock 2 has a sleek and compact design that's most certainly appealing to anyone with discerning tastes—especially when you compare it to many of the other bulky, utilitarian options available today. Installation of the lock is straightforward (assuming it's compatible with your door), and its basic functions, including locking/unlocking via the app and keypad, work as expected.
That said, we did experience some glitches with the lock during testing—such as trouble connecting to the device via cellular data and notifications not arriving as expected—which could make it a bit frustrating to use at times.
These issues could simply be because the lock is fairly new to the market, and as someone who uses smart devices regularly, I was generally able to troubleshoot them on the fly, so it wasn't a big deal to me.
However, if you're someone who isn't the most tech-savvy, this might not be the best option for you—after all, the last thing you want is to be swearing at your phone because you're locked out of your house and the app won't connect.
The product experts at Reviewed have all your shopping needs covered. Follow Reviewed on Facebook, Twitter, Instagram, TikTok, or Flipboard for the latest deals, product reviews, and more.
Prices were accurate at the time this article was published but may change over time.
Meet the tester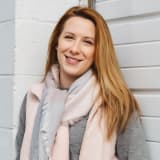 Camryn Rabideau
Contributor
Camryn Rabideau is a full-time freelance writer and product tester with eight years of experience. She's been lucky enough to test hundreds of products firsthand, and her specialties include bedding and pet products, which often require help from her two dogs, three cats, and flock of rambunctious chickens.
Checking our work.
Our team is here for one purpose: to help you buy the best stuff and love what you own. Our writers, editors, and lab technicians obsess over the products we cover to make sure you're confident and satisfied. Have a different opinion about something we recommend? Email us and we'll compare notes.