At a glance
Expert's Rating
Pros
Touchscreen
Pared-back design
Easy to use and cookbook included
Cons
No keep warm setting
Medium capacity: not for large families
Our Verdict
This sleek, unfussy air fryer is a great buy for couples, singles and smaller families looking to save money on electricity bills. It's easy to use and comes with a recipe book for air fryer cooking inspiration.
Price When Reviewed
89.99
Best Prices Today: 1
$59.99
$89.99
If you want to spend less on your electricity bills this winter, an air fryer is a must-have. I was slow to adopt this new way of cooking – because I was slow to adapt. Switching on the oven for almost any cooking job was too much of an ingrained habit.
But then the fuel crisis happened, winter set in and the cost of living crisis started to bite. And I began to think more about how much electricity I was using to heat up empty space in my oven.
Now I'm a convert. But Dreo's smart control air fryer also had something to do with that. I've tested air fryers before but this one is just so simple to use that it made changing my habits a no-brainer.
Design and capacity
Temperature range of 40°C-200°C
8 presets
4 quarts/ 3.8 litre capacity
Dreo's air fryer is a shiny black, cylindrical appliance (although if you're in the US, you can opt to get it in white), measuring 11.7in/ 30cm tall, with a diameter of 9.4in/ 24cm, which means it doesn't take up a huge chunk of counter space. It also has the simplest design we've seen in an air fryer: it's sleek and visually unobtrusive. The lack of physical buttons or decoration also means that it's easy to keep clean, although its glossy surface may get nicks and scrapes over time.
Although you may see the phrase "smart control' on the air fryer's packaging, it is not a smart/ connected appliance. You can't control it via a smart phone or by using voice commands. The name seems to refer to the LED touchscreen on top, which illuminates when you switch it on, and which is how you control the appliance.
Emma Rowley / Foundry
The control panel features timer and temperature up and down keys. The air fryer has a temperature range of 100°F to 450°F/ 40°C-200°C, in increments of 10°F/ 5°C. At the bottom of the touchscreen, you'll find a preheat button, an on/off/pause button and a preset menu, which allows you to scroll through the presets displayed along the top.
There are presets for French fries, steak, chicken, fish, bread and vegetables. Plus, there are reheat and dehydrate settings. The latter is for making dried fruit or jerky. I don't know anyone who's ever used this function but as soon as I end up with a few wizened apples in my fruit bowl, I'm going to try it.
There's a single drawer that feels spacious in comparison to the size of the air fryer itself. It's easy to open, with a button on the drawer handle, and it feels solid and well-made. It won't jam or stick or rattle around when you slot it back in. At the bottom of the cooking compartment is a removable, non-stick plate. Both the basket and plate can be put in the dishwasher or washed by hand.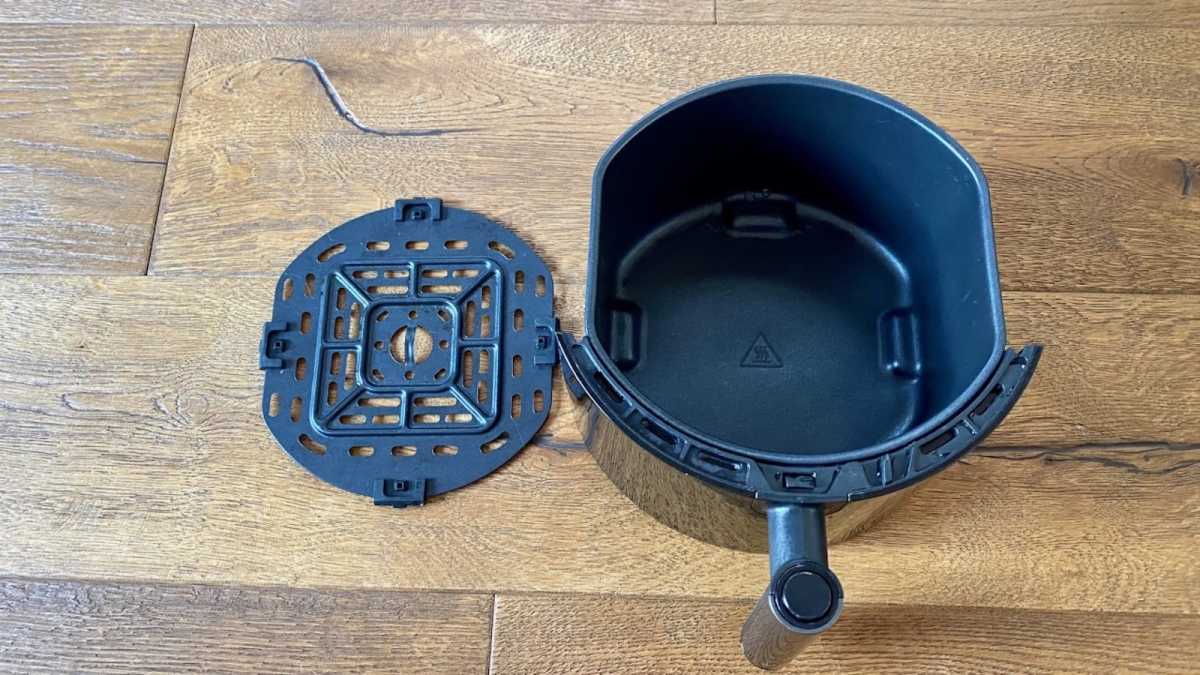 Emma Rowley / Foundry
Don't forget that as part of your regular cleaning, you should clean the heating element at the top of the cooking compartment with a soft brush.
This air fryer won't be for everyone for the simple reason that if you have a big, hungry family, you'll probably want more internal space. It has a 4QT/ 3.8 litre capacity, which makes it ideal for singles, couples, or smaller families of three. Inside, you can comfortably fit regular three portions of fish, meat or burgers – or two large ones; a pie for two; two jacket potatoes; fries or new potatoes for two or three.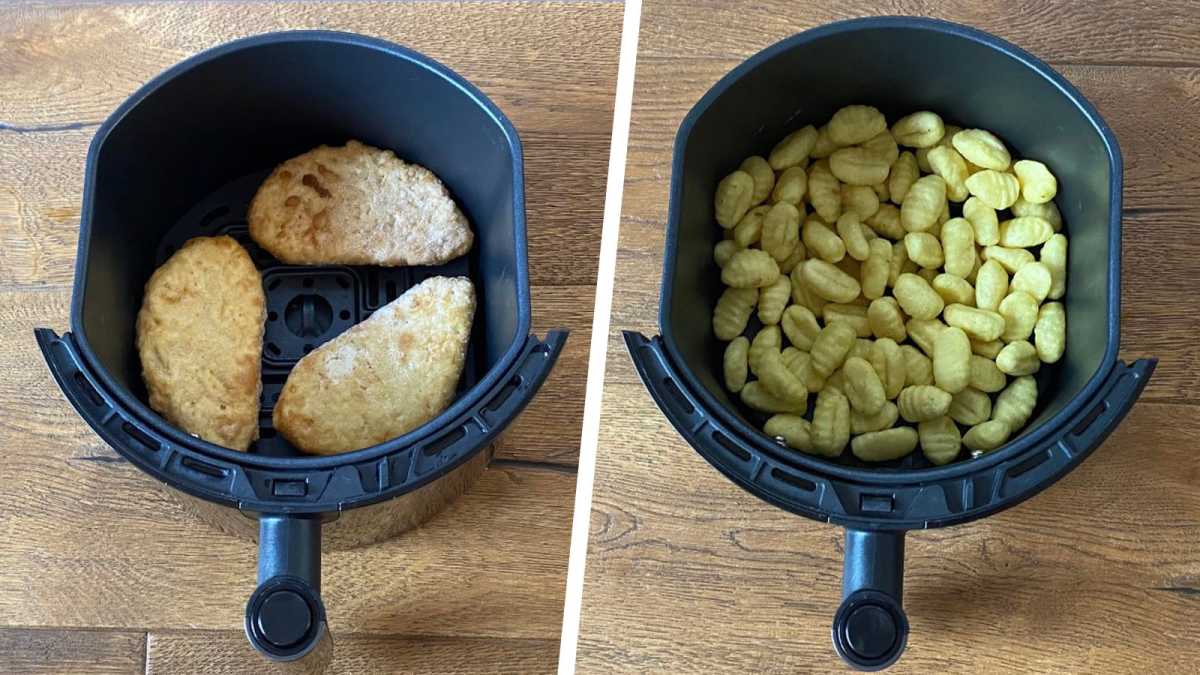 Emma Rowley / Foundry
It's a 1500W appliance. On my current electricity tariff, this means that cooking my lunch for 15 minutes will cost me around 13p. The cost will vary depending on your tariff, but it'll be similar if you're in the UK. This compares very favourably with using an oven. An air fryer and a microwave are your culinary secret weapons for cost cutting: between them, you can cook, defrost, or reheat most items while keeping electricity use down.
Performance
Comes with a 50-recipe cookbook
Shake/ turn alert
No keep warm function
As most people now know, an air fryer doesn't really fry at all. Instead, it's a mini convection oven that circulates hot air around, which cooks food quickly and gives it a crispy, crunchy texture.  
This makes it extremely versatile. It's not for beige food only. It works brilliantly for roasting vegetables or for crisping up gnocchi. Although air needs to be able to circulate between the pieces of food, it will still make fries and the like crispy if you shake up the contents at least once during cooking. The Dreo air fryer gives you an alert 60% of the way through the cooking time to remind you to do just that.
It comes with a book of 50 recipes, which is great for anyone who's new to air fryer cooking, or just looking for a bit of inspiration. It features everything from cookies to muffins, chicken wings, meatballs, shrimp, doughnuts and egg tarts. The only thing to bear in mind is that to make some of the recipes, you'll need oven-proof muffin or cake tins which aren't included with the product.
You may also find that both recipes and presets need a bit of finessing to get your food to come out perfectly. But, as you'll be returning to the appliance to shake or turn over most of the food you cook, you'll start to get a good sense of how it's coming along.
When it's finished its cooking programme, it beeps to alert you and switches off. You should note that, while some air fryers have a keep warm setting, this one does not.
Price and availability
The Dreo smart control air fryer is available in the US and the UK.
If you're in the US, you can find it on Amazon, with a list price of $89.99, or buy it direct from Dreo. However, the best price we can currently find is from Walmart, where it's on sale for just $59.99. At this price, we reckon you should definitely snap it up.
In the UK, you can buy it from Amazon, where it's retailing for £94.99. We think it's a good price for a very useful little appliance – but if you can buy it for less during the sales, you'll be getting a great deal.
Verdict
If you have a smaller household and you're looking for a simple, low-cost way to cook, we'd have no hesitation in recommending this sleek little appliance. It's easy to use, easy to clean and its recipe book is an added plus for those new to air fryer cooking.
For more air fryer options, and to see which appliances we recommend, have a look at our round-up of the best air fryers we've tested.