At a media event in New York City last week, I spent several hours with the new Fujifilm X-T5, and I came away with some interesting first impressions. The camera is a lot better, but not necessarily because of the specs.
Author's Note: In addition to my thoughts below, the First Impressions video above has a variety of thoughts and sample images from the day spent with the X-T5.
Fujifilm has released a new XT camera every two years, like clockwork, since 2014 when the X-T1 provided the Fuji shooters with a new interchangeable-lens camera with just enough processing power to make a very serviceable go-anywhere camera. The company's originally-designed APS-C-based system favors light and compact bodies, and the XT-1 was a perfect example of the form-follows-function design of the X-T lineup.
In 2016, Fujifilm launched not only the successor to the X-T throne — the XT-2 — but also the (as the name suggests) more professionally-oriented X-Pro 2, as well as the company's first medium-format digital camera, the GFX-50S.
You'd think that with the company forking its cameras off into different niches, the XT-2 and successors would stay as compact as possible. Still, over the run from the X-T2 to the X-T4, the cameras got larger and heavier, relatively speaking.
Development Cycles
After a few years of body growth, the X-T5 is tapering back. It feels a bit like an athlete that bulked up for competition but then got more chiseled as they continued competing. Fujifilm packed some significant upgrades into the new body, but it did so while also svelt-ifying it. It's slightly lighter than the X-T4, but the weight is less notable than the frame's compactness.
Complete specifications on the X-T5 can be found in our launch coverage, and while it's not a jaw-dropping update, it does have an excellent array of features.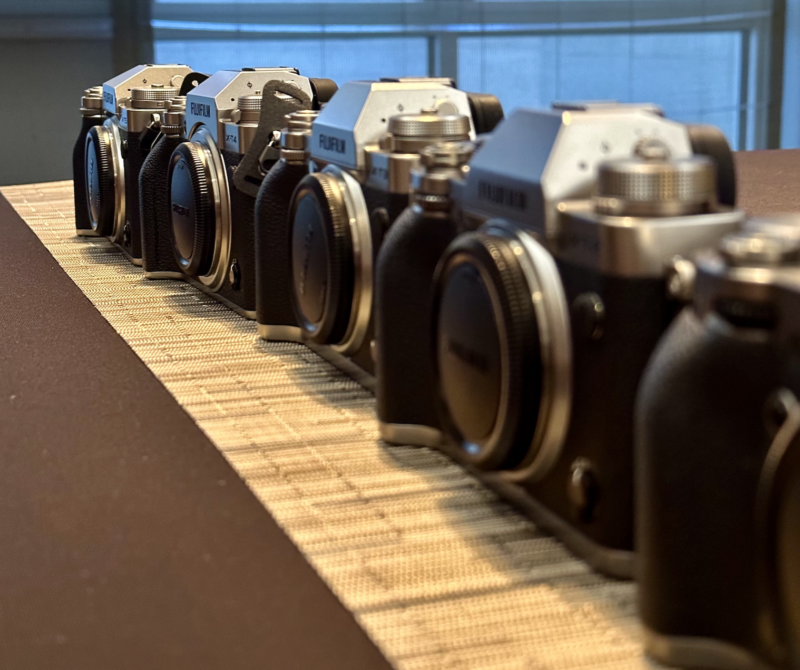 The company says the AF was trained with "Deep Learning" passed on from the X-H2 and new phase-detect autofocus points to give it much better focus — which I could essentially confirmed during my time shooting with it. Having a lack of fast-moving subjects meant I won't be able to evaluate this until we get production models to review thoroughly, but still, the system felt snappier and more responsive in general and, coupled with the new 30mm macro lens, just outright tenacious with regard to autofocus.
Fujifilm says the camera can track animals, birds, humans, vehicles, cars, trains, and bikes. It feels like everyone is getting into the "deep learning" game these days, and it will be interesting to compare systems when the dust settles.
The new imaging processor and 40-megapixel sensor can capture images at up to 1/8000 of a second (mechanical shutter) and up to 15 frames per second (also a mechanical shutter). The X-T5 sports a five-axis image stabilization system that the company says provides up to seven stops of compensation.
From a component standpoint, nothing stands out. For example, the EVF is about the exact resolution as the EVF on the two-year-old Nikon Z50.
On the video front, the camera is more adventurous, with 6.2K/30p and 4KHQ video capable of being saved internally to 10-bit 4:2:2 or output externally as 12-bit ProRes RAW or Blackmagic RAW. For a camera that's trying not to tread too much on its video-centric sibling's shoes, it offers a lot of video in a small body.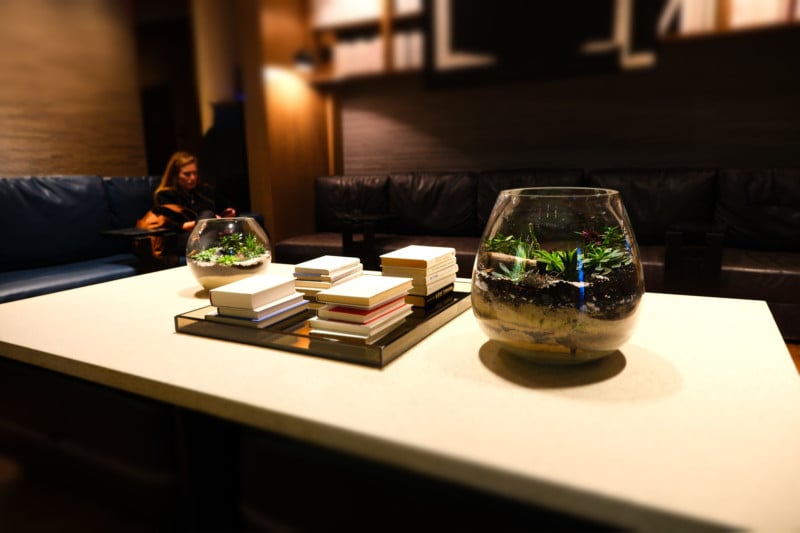 A More Comfortable Shooting Experience
The best impressions are made in one's hand for a diminutive and friendly system like the X-T5. The camera provides a much better shooting experience than the larger and-now-relatively-ungainly X-T4. At the time, I hadn't thought of the X-T4 as being particularly cumbersome, but with the new, more petite body on the X-T5, I realize how much better the experience is when the body fits more comfortably in hand.
This body might be too small for some, though, as indicated by the availability of an accessory bottom-plate grip that provides a bit of extra purchase when shooting with heavier glass.
I spent a few hours walking around New York City with the camera, and even though we weren't provided camera straps (I'm sure they had them if I had thought to ask), I could walk around palming the camera with no problems.
While I'm not wary of shooting bigger full-frame cameras in a busy city like New York, I don't want to go out of my way to telegraph my gear either. I predominantly used the diminutive 30mm macro lens, but any pancake or reasonable zoom kit lens will make this camera unobtrusive if it's seen at all.
The Colors are Still Great
Of course, Fujifilm fans are all about their colors and image quality, and the X-T5 has both of those. Staying true to the system's form, I primarily shot JPEG because RAW converters for this camera weren't available at the press meeting.
While it's an exaggeration to say I never shoot JPEGs, I rarely do. I'm usually too keen on tweaking colors in post-processing to get as accurate an image as I can—at least as accurate an image compared to how I visualized the scene.
But, as Fujifilm fans will point out, the company's internal JPEG processing is excellent, and there were no images in which I found colors, saturation or resolution lacking. That's pretty high praise from someone that shoots 50-megapiel full-frame RAW files all the time and knows how to tweak the outcome in several photo editing apps.
In my more regular "pro" shooting style, I wouldn't be so fond of the manual controls on the top deck of the X-T5, but when I'm using the X-T or X100 cameras, I do like being able to change settings without thumb dials or dives into a menu.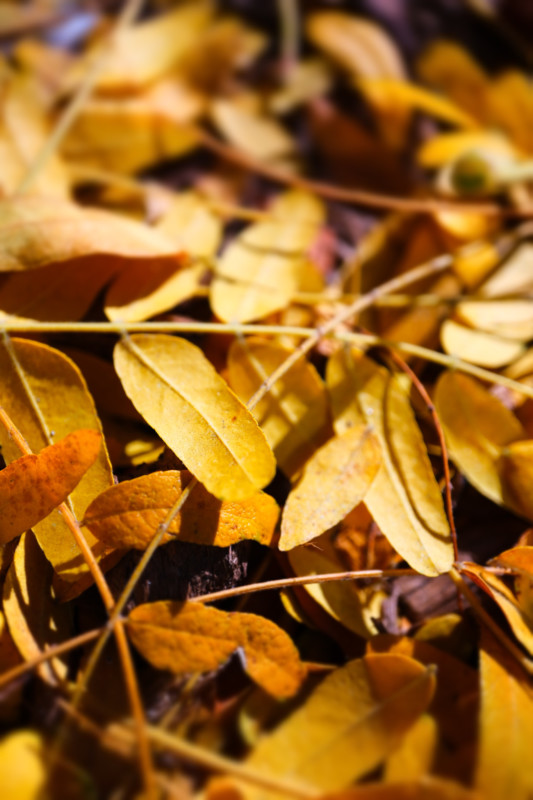 This is true for travel photography, where I enjoy meditatively spending time with a camera and playing with manual controls. It brings me back to my childhood as the son of a commercial photographer, where I'd tag along with my Nikon EL and later hand-me-down Nikon F and F2s.
Many photographers today don't even know how to set a camera manually, so the dials on the X-T5 are enjoyable to me in the way that driving a manual transmission car is.
I owned the first three X100 cameras, and I always loved the form factor and design but wished for faster (autofocus-wise) glass. The X-T5 lets me have that cake and eat it too.
Second Impressions
I'll need to spend more time with the X-T5 to get a real sense of whether I'd pick one up. For Fujifilm fans, it's probably a no-brainer, especially for someone upgrading from an X-T1 or X-T2.
With a collection of full-frame cameras and full-frame glass at my disposal, APS-C is a less crucial part of my shooting. But the XT-5's improved autofocus and higher resolution, the wide range of excellently-regarded glass, the raw video formats, and the newly reduced body size make this the first compelling X-T camera for me in several generations.
---
Disclaimer: David Schloss was formerly the media relations manager for Sony's Alpha division. While this makes him more familiar with the system, his opinions are his own, are backed by PetaPixel's editorial team, and are not swayed either for or against the company. Previous to his time with Sony, Schloss racked up more 20 years of journalistic experience and he takes his integrity seriously.