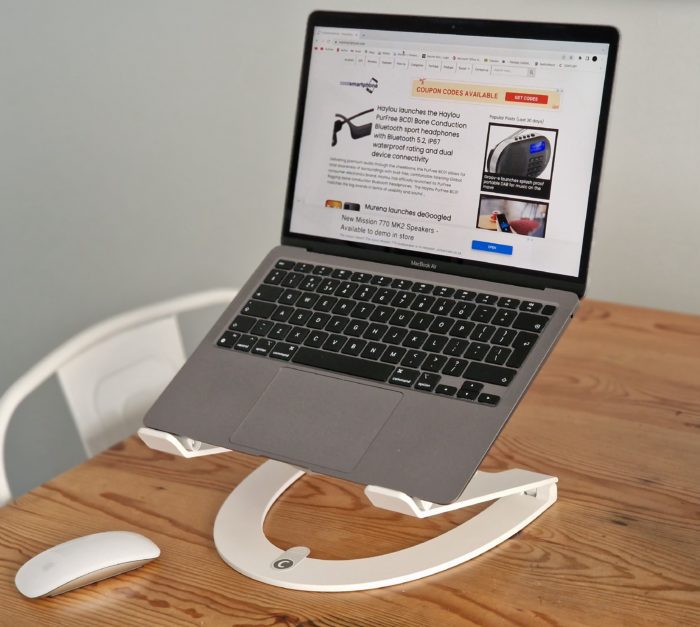 Nowadays, comfort at work is increasingly important, whether at home or in the office. Indeed, having suitable materials like a mouse, laptop, screen, headphones, laptop stands, and others may make you more efficient and improve your way of working.
To address this change in working, Twelve South has recently launched its new elegant MacBook stand, the Curve Flex, which will make your MacBook more flexible.
The Twelve South Curve Flex is a collapsible portable laptop stand that has the ability to position your computer , at an adjustable eye level, up to 22 inches above the desktop. It's designed for Apple products but will work with most laptops. It is a follow-on from the original Curve, which did essentially the same thing, without the portability and adjustability.
What's In The Box: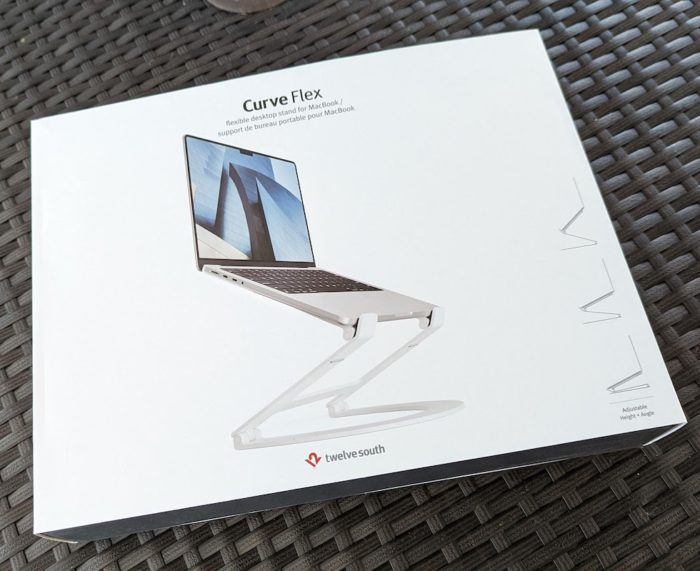 Twelve South Curve Flex laptop stand
Neoprene sleeve
Hex hinge adjustment tool
Instructions.
Hardware specs:-
Width: 10.4-inches (264mm)
Height when folded flat: 1.18-inches (30mm)
Max height when unfolded: 10.78-inches (274mm)
Depth: 8.8-inches (224mm)
Space between base legs: 7.28 (185mm)
Weight: 1.75lb (28oz)
Compatible with all laptops at least 8.66-inch wide and up to 7 pounds
Good Points :-
Firm, rigid hinges don't feel loose (but can be tightened if needed).
Included carrying case.
Bad Points :-
Mostly compact, but not the smallest laptop stand.
Premium price.
In Use :-
The Curve Flex can raise the screen up to 22 inches, beyond the obvious ergonomics, this also has the benefit of raising the front camera up for a better viewing angle, so the other parcipents of the video call/meeting aren't looking up your nose. The stand can angle the keyboard between 0 and 45 degrees. Getting the parts to move how you want them can be slightly tricky so out of the box, there are plenty of visual indicators. There were stickers on several parts of the product to show where my hands would go to raise and lower it, as well as how to angle it. It was tricky the first several times, but not complicated.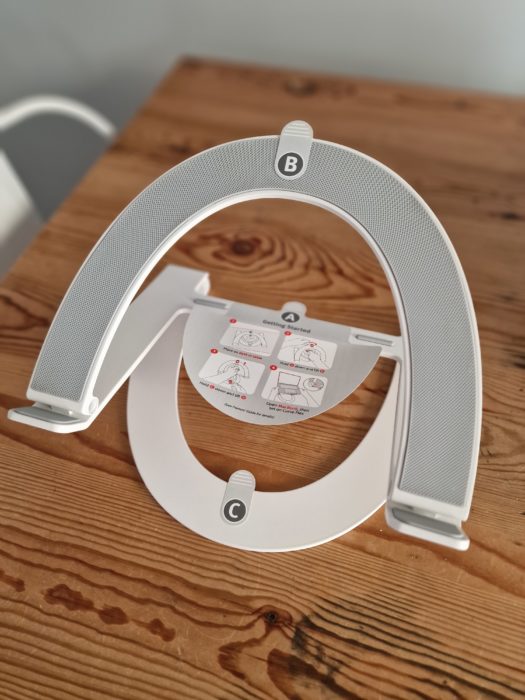 A key element of a moveable stand is that it only moves when you want it to. After a several days of bending it and adjusting it into place, I felt confident that it was sturdy. There's an included hex key (inside the case in a tiny pocket) to tighten or loosen the hinges, but I didn't need to use it.
The Curve Flex fitted my MacBook Air nicely, that said the Curve Flex was able to hold my Surface Book 3 ( which due to the removal design of the screen to quite a bit more top heavy) just fine as well,  due to the rubber across the top and the base of the unit,  slipping and scratching wasn't a worry. There are also bits of rubber where the stand may fold into itself to keep it from hitting metal on metal.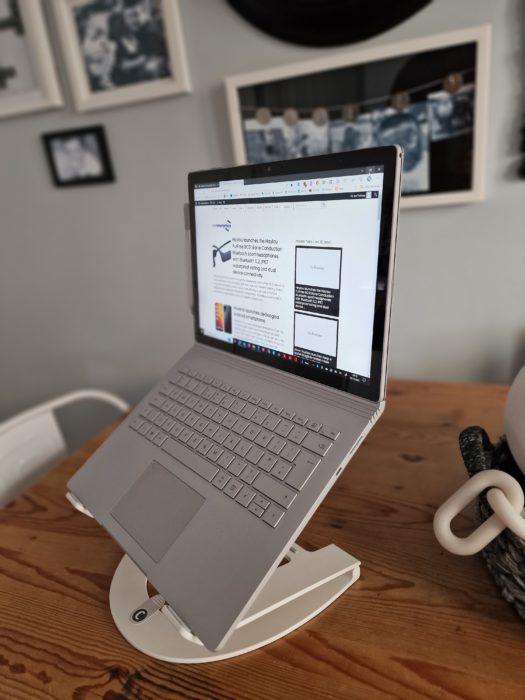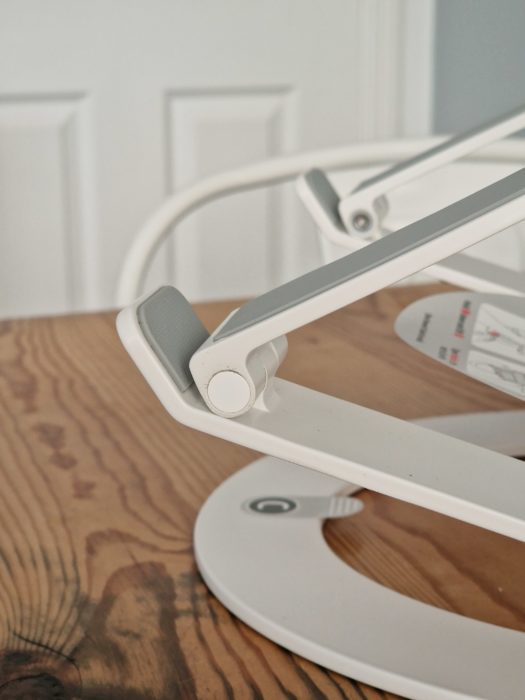 The stand is available in matte black or white, anywhere the Twelve South Curve Flex laptop stand touches anything else (desk, laptop, itself) there are high-quality silicon pads that are very nicely stuck to the sturdy painted aluminium. I was surprised that the Curve Flex came with a neoprene travel case as few products seem to come with their own accessories. It's not the most luxurious case, but it kept the metal stand from dinging up any devices inside my computer bag.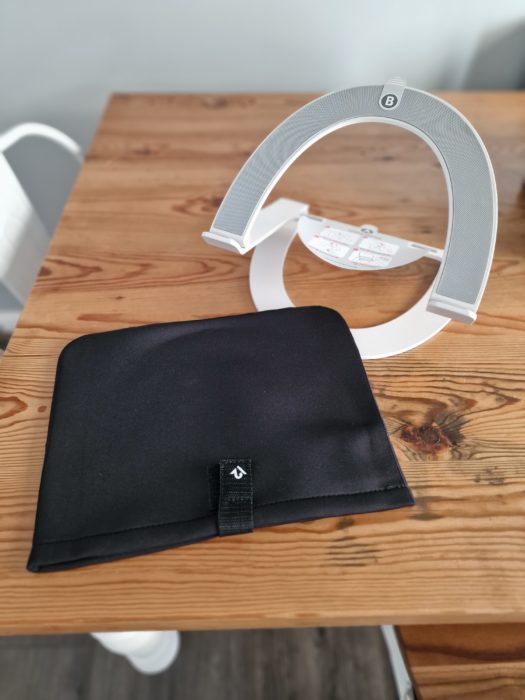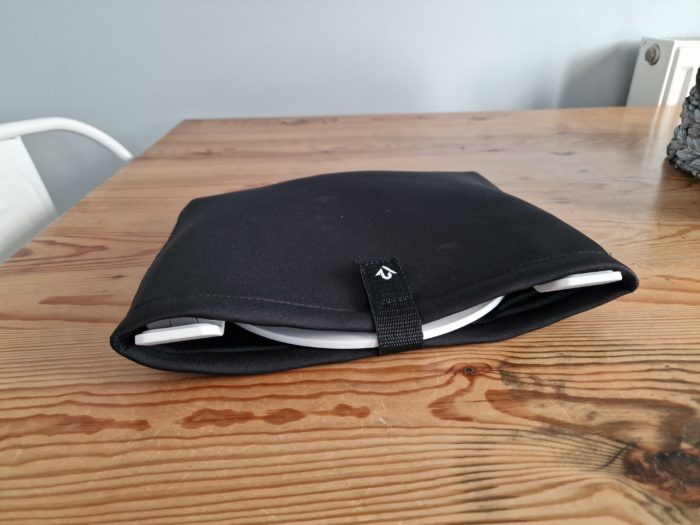 I tried the Curve Flex in a couple of ways  First, using it as a stand-alone laptop stand with an external mouse and keyboard. This was great for positioning the screen at eye level preventing neck strain when I was away from home.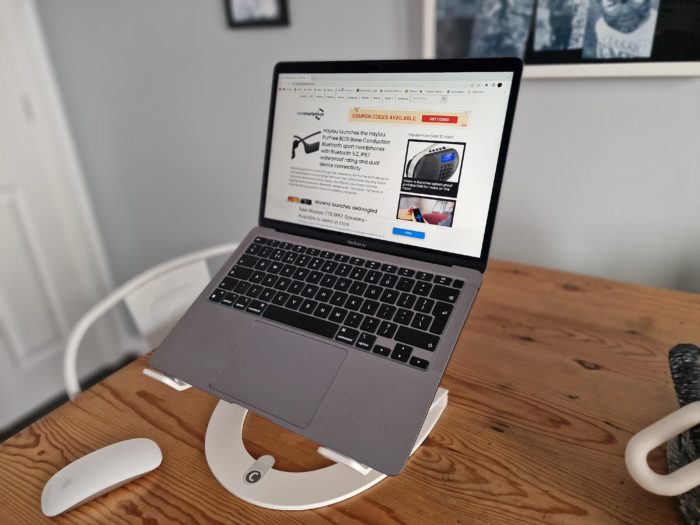 The second was as a stand to position my laptop in my work-from-home setup, setting the laptop screen next to the external monitor. The adjustability really came into play here. It looked good and performed very well.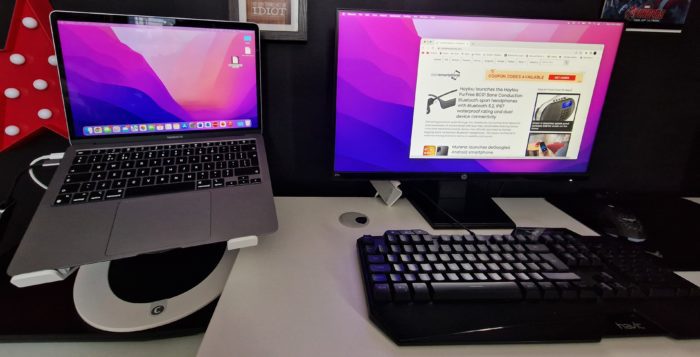 Conclusion:- 
Yes a stack of books will bring your device up to eye level, but they are a bit more difficult to bring with you on your travels. The Curve Flex is little bit on the expensive side, currently £89 on Amazon but it is well designed and built and very stylish, and matches Apples design ethos. It would make a good Christmas gift for the home worker or student in your life.