The restaurant industry is undergoing a quick change. A seamless and connected customer experience is essential to retaining the consumer's trust. Regardless of how customers place their orders through walk-ins, online, over the phone, or through food ordering apps, your restaurant must have an effective Omni channel strategy that meets their demand for a consistent experience.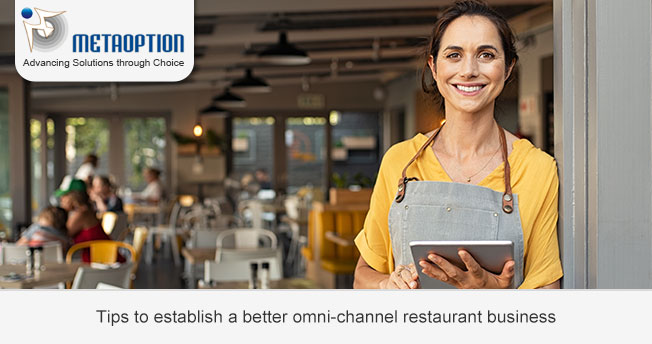 In this blog, we will discuss how to use the Omni channel effectively for your restaurant business and give your guests more options, letting them order through their favorite channels.
How to use Omni channel effectively for your restaurant business
Give your customers choices
Customers in restaurants are accustomed to specifying the specifics of their orders. They can tell a member of staff if they want extra cheese and no chili on their pizza. They require and expect the same customization options when ordering online or through an app. Customers should be able to make add-ons and changes. Such as removing a dressing, selecting a different side, or flagging themselves as allergic to certain ingredients, regardless of channel. Also, your menus should be consistent and transparent, and all ordering information should be seamlessly transferred to the kitchen.
Your interest is in properly fulfilling each order. Whereas, a single mistake may usually be fixed quite quickly in the restaurant. But if that mistake isn't found until after an order has been delivered to the customer's house, it will be far more difficult to fix and may cost you repeat business.
Track the entire order lifecycle
You can track each order's specific origin and fulfillment method because it comes in through various channels.
You won't need to prepare everything as if it were being loaded onto a bike and delivered across town if a customer placed an order using a QR code and is dining in. Your staff needs information on each order's preparation, packaging, and expected completion date. The last thing you need is for your lobby to become overcrowded with delivery drivers or for customers to phone and complain that their food is cold because it wasn't wrapped properly.
Give accurate status updates
Customers value accurate preparation and delivery status updates just as much as your staff requires timely information in the kitchen. To ensure that each order is delivered to your customer's exact specifications, on time.
Make sure that information is flowing through all suitable means if your restaurant has crowds on a Friday night and your culinary crew needs more time to accept online orders. The chance hurting or of disappointing consumers with late deliveries is not worth the risk. When working with third-party delivery service providers, this is very important.
If you are looking forward to learning how a unified restaurant management software may help you to execute your Omni-channel strategy and provide you support in the future? For more information and a customized demonstration of LS Central, contact us today at MetaOption.