Murena One, a new deGoogled Android smartphone that gives users back control of their privacy and data sharing, is now available in the UK with shipping to start 28th September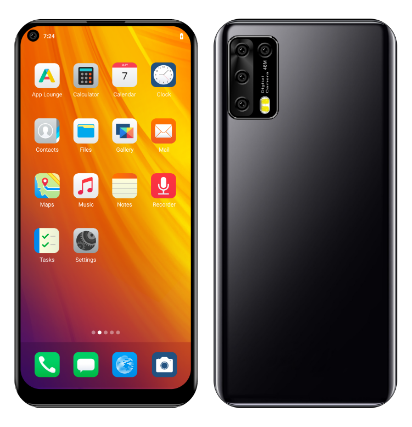 The new smartphone runs on an Android operating system that has been 'de-Googled', protecting your data
UK – Murena, the open-source technology project behind de-Googled Android operating system /e/OS, makes its hardware debut with the announcement that its first smartphone, Murena One, is now available for £257 in the UK with shipping to commence 28th September 2022.
Some key features of the handset include:
• Runs on familiar Android OS, but e/OS/ does not collect and send data, i.e. no constant location tracking
• Favourite Play Store apps still available to download from Murena's App Lounge – which allows you to download anonymously
• Advanced privacy widget flags trackers and allows user to disable
• Competitive hardware including high spec camera, 4GB RAM and 128mb expandable storage
• Affordable, unlocked dual-sim handset
Murena One is an alternative smartphone for those who prioritise privacy and don't want their data to be at the mercy of big tech. It utilises privacy-enabling operating system /e/OS, which runs on Android with certain aspects of code that collect and send data, often unbeknownst to the user, removed.
Unlike Android on most smartphones, /e/OS does not collect data in apps and cloud services nor track the user's location hundreds of times a day. Despite this, it is still compatible with any Android apps that can be downloaded via App Lounge ‒ which users can choose to sign up to anonymously, unlike other app market places ‒ so users don't have to compromise on the apps they know and love.
The Advanced Privacy widget on Murena One also informs users of trackers and information collected by different apps and enables them to agree or opt out and has ad-blocking enabled by default in the browser, giving the user much more control over their privacy than is typical with Android.
For storage, Murena One uses Murena Cloud (formerly eCloud), powered by reliable open-source software like NextCloud and OnlyOffice, so users can safely store their files, contacts and emails without constant tracking.
With competitive features ‒ including 6.5inch display, 4G LTE, dual sim, 128GB expandable storage, 4GB RAM and 4500 mAh battery and three high spec rear cameras (48, 8 and 5mp) and a 25mp selfie camera ‒ the team behind Murena One is confident it will become a major contender in the smartphone market.
"We are excited to offer our software and cloud services in our own device with impressive specs at an affordable price," says Gaël Duval, founder of Murena, "our mission is to empower people to easily make choices regarding the data they share with businesses and improve awareness as to how apps utilise our data without us realising. Currently, most people are unaware of the extent of information big tech has about us, our families, views and life choices ‒ and the consequences of this, including how it is used, often for profit ‒ we want to educate people and offer more choice in the smartphone market for online privacy."
Murena's software /e/OS already supports 269 types of smartphone, including a partnership with the environmentally conscious smartphone manufacturer Fairphone, Gigaset and Teracube, thanks to its privacy-enabling features.
Hopefully we get this device in for a full review in the not to distant future.