We use affiliate links. If you buy something through the links on this page, we may earn a commission at no cost to you. Learn more.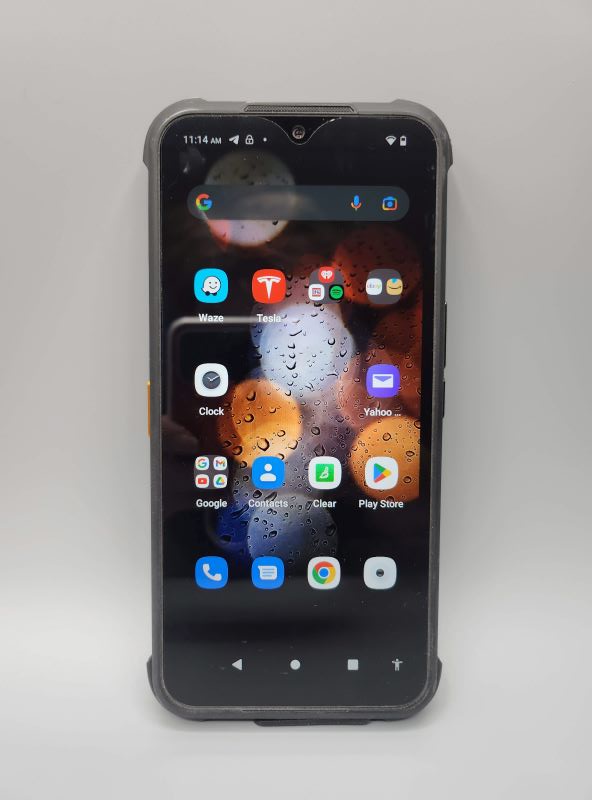 REVIEW –  I'll admit I'm a bit of a phone diva.  I get suckered into the latest and greatest phone with shocking regularity, even though at this point I think we can all admit that innovation between models is marginal and the prices of flagship phones are ridiculous.  With that in mind, I was curious if I would really notice that much of a difference if I tried out a less well-known  brand's phone.   The answer is complicated, but in many ways, I was just as happy with the AGM H5 Pro smartphone as I was with my flagship Samsung phone.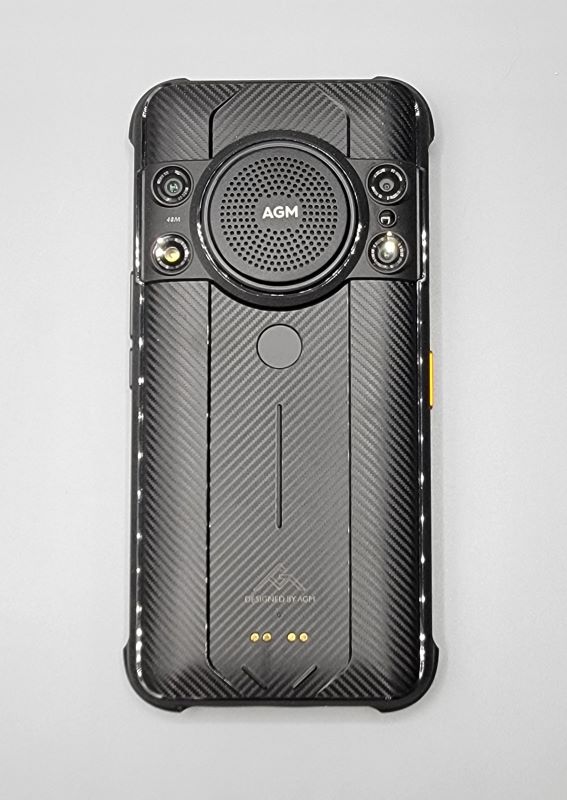 What is it?
The AGM H5 Pro smartphone is a rugged Android smartphone with a very loud speaker and infrared night vision camera capability.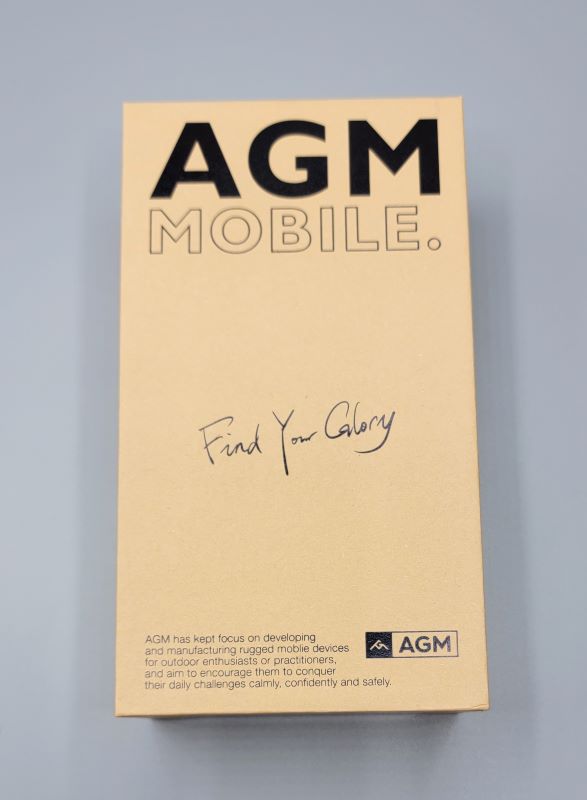 What's in the box?
AGM H5 Pro smartphone
Some stickers
A cable
A charger
Some literature about the phone and quick setup instructions
Some extra plugs for the camera holes in case you lose one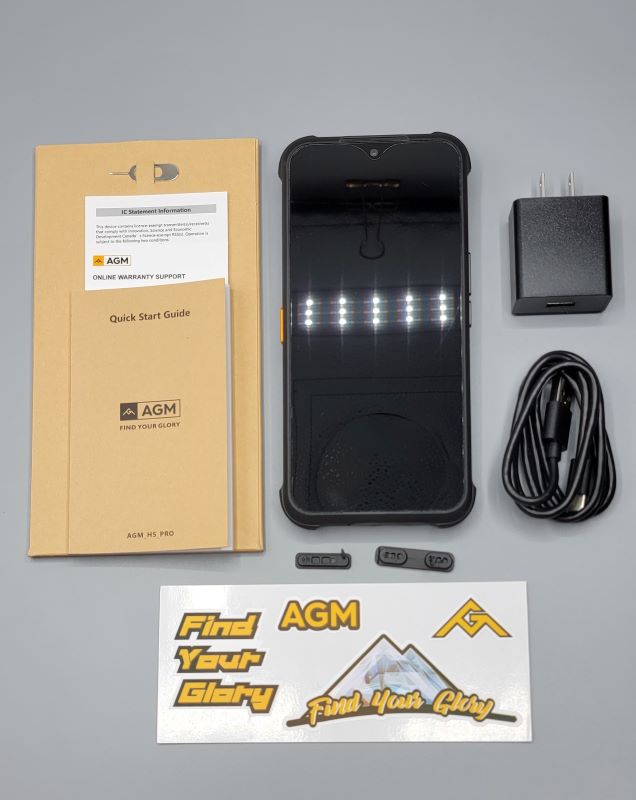 Hardware Specs
IP68 IP69K 810H FCC CE ROHS REACH WEEE certified
Fingerprint, NFC
Waterproof USB Type-C
Night vision
OS: Android™12
Dimension: 176.15*85.5*23mm
Weight: 360g
Battery:  Capacity: 7000mAh
Chipset: 2*Cortex-xA75 up to 2GHz + 6*Cortex-xA55 up to 1.8GHz MT6769V/CZ
Frequency/Band:  2G GSM: 850/900/1800/1900 MHz (B5/B8/B3/B2)
CDMA: BC0
3G WCDMA: 1/2/4/5/8
4G LTE-TDD: B38/B39/B40/B41
4G LTE-FDD: B1/B2/B3/B4/B5/B7/B8/B12/B13/B17/ B18/B19/B20/B25/B26/B28A/B28B/B66
SIM Card Qty: Nano SIM*2 (Dual 4G signal together for standby)
Data transfer
USB: Support USB2.0, Type-C
OTG: Support
SD card: Support Micro SD card share Nano SIM slot
Earphone Jack: 3.5mm earphone jack
BT: Bluetooth 5.0
NFC: Yes
Display
Size: 6.517 inch
Resolution: HD+ 720*1600
Touch Panel: Incel 5points multitouch
Contrast: 1500 typ
Brightness: 500cd/m2 typ
Cameras
Front
Sensor: Sony IMX376
Lens Quantity: 6P
Aperture: f2.2
Megapixels: 20M
Back
Sensor: Samsung S5KGM2SP
Lens Quantity: 6P
Aperture: f1.79
Megapixels: 48M
Macro
Sensor: Gcoreinc GC02M2
Lens Quantity: 3P
Aperture: f2.2
Megapixels: 2M
Night Vision
Sensor: Sony IMX350
Lens Quantity: 6P
Aperture: f2.2
Megapixels: 20M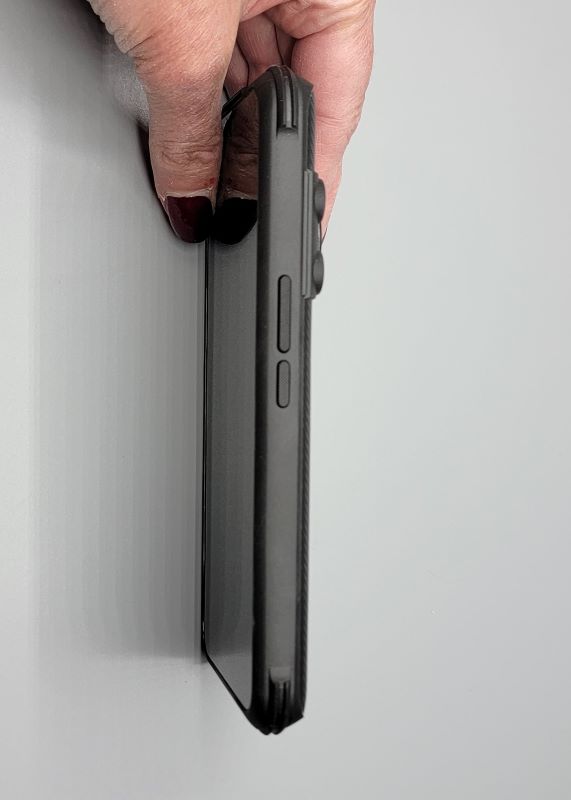 Design and features
Right away I knew the AGM H5 Pro smartphone was for a very different person than me, although I still liked it a whole bunch.  It's just that even someone as klutzy as me doesn't need a phone with this much protection.  The military standard rating of 810H includes crazy tests like low pressure altitude testing, temperature shock, freezing rain, dust and sand exposure, shock like gunfire vibration, etc.    I'm hard on my phones and I certainly drop them enough, but I don't drop them off a building, and I think you could do that with this one.  All that protection comes at a cost, though, and in this case, its bulk.  This is not a tiny phone, nor is it particularly light.  It's nearly an inch thick with the speaker, and it weighs over 12oz.  I'm pretty sure I could drive over it and it would be OK, and it turned my handbag into a pretty effective bludgeon.
Once I got over the sheer mass of the AGM H5 Pro, I transferred my info over and installed my sim card.  Everything went as planned with that, and I was delighted that there was room for an SD card in the tray with the sim.  Yay for cheap storage options!  I was also happy to see an earphone jack.  Although I'm primarily an earbud gal, it's nice to have options and I'm sure I wasn't the only one to miss an SD and earphone jack in the new phones that have come out in the last few years.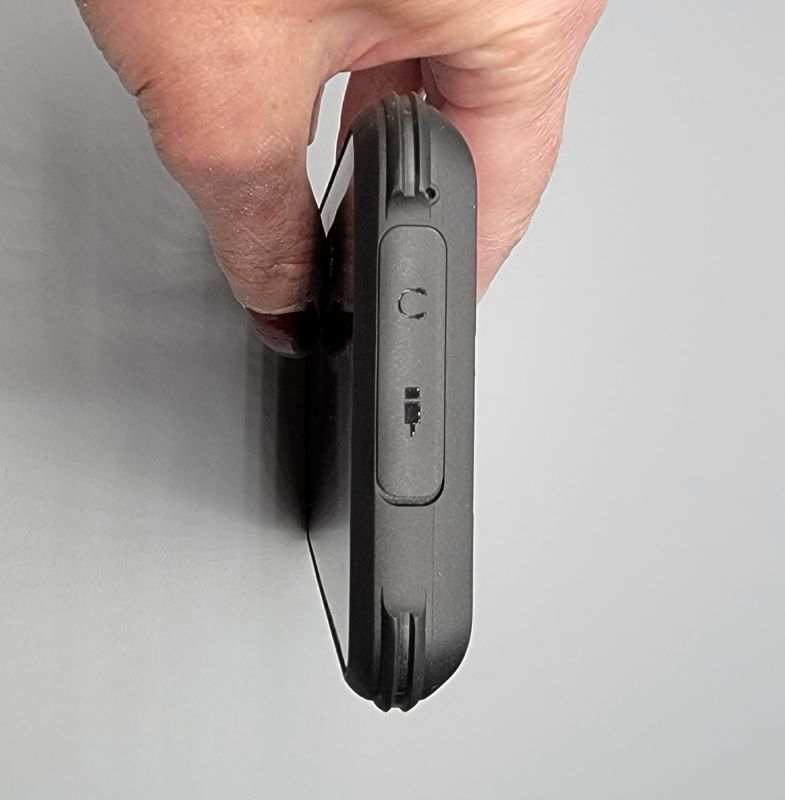 Next, I tried out the speaker.  I mostly listen to podcasts, and I love a loud phone speaker so I can hear it when I'm showering in the morning.  This one was plenty loud and tops out at 109dB, which is just slightly less loud than a jet engine.  Theoretically, you could be the life of an impromptu party with that speaker, and the quality is fine for my needs, but it isn't great quality when you turn it all the way up.  It's loud, but relatively flat sounding at the higher volume.  The AGM H5 Pro does give you a  little light show, though, because there's a ring that lights up around the speaker when it's playing and you can adjust how that works in the settings.
I was impressed by the screen on the AGM H5 Pro. It looked really good to me, and the colors on my games were bright and perhaps more saturated than on my Samsung.  I also thought the cameras did a nice job and were fine for the Gadgeteer reviews I was doing.  I snapped a few pictures of some basil in my garden with my flagship and this phone just to see what the differences were.  This phone has a cool macro mode that my flagship lacked.  I did my best with the zoom, but that macro mode is really cool.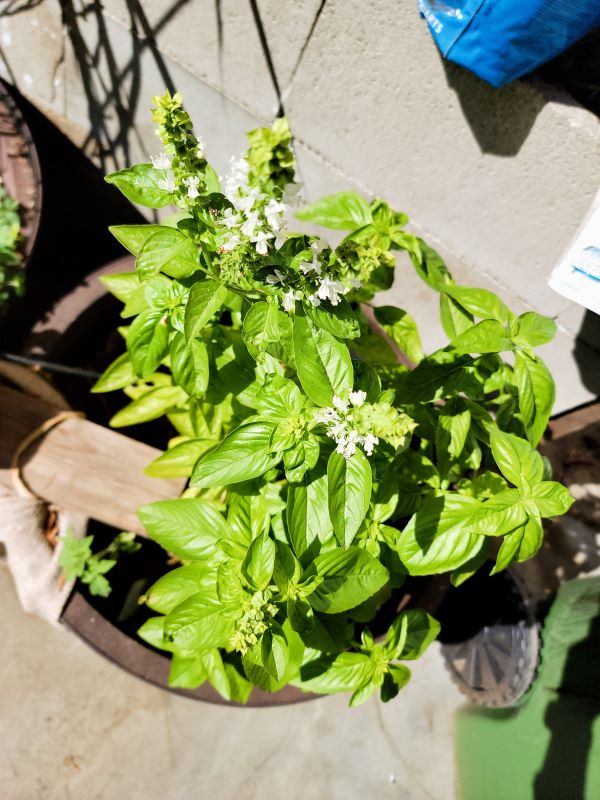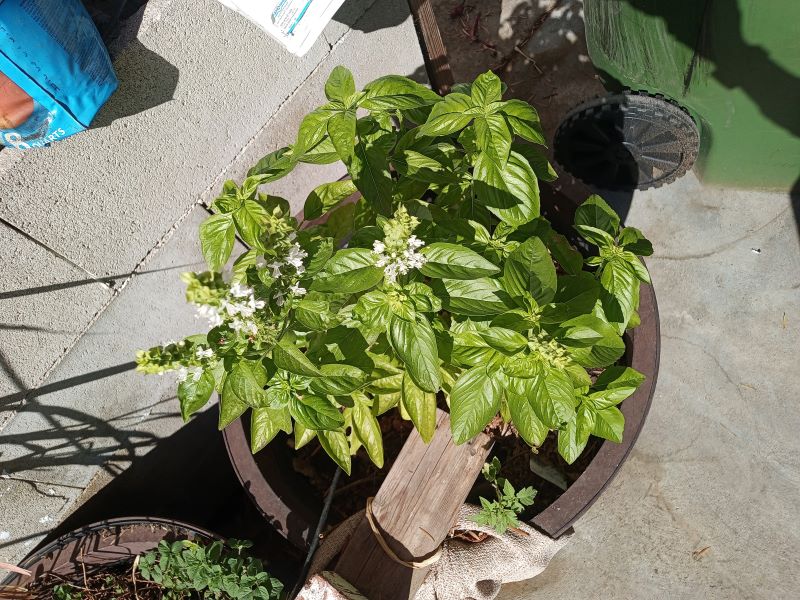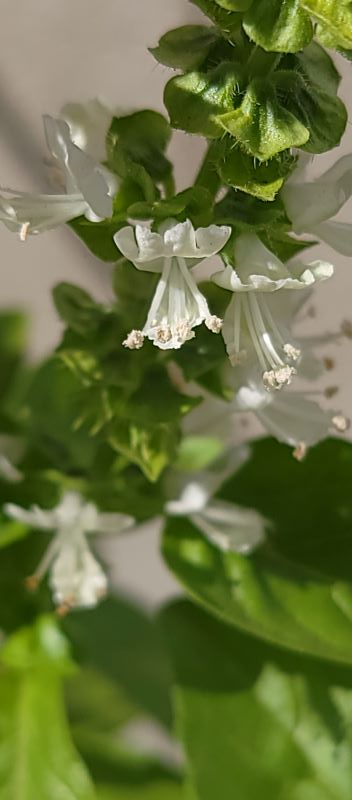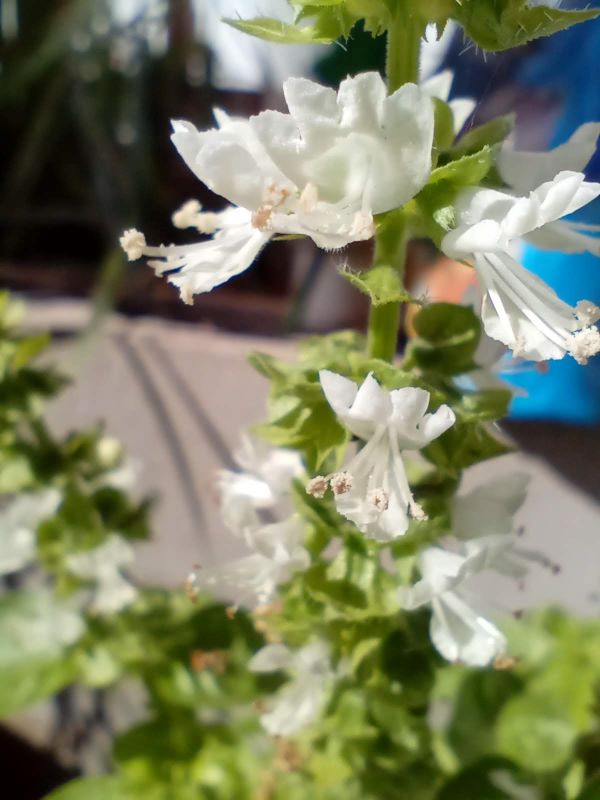 Also impressive was the fingerprint reader, which is located on the back of the AGM H5 Pro.  Usually, those things don't work very well for me – I think my fingerprints are faulty or something.  Anyway, this one worked for me about 75% of the time, which is a new record for me on any device.  I also like that it's so clear where the reader is.  When your fingers don't work so well with those, you always wonder if it's your fingers or if you're just trying in the wrong spot on my Samsung.
I don't play too many games on my phone, just some Wordle and Clash of Clans, but the performance on those seemed plenty snappy.   One thing that I think helped this phone's performance was the fact that they had something called "Duraspeed" that shuts down apps running in the background to improve performance.   You can easily specify if there are apps that you never want shut down, which I had to do because I got tired of restarting my car app whenever I wanted to go somewhere.  Once I got that set up I didn't mind that at all.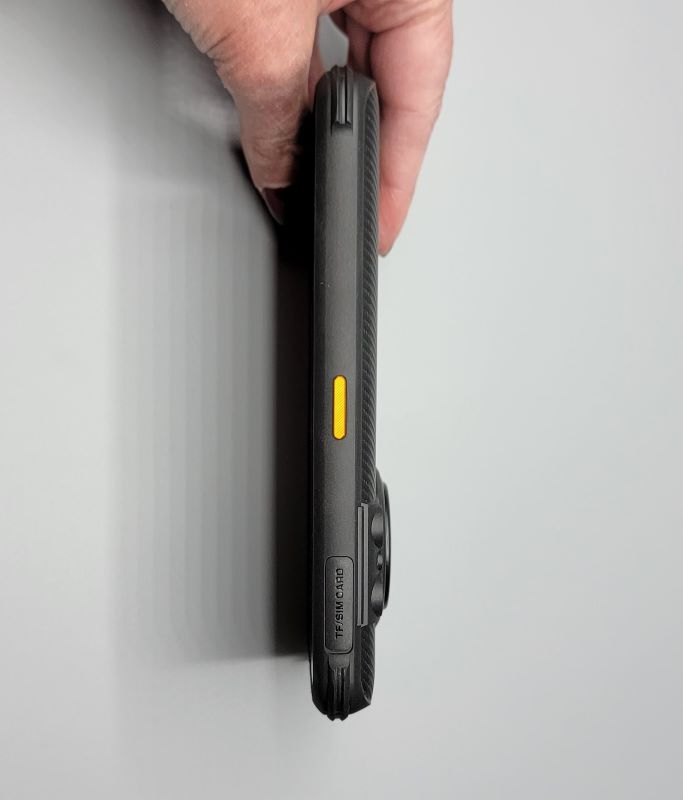 On the side of this phone is a little yellow button that you can program to do things like pause your music.  I programmed mine to turn on and off the flashlight and I found myself using it more often since it was so handy.
A couple of things bummed me out and they are the primary reason I would hesitate if you were considering the AGM H5 Pro as your new EDC phone.    The first was the extreme protection on this device interfered with my ability to plug it in using most of my cables.  I guess if this was my everyday phone I could buy some new ones that worked, but it was super annoying to me.  Most cables could be plugged in so you'd be able to charge, but you couldn't move the phone at all or the cable would fall out.  Also, there's no wireless charging with this phone.  AGM makes a dock that will charge it, but if you have a bunch of wireless chargers already, you're out of luck.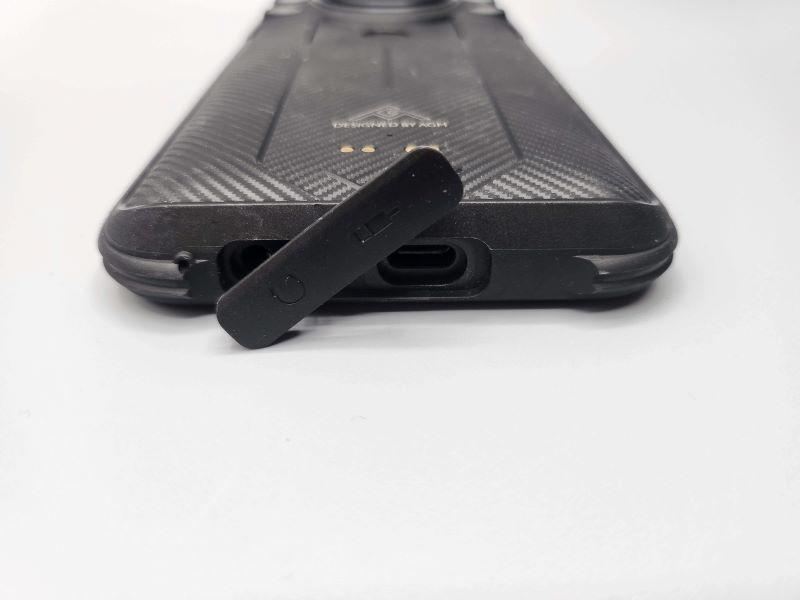 The other issue was a deal breaker for me but might not be for others:  the AGM H5 Pro didn't work with the phone mount in my car.   I have a magnetic mount.  With most smartphones, you can slip a metal disc between the phone and the case, or stick it onto the back of the case to work with the magnet, but this phone has bumps and ridges on the back that make it impossible to get anything to adhere.  I'm not sure that this could ever work with a magnet mount because it's so heavy, but I was determined to try and bought an adapter that was supposed to clamp around the phone and be the metal disc that my mount would grab onto.  The problem was that the clamp wasn't big enough.   I think it would take a lot of trial and error before you could find a mount that would work.
One other concern with this phone is the update situation.  One of the other gadgeteers was doing a little research and asked AGM what their schedule was for updates and they said it was six months.  You have to be the judge of whether that bothers you or not, but if it's my everyday phone that I'm using for purchasing things and banking, I want those updates ASAP.  If the AGM H5 Pro is the phone you take when you go camping or whitewater rafting, you might not care as much.
What I like
Camera and features
Programmable side key
Functional fingerprint reader
Expandable memory
What I'd change
Make the hole for the cable wider so more cables would work with it
Make it more friendly for car mounts
Work a bit more on that speaker
Final thoughts
All in all the AGM H5 Pro is a great smartphone for the price and if I was outdoorsy or if I had a job  (or hobby) where my phone took a beating, this would be my go-to phone.  As it is, I have a feeling this might become my beach phone because I can play a tune on it, take a great picture and still not worry about the sand and sea ruining it.
Price:  $319.99
Where to buy:  AGM or Amazon
Source:  The sample for this review was provided by AGM.