I've had the Nothing Phone (1) for several months now as part of a lengthy review for NextPit. Without much further ado, here is my comprehensive review that shows why this smartphone deserves every bit of its hype. NEXTPITTV
Good
An undeniably cool design

Good screen quality despite calibration issues

Good photo quality with the main lens

The battery life is simply excellent

Nothing OS: a clean skin

Adequate update policy
Bad
Camera module is not versatile enough

33 W wired charging speed is too slow

Colorimetry of the screen could be better

Nght mode is too sluggish
Nothing Phone (1) in a nutshell
The Nothing Phone (1) is available in the UK, Europe, Japan, and even India, but sadly, it is not going to make its way over to the US. You can pick it up in three different configurations of 8/128 GB, 8/256 GB, and 12/256 GB with a price tag of €469 (~$470), €499 (~$500), and €549 (~$550), respectively. Those who are interested will be able to pick it up from the official Nothing store and on Amazon.
I've taken a long time to finish this review, but better late than never, isn't it? This is especially since the numerous updates deployed by Nothing have improved the user experience of the Phone (1) considerably. The Nothing Phone (1) is not a flagship device despite all the hype surrounding it. It's a mid-range smartphone, certainly within the premium category, but still mid-range at the end of the day.
However, does it really offer anything different than LEDs and a transparent back? Well, yes! The greatest quality of the Nothing Phone (1), apart from the bling, is its intrinsic simplicity and its excellent quality/price ratio.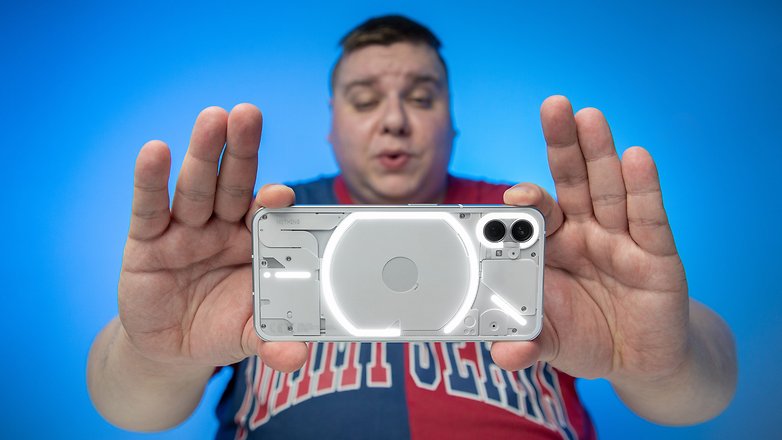 Design: A mixture of boring and innovation
I still like the design of the Nothing Phone (1), even after several months of use. Its transparent glass back that reveals some components as well as the LEDs that light up and that Nothing calls "Glyph interface" which give it an undeniable "cool factor".
---
What I liked:
Transparent design makes quite a statement.
The Glyph interface is a bit of a gimmick but it also spices up the experience somewhat.
IP53 rating, dual stereo speakers.
What I disliked:
Form factor was inspired by the iPhone 13 (not a flaw in itself, but relative to the cutting edge of the design).
---
---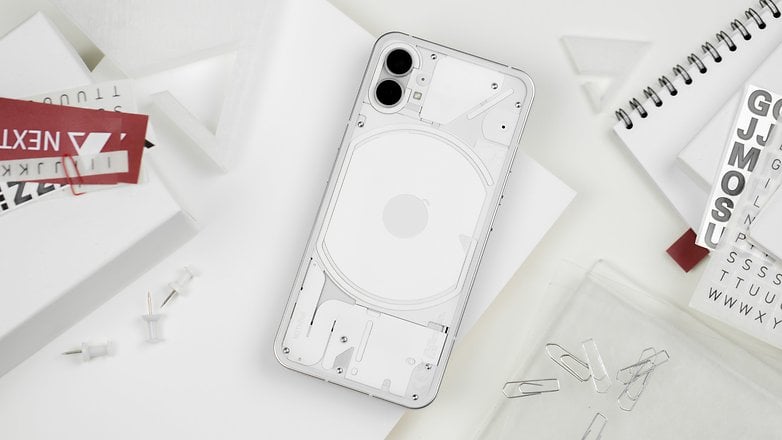 Seen from afar, the Nothing Phone (1) clearly shares the shape and features of an iPhone. The glass back, the flat screen, the straight edges, and the rounded corners. It's a form factor that everyone knows and is familiar with. This familiar design is perhaps a little reassuring to compensate for the extravagance of the Glyph interface.
The Nothing Phone (1) comes in two colors: white and black. Personally, I found the black version to be a tad more classy.
The design of the Nothing Phone (1) follows the same codes as the Nothing Ear (1). The idea is to reveal a little, but not too much, the interior of the smartphone and its components. All of it comes together in an aesthetically pleasing manner that delivers a harmonious design. It's not just a matter of putting a translucent glass plate for fun.
We find different textures, some close to the surface of a golf ball with a small degree of roughness, not to mention an interesting plate at the right of the camera module. The oblong rectangle in the middle has a circular grooved surface like a vinyl. As for the plates at the bottom, they have been arranged to evoke the shape of a small elephant.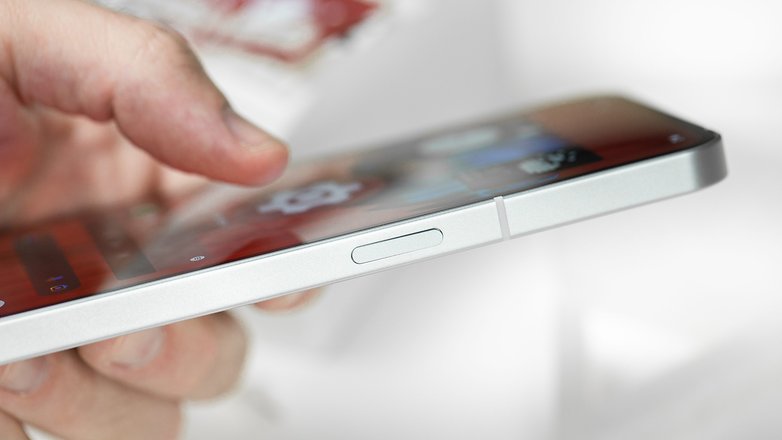 The dimensions measuring 159.2 x75.8 x 8.3 mm are accompanied by a weight of 193.5 g, making it a fairly compact smartphone. For sure it is not too bulky for the hand to grasp. But the most interesting thing is the famous Glyph interface. Basically, it is a system of visual signals (but also sound) that function as notifications, and these notifications are contextual in nature.
This means that you can customize the Glyph interface to associate different types of light signals with different types of notifications. I've devoted a full video to this, which I invite you to watch (you can also read my article about the best Glyph interface features).
On paper, I find it to be quite the gimmick. At the same time, this kind of function is not supposed to transcend your existence to the core. A function is not useless just because it is optional. On the contrary, I find this route of gamification to be quite nice, especially since the manufacturer plans to implement new signals based on user community recommendations. For those who are not prone to such a gimmick, you can also opt to disable this Glyph interface.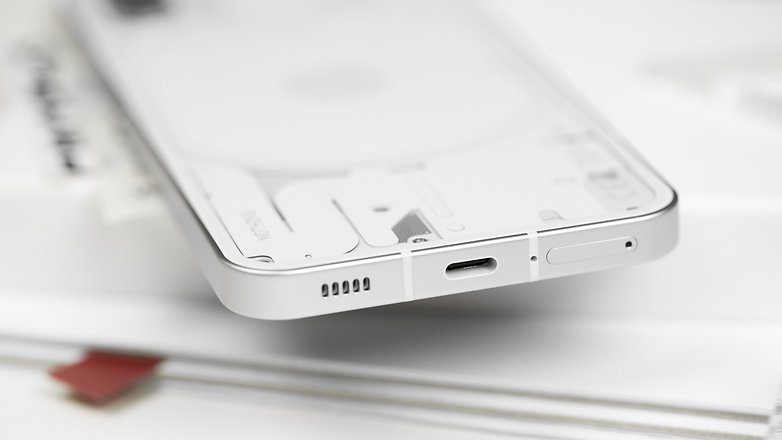 Screen: OLED 120 Hz panel
The Nothing Phone (1) packs a 6.55-inch OLED display with a Full HD+ resolution of 2400 x 1080p, HDR10+ compatibility with a 120 Hz refresh rate, a 240 Hz touch rate, and a maximum brightness of 1,200 nits.
---
What I liked:
120 Hz refresh rate.
HDR10+ compatible.
No edges or chin.
What I disliked:
Relatively low 240 Hz touch sampling rate.
---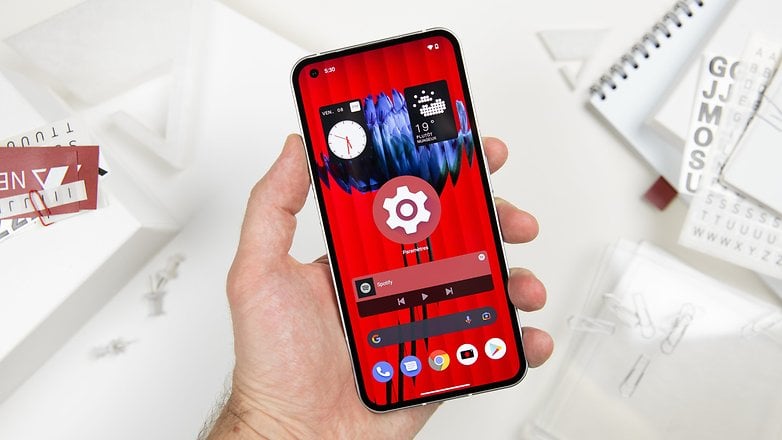 The OLED screen of the Nothing Phone (1) is just what you'd expect from a smartphone in this price range. I found the colorimetry to be a bit too saturated with the Alive color mode activated by default. And by switching to Standard mode, I did not notice a clear difference, at least to the naked eye.
I've seen that several reviewers who are well-equipped with dedicated probes and software found that the screen colorimetry was not really accurate on the Nothing Phone (1). In daily use, it didn't bother me, but it's true that the rendering could have been a bit more natural.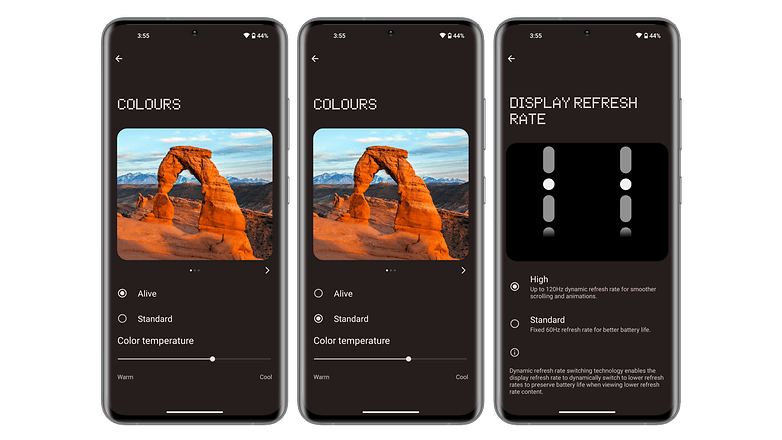 The refresh rate is not very adaptive by default, It can automatically switch from 60 to 120 Hz in certain conditions, without any other interval. The changes happen reactively. However, I found the 240 Hz touch sampling rate to be a bit weak, especially for gaming use.
But apart from those gripes, the flat, bezel-less screen is nice to look at and most importantly, it doesn't have a big chin as is still often the case in the mid-range segment. It is also pierced by a small punch at the top left corner to accommodate the selfie camera. The fingerprint reader under the screen is very responsive in nature. And the haptic engine produces very clean feedback. It's a silly thing to say, but it reinforces the premium feel of the smartphone.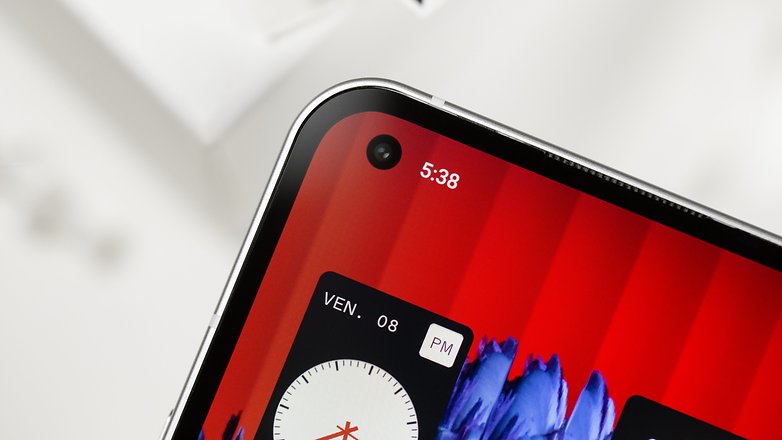 User Interface: Nothing OS, a very light Android 12 skin

The Nothing Phone (1) runs on Nothing OS, which is a skin based on Android 12. It's a very light interface with some very thoughtful customizations thrown into the mix alongside visually original customization elements.

---
What I liked:
A light and uncluttered skin
Some very nice customization elements
4×4 application icons
Almost all Android 12 features are available
No bloatware
3 Android updates and 4 years of security patches
What I disliked:
A seemingly late transition to Android 13
A bit too minimalist for my taste
Not enough Nothing widgets
---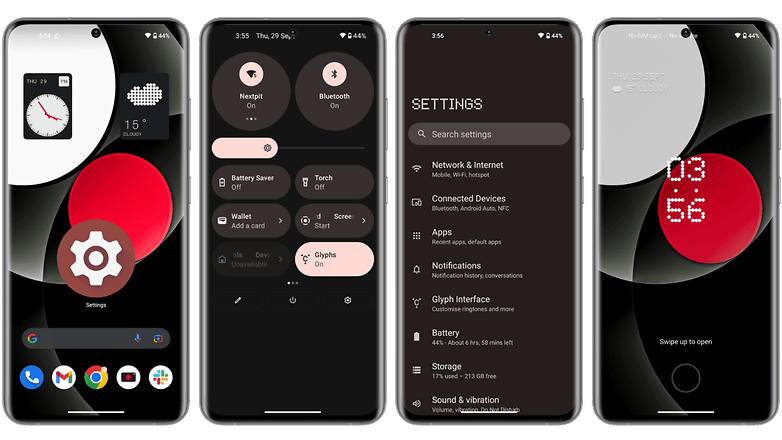 I really like Nothing OS, as this skin looks uncluttered and is one of the closest to stock Android among all other skins. We have all the widgets of Android 12 here, dynamic themes, and the Privacy Dashboard. The interface is free from ads and bloatware (otherwise known as those pesky pre-installed applications). In addition, the customization options also feature Nothing's design language without bogging it down.
For example, you can create enlarged application icons on the home screen. This is handy for apps that you're used to opening frequently, such as Settings or perhaps your favorite IM app.
In the quick access menu, there are six slots for settings and functions instead of the usual four. If we were to swipe down, we have two big circles at the top of the screen. We can scroll through three levels of options within the left circle to manage mobile data, WiFi, and connection sharing. This design element is somewhat similar to the widget stacks found in iOS 16 and helps to visually lighten the menu without sacrificing the number of accessible settings.
In the "native" applications (the photo gallery and the file manager belong to Google), we find a slightly retro look, composed of dotted lines in pixel art format. It's nice, but I think Nothing could have offered more diversity in its widgets and especially more advanced customization in some apps.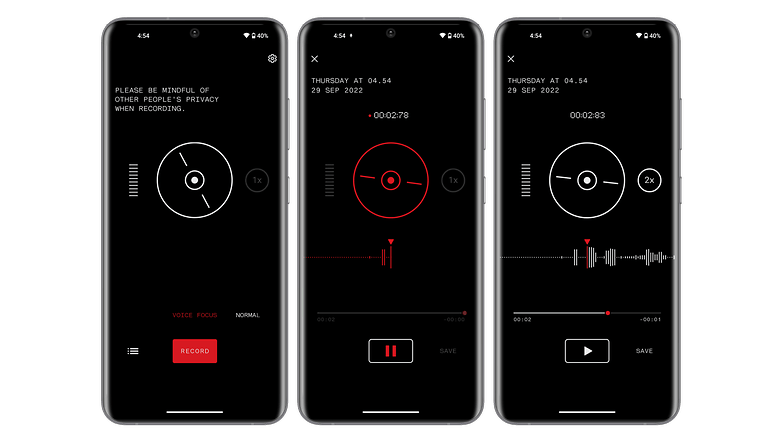 For example, I liked the design of the voice recorder that evokes the analog nature of a tape recorder. I wish Nothing would have equally been as inspired for the camera app and gone a little further in its delirium. I was sometimes left a little frustrated by the admittedly intended sobriety, which was adopted by the manufacturer.
Another example that espouses my view – the weather application has nice widgets but when you press it, you are redirected to the web version of Accuweather. The clock has a very ordinary stock Android look as well. I also noticed some very rough translations in the process if you are using a different language.
Nothing guarantees three major Android updates and four years of security updates. However, the transition to Android 13 is going to be a bit of a struggle. Carl Pei had initially relativized the importance of Android versions in lieu of the user experience. However, the manufacturer quickly confirmed that the deployment would not take place before the first half of 2023. The beta should begin by the end of 2022.
Performance
The Nothing Phone (1) packs a Qualcomm Snapdragon 778G+ SoC that was manufactured using the 6nm process and mated to an Adreno 642L GPU, all coupled with 8 or 12GB of RAM and 128 or 256GB of storage.
---
What I liked:
Exceptional stability
No overheating
No aggressive thermal throttling
What I disliked:
Graphical concessions are to be expected
Complicated to play in 60 FPS or higher
---
There is no doubt that the Snapdragon 778G+ is a mid-range chipset. In fact, it's this point in particular that has caused a bit of disappointment among some of those who hyped up the handset, hoping the Nothing Phone (1) would be an ultra-premium flagship.
 
Realm GT Neo 3
Dimensity 8100
Nothing Phone (1)
Snapdragon 778G+
3DMark Wild Life
3,509
2,809
3DMark Wild Life Stress Test

Best loop: 3,514

Worst loop: 3,406

Best loop: 2,832
Worst loop: 2,816
Geekbench 5
Single: 963
Multi: 4,056
Single: 796
Multi: 2,889
For all the above, it's a platform that Qualcomm has had time to optimize and which is much less energy consuming than its high-end equivalents and especially, which overheats less. Well, the raw performance is clearly not that great, this much we agree. But the stability is rather exceptional.
On the Wild Life Stress Test benchmark by 3DMark, the Nothing Phone (1) maintained a stability of 99.4% over the 20 minutes of the test. The smartphone did not exceed 31° on this benchmark although it is supposed to simulate intensive gaming use.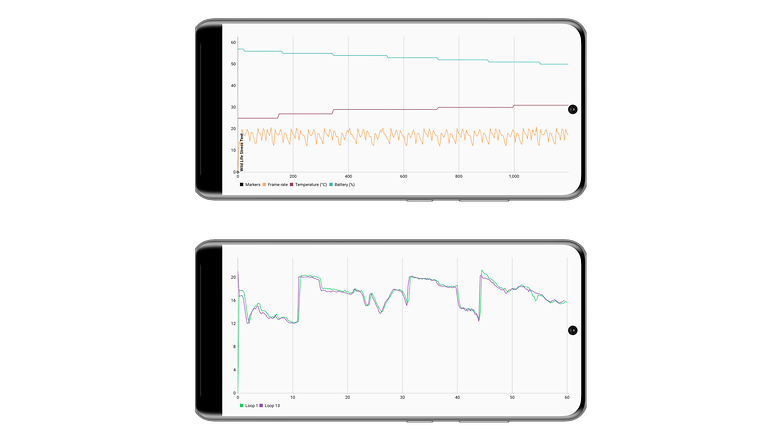 Don't get too carried away, though. We insist that this handset offers performance that remains within the mid-range domain. You'll be stuck at 30 FPS in most cases with average or even poor graphics settings on most games. At least you won't have the indignity of suffering from abrupt framerate losses or aggressive thermal throttling.
For me, this is a success for Nothing. Rarely do I see such stable performance when I review an Android smartphone.
Photo: Two lenses, no fuss
The Nothing Phone (1) is equipped with a dual camera module spearheaded by a 50 MP wide angle lens and the Sony IMX766 sensor as well as a 50 MP ultra wide-angle lens. As for the selfie camera, it offers a 16 MP resolution shooter.
---
What I liked:
The main lens is very good during the day
Satisfactory level of detail and dynamic range in wide angle
Night mode works well with a natural rendering (does not light up the scene too much)
What I disliked:
Any digital zoom doesn't look great
Ultr-wide angle lens is rather average
The night mode is too sluggish
---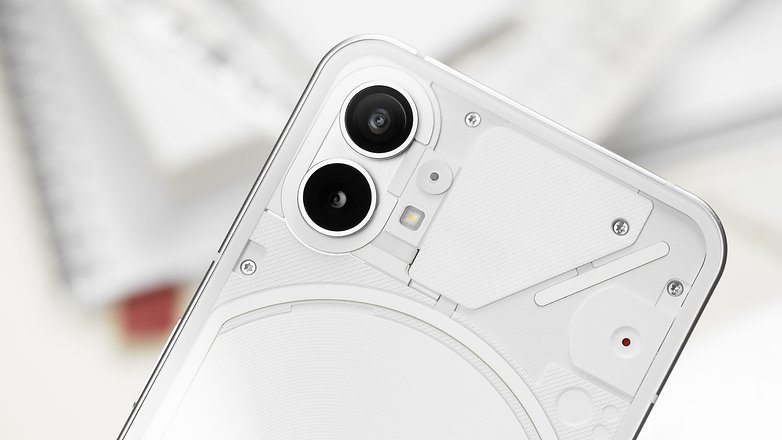 We can salute the fact that Nothing did not bother to integrate unnecessary 2 MP depth or macro sensors. THANK YOU! During the day, the main lens obviously performed very well. We know all about the Sony IMX766 sensor, as we already saw it in action on many smartphones this year.
The colorimetry is rather accurate, where the sharpness is there and the dynamic range is rather well managed. Nothing's software deals very effectively with more complex scenes. It manages to maintain a balanced contrast against the light, for instance, and shadows do not drown the rest of the image.
The purely digital zoom is rather ordinary though. The 2x magnification does the trick, but beyond that, results are not convincing enough. It's a pity, the Nothing Phone (1) loses some versatility here but it's not that bad compared to other models in this price range. Far from it.
The ultra-wide angle has difficulty in offering consistent colorimetry with that of the main lens. The level of detail also drops considerably and the FOV of 114° is not that great. I was also not impressed by the macro shots, but I doubt that a dedicated 2 MP macro sensor would have done better.
The portrait mode is very effective though. Cropping is clean even if the focus to detect the right subject in the foreground is often capricious. Special mention about the Glyph Interface which can replace the LED flash and thus allows much less burning of the image when you take portraits of other people in low light settings.
Video recording is limited to 4K definition in 30 FPS using the main lens.
Battery life: Wireless and reverse wireless charging
The Nothing Phone (1) packs a 4,500 mAh battery that supports 33 watts of wired fast charging, 15 watts of Qi wireless charging, and 5 watts of reverse wireless charging.
---
What I liked:
Excellent battery life
Wireless charging is rare in this price range
What I disliked:
Charger is not included
Fast charging at 33 watts is too slow
---
Once again, Nothing repeated what worked well with its Ear (1). It offers both wireless and reverse wireless charging in a price range that normally does without these features.
I was afraid that the Glyph Interface would affect the battery life too much, but I was pleasantly surprised to see that this was not the case at all. On the PC Mark benchmark, the Nothing Phone (1) took 14:15 hours to dip below the 20% remaining battery life mark. This is a very good score, placing it right at the echelons of the Android smartphone market.
In everyday use, you can easily last a day and a half or two full days without any issues. The wired charging. however, is a bit slow at 33 watts. Using the official 45W USB-C charger (which is not included in the box), it took me 30 minutes to go from 0 to 50% and almost one and a half hours for a full charge.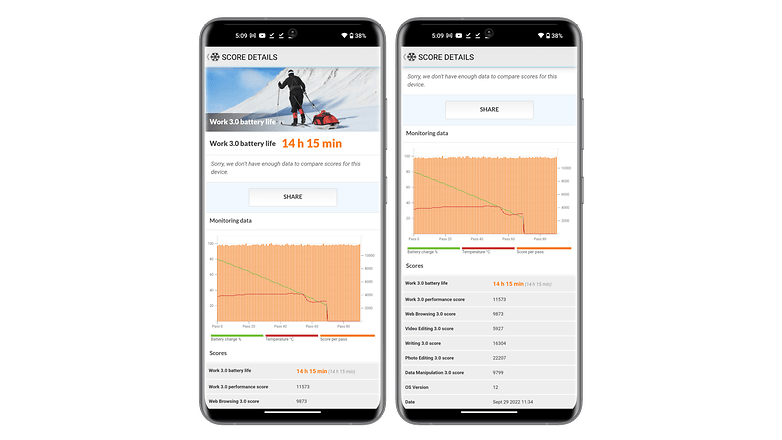 Just note that the manufacturer does not offer a proprietary charging technology of its own. To take advantage of the 33-watt fast charging in wired mode, any charger compatible with the USB PD 3.0 standard will do.
Technical specifications
| | |
| --- | --- |
|   | Technical specifications |
| Device | |
| Image | |
| Screen | 5.9-inch OLED, Full HD+ resolution, 120Hz refresh rate |
| Dimensions & Weight | 159.2 x 75.8 x 8.3 mm | 193.5 g |
| SoC | Qualcomm Snapdragon 778G Plus |
| Memory | 8/128 GB | 8/256 GB | 12/256 GB |
| OS | Android 12 | Nothing OS |
| Expandable Storage | No |
| Main Camera | 50 MP | f/1.9 aperture | 24 mm focal length | 1.0 µm pixel size | PDAF | OIS |
| Ultra Wide Angle Camera | 50 MP | f/2.2 aperture| 114° FOV |
| Selfie | 16 MP | f/2.5 aperture |
| Video | 4K at 30 fps max |
| Audio | 2 stereo speakers |
| Battery | 4500 mAh |
| Fast charging | 33W wired | 15W wireless QI | 5W wireless reverse |
Conclusion
Was the Nothing Phone (1) overhyped or oversold? No. The promise of a balanced smartphone, at a reasonable price with a striking design was delivered in my opinion.
It is one of the two smartphones that I am seriously considering buying in the next few months. The other one would be the Samsung Galaxy Z Fold 4, but it costs a whopping $1,800. Psychologically, I don't really see myself taking on a 24-month payment plan for the foldable device even if I'm very tempted.
So, the Nothing Phone (1), at less than $600, is a bit easier to apprehend as a purchase decision. I also sincerely think that the quality/price ratio offered by the manufacturer is among the most interesting in the market today.
The smartphone is cool, it appeals as an object of desire. Its performance is ultra solid in terms of stability and temperature control. The camera module is decent and the battery life is simply excellent.
Seriously, do you really want a flagship? I think Nothing has been playing it smart since the beginning and managed, until now, to always offer products that are good enough to be relevant, cheap enough to be manageable in terms of purchasing power, and cool or original enough to appeal to users who are less obsessed with specs than a big geek like me.