At a glance
Expert's Rating
Pros
Premium design & build
Temperature sensor for cycle tracking
Car crash detection
Cons
Near-identical to Series 7
More expensive in many regions
No battery life improvements
Our Verdict
New features including cycle tracking and car crash detection make the Apple Watch Series 8 a tempting upgrade and is great for newbies, but with an identical design to the Series 7, there's not enough here to upgrade from last year's wearable. It's also more expensive in most regions outside the US.
Price When Reviewed
$399 (GPS only)
Best Prices Today: Apple Watch Series 8
399
Compared to the all-new Apple Watch Ultra, the Apple Watch Series 8 looks a little familiar – and that's because it largely is the same smartwatch as last year, both externally and internally, with a handful of new additions that look to tempt older Apple Watch owners rather than Series 7 owners.
The question is, with price hikes in many regions around the world, is the Apple Watch Series 8 worth the price? Or should you look for a just-as-capable Series 7? Well…  
Design & display
Identical design to the Series 7
Always-on display
Comfortable to wear
If you're in any way familiar with the Apple Watch, you'll instantly recognise the Apple Watch Series 8. Apple has always used a similar design for its wearable, and unsurprisingly, that hasn't changed this year. If it ain't broke, don't fix it, right?
Of course, Apple has enhanced the design over the years, expanding the display and shrinking the bezels, but that's not true of the Series 8, which looks identical to its predecessor.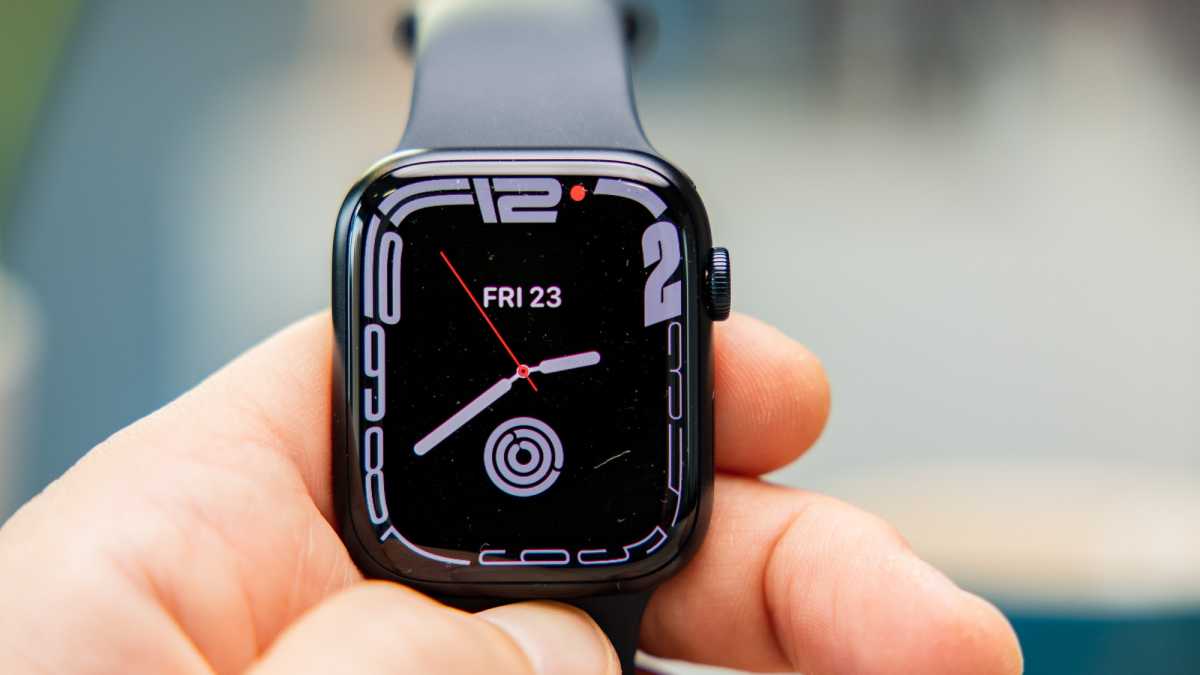 Dominik Tomaszewski / Foundry
What you do get is two variants of Series 8 in 41mm and 45mm casings, with Apple's curved rectangular aluminium body that creates a near seamless joint with the subtly curved display. That's paired with the Digital Crown wheel, used for scrolling, and a multi-function side button on the left.
It's available Midnight, Starlight, Silver and Product Red colours, but the Blue and Green finishes of the Series 7 are no more.
The main highlight of the Series 8 design is the slightly curved display, measuring in at either 1.6in or 1.9in depending on the casing you opt for. Though it remains unchanged, it's still impressive with slim bezels, vivid colours and an impressive peak brightness of 1,000 nits that makes it easy to use even in bright sunlight.
It also sports Apple's always-on display tech, showing a dimmed version of the watch face at all times. The ability to glance down and quickly check the time or weather without tapping the display to wake it is just as helpful as ever.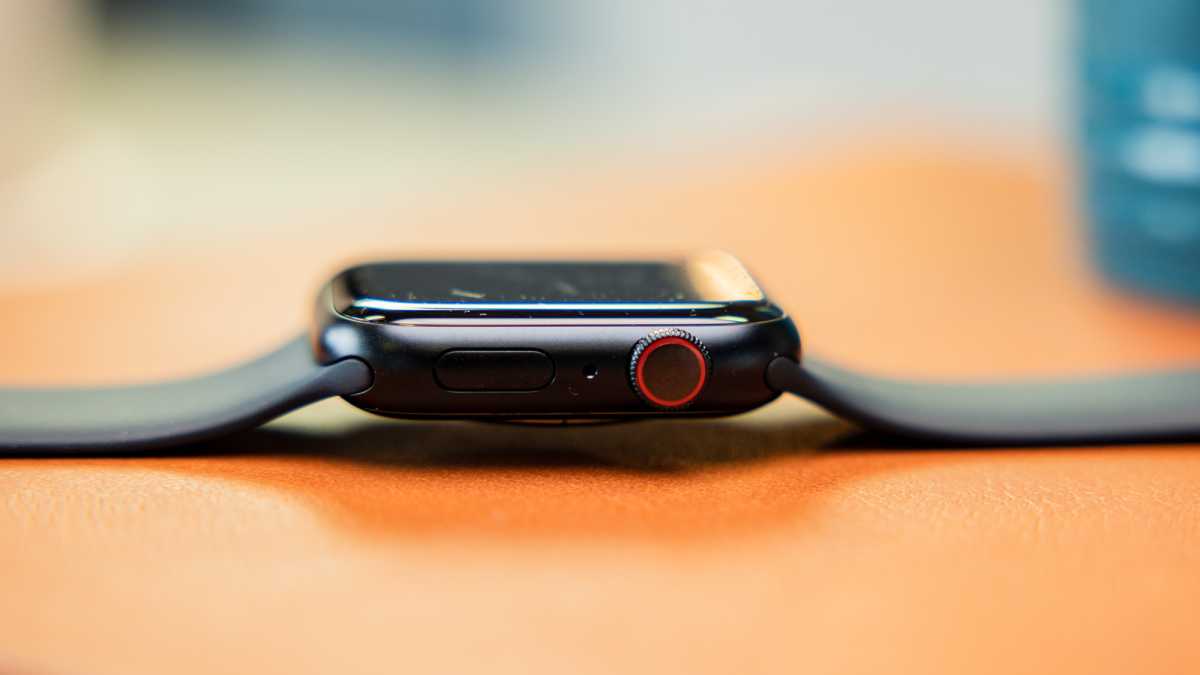 Dominik Tomaszewski / Foundry
Accompanying the watch are a variety of watch straps at varying price points, though if you're buying the entry-level watch combo, you'll likely rock the standard fluoroelastomer sports strap.
This strap has a comfortable fit that doesn't irritate the skin – a particular bonus when you consider you'll be wearing it to bed if you want to track your sleep.
It's also durable with an Ion-X glass coating that should protect from scratches and cracks, along with water resistance that allows the Watch to be submerged down to 50m.
That'll be enough for most of us, but if you want to use the Apple Watch for hiking or extreme sports, the upgraded durability, additional Action button and improved straps of the high-end Apple Watch Ultra may tempt you more.
Smart features & watchOS
S8 chipset brings negligible performance gains
Car crash detection
watchOS 9 adds meaningful updates
With a near-identical design and build to its predecessor, it might be hard to spot what's new with this year's wearable.
The most obvious upgrade to the Apple Watch Series 8 is in the processor department with Apple's S8 chipset, though in actual use there's no difference in performance between the Series 7 and Series 8. The two smartwatches feel just as responsive, with apps and widgets loading instantly, and there's no boost to overall battery life as far as I can tell.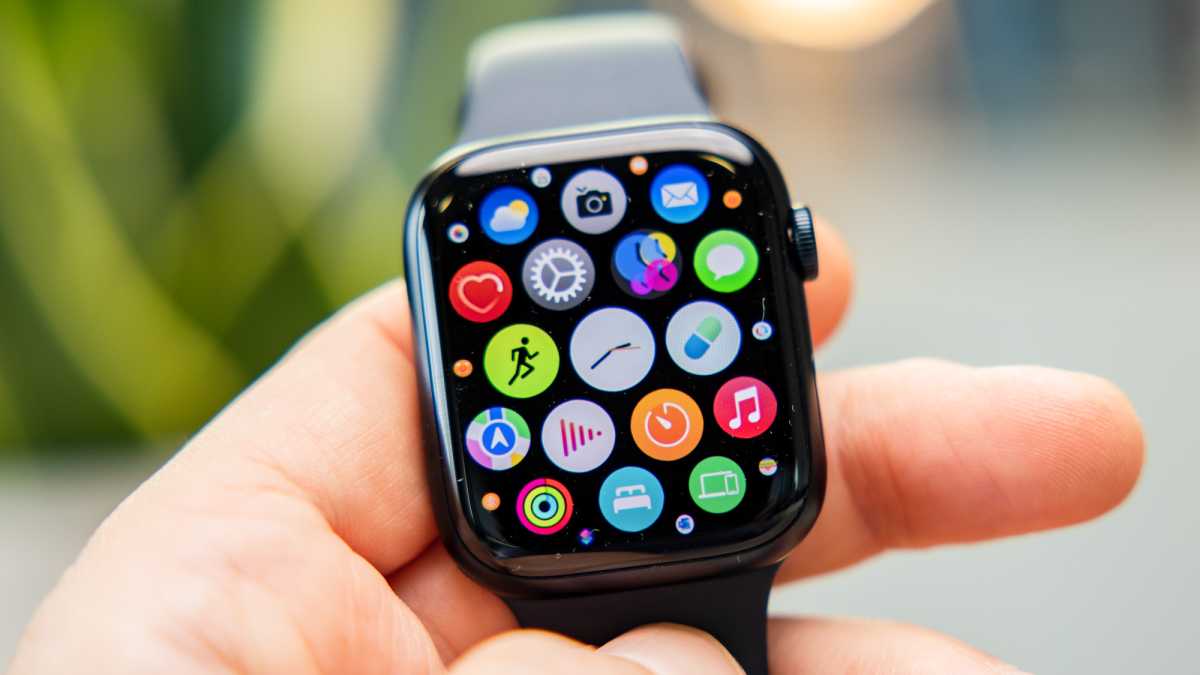 Dominik Tomaszewski / Foundry
However, the Series 8 does have a new trick or two up its sleeve, with a new gyroscope and high-G accelerometer that can detect if you've been in a car crash and contact emergency services on your behalf. It builds upon Apple's impressive fall detection for exercise and should provide added peace of mind for those that drive often, especially in quieter areas.
The new sensors can detect forces up to 256G – for reference, most car crashes come in at somewhere around 200G – and when used in conjunction with other sensors on the Watch, including the barometer to detect a shift in atmospheric pressure, it should be fairly accurate with little to no false activation.
This can work in conjunction with a connected iPhone, utilising sensors of both devices to determine key information like location, direction of travel and levels of deceleration, and relay this to emergency responders in the form of a pre-recorded message. It'll always connect to your smartwatch first, even if an iPhone is nearby, as your iPhone might've been lost in the crash.
Those that opt for a cellular variant of the Apple Watch Series 8 can also look forward to international roaming support for the first time, with Apple claiming that the functionality should work in any region where your carrier has voice over LTE (VoLTE) support.
The combination of the Apple Watch Series 8 and watchOS 9 represents one of the best smartwatch experiences on the market, with an ever-expanding library of impressively customisable watch faces that cater to everyone, from those that want to pack as many interactive widgets on screen at once to more minimalistic, fashion-focused faces. It's easy to change faces on the fly too, with a swipe left or right.
Dominik Tomaszewski / Foundry
It's not just watch faces that make the Apple Watch experience what it is; it also offers impressive integration with iPhones, not only showing incoming notifications but providing a way to respond to texts, WhatsApp and other notifications without getting your phone out of your pocket. You can make calls, access Siri and perform most iOS functions on your wrist.
There's also the sheer number of third-party apps available for the Apple Watch, including many popular apps like Google Maps, Citymapper, Carrot Weather and Spotify, that further expand the functionality on offer.
It's an elegantly designed wearable operating system that's simple to use and, as corny as it sounds when Apple says it, 'it just works'.
Health & fitness tracking
New ovulation tracking functionality for family planning
Temperature monitoring at night
New multi-sport exercise tracking
While there might not be many new smart features from this year's wearable, Apple has boosted the Series 8's health and fitness tracking capabilities.
That mainly comes in the form of a new temperature sensor that tracks your baseline temperature as you sleep, alerting you to increases or decreases in temperature as little as 0.1 Celsius. Apple says this increases the accuracy of sleep tracking, as your blood vessels dilate and increase blood flow to the extremities as you sleep, but that's not the main reason for its inclusion.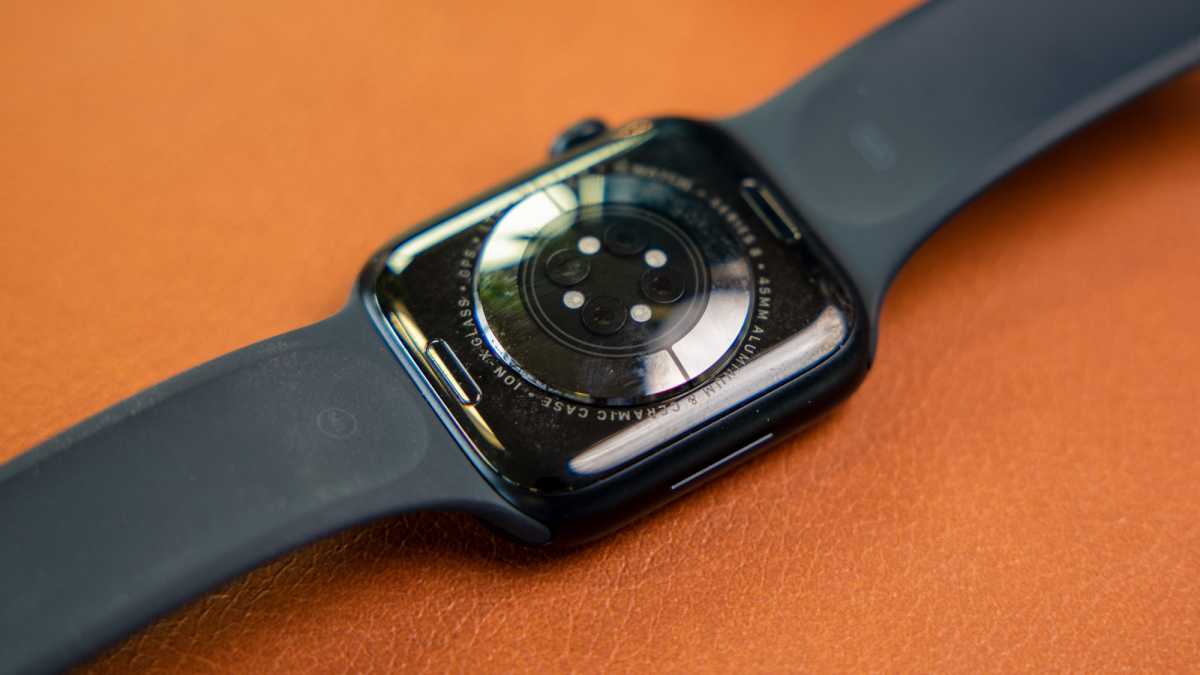 Dominik Tomaszewski / Foundry
Instead, the temperature sensor is focused on tracking ovulation, which can help with family planning. The watch uses the sensor to retroactively identify when you began ovulating, monitoring for patterns of biphasic shift in sleep and an increased temperature in response to changing hormones. It won't work right away though – it'll need two months' worth of data before it'll begin tracking.
Importantly, it doesn't use the data to predict future ovulation, but you can use the data presented to make your own estimations on when you're likely to ovulate next.
What's most important is the protection of said data, with Apple stating that you're in complete control, with not even Apple itself able to see it. You can choose to share the data in the form of a PDF with a doctor, but again, that's only if you decide to do so.
The temperature sensor is actually split into two – one on the wrist, one beneath the display – to help account for heat flux and bias in the environment and provide more accurate readings. Essentially, if you sleep with your hand under the pillow and gets warmer than usual, the Watch will understand and compensate for that.
It's worth noting, however, that it isn't designed to give live readings. It's only available when the Sleep mode is active on your Apple Watch, and it'll give you a single temperature reading for the night, rather than readings through the night like the Fitbit Sense 2 can. As such, Apple says that it's not designed to give you a heads-up on whether you're getting a fever, as some might assume.
Temperature sensor aside, the Apple Watch Series 8 is more capable than ever when it comes to health and fitness tracking. The company's signature movement tracking rings are present, monitoring your movement, exercise and stand hours throughout the day and, with watchOS 9, the Apple Watch finally offers proper sleep tracking with Deep, Core, REM and waking periods tracked through the night.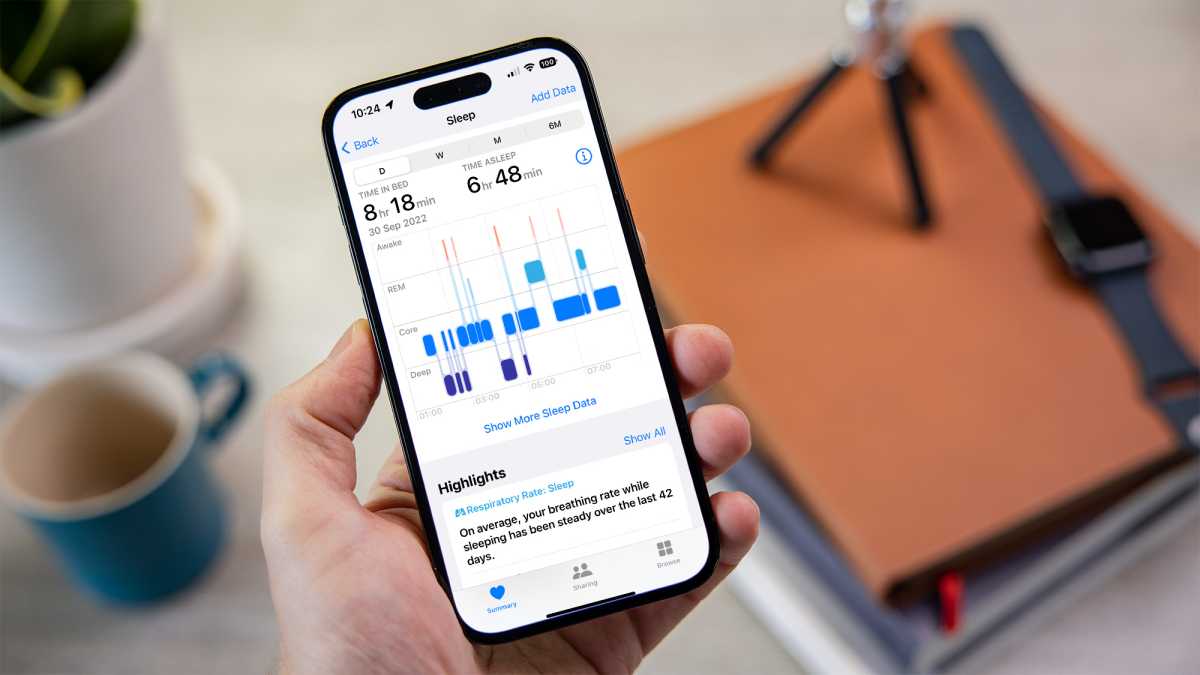 Dominik Tomaszewski / Foundry
It's still not as in-depth as the likes of Fitbit and Huawei, lacking personalised advice to improve your sleep, but it fixes a long-time complaint with Apple's wearable.
Dominik Tomaszewski / Foundry
In terms of exercise tracking, the Series 8 introduces support for multi-sport workouts (like triathlons) and support for more advanced sports, but what runners will appreciate most is the introduction of heart rate zone monitoring, accessible on the watch mid-exercise.
It's a feature seen on plenty of other fitness watches, so it's a surprise to see it so late in the game on the Apple Watch, but it'll be handy for letting you know at a glance whether you can push yourself further based on your heart rate.
The core exercise tracking experience hasn't wildly changed though; the watch provides tracking for all kinds of workouts, with accurate distance readings for outdoor sports thanks to its built-in GPS, along with key metrics like cadence, speed, calories burnt and heart rate. However, this does depend on the workout selected.
The ability to reassign the side button as an action button to stop and start exercises, like with the dedicated Action button on the Apple Watch Ultra, would've been a nice touch. Instead, you're relegated to using the touch screen, and that can become a little annoying over the cold winter months when you might be wearing gloves if you exercise outdoors.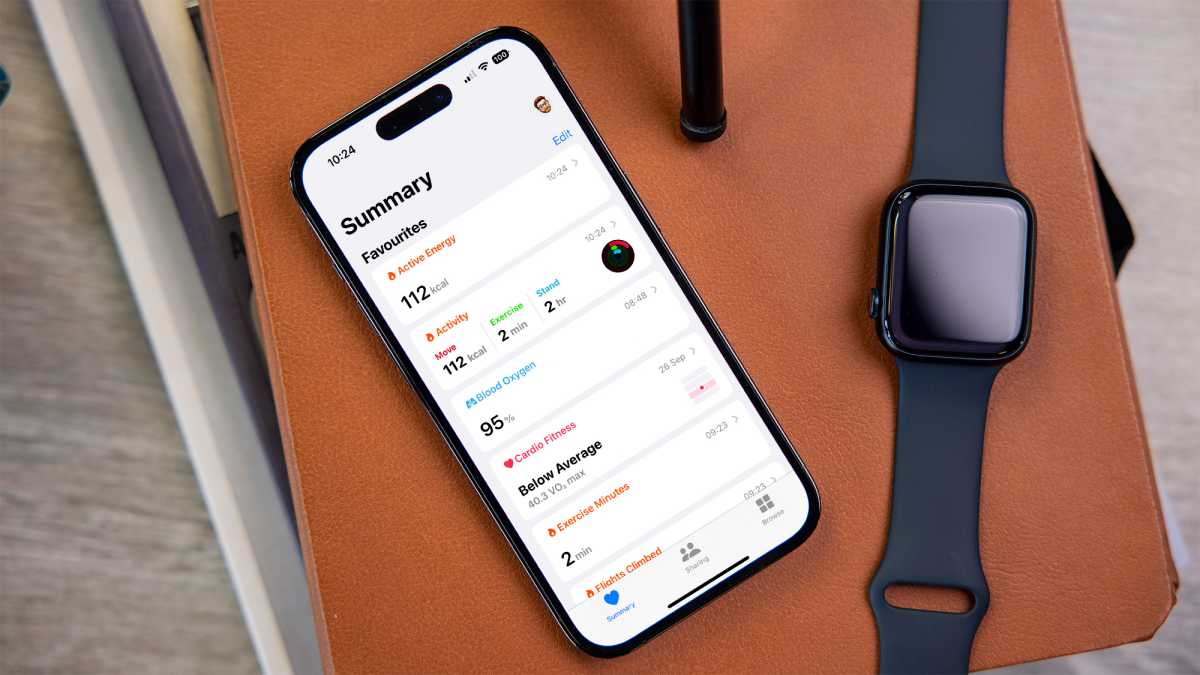 Dominik Tomaszewski / Foundry
Post-workout, you can get a breakdown of the workout on the Watch itself, or you can use the Health app on your connected iPhone to delve deeper into the stats, including a heat map of your activity if you went for a walk, run or cycle.
The Health app is a particular selling point of the Apple Watch experience, as it collates all kinds of data from your Apple Watch and other health apps you might use (like food tracking apps) to provide you with an overview of your health based on a wide set of data.
Battery life & charging
18 hours of battery on a single charge
New Low Power mode extends battery at the cost of functionality
Full charge in around an hour
The Series 8 remains virtually unchanged in the battery life department, with Apple still aiming for 18 hours of use on a single charge – a figure that largely matched my experience, though I could squeeze a little over 24 hours out of a charge without dedicated fitness tracking.
Of course, battery life is affected by a number of factors including the widgets you use on your watch face, how often you use watch apps, how many notifications you get, GPS and fitness tracking and even taking biometric readings, so your mileage may well vary.
Regardless, that's still short of the competition like the Samsung Galaxy Watch 5 Pro and its multi-day battery life, but considering most of us are in the habit of charging our phones every night, it doesn't feel like a huge deal. Yes, longer battery life would be appreciated, but not at the cost of functionality or design.
If battery life is important to you, the Apple Watch Ultra and its 36-hour battery life may appeal more – though it's much chunkier than the Series 8 as a result.
Dominik Tomaszewski / Foundry
There is a new Low Power mode available as part of watchOS 9 that extends battery life to around 36 hours, but it'll also disable heart rate and blood oxygen monitoring, turn off the always-on display and only deliver notifications once an hour. It's a handy workaround if you know you'll be away from a charger for a while, but it's not something you'll want to use often.
The watch also benefits from the increased charging speeds introduced on the Series 7, with the Series 8 achieving 69% charge in just 30 minutes in testing. If nothing else, that makes it easier to keep on top of the average battery life, topping up just before you go to bed or when you wake up in the morning. 
Price & availability
The Apple Watch Series 8 pricing largely matches that of its predecessor in the US, starting at $399 for the 41mm variant and $429 for the 45mm variant, but the same can't be said of other regions around the world – thanks, inflation.
The Apple Watch Series 8 has increased by £50 in the UK, starting at £419 and £449 depending on the size, making it more premium than ever – and that's without the high-end straps or stainless steel body. It's even worse in Europe, starting at an increased €499 and €539 compared to €429 and €459 of the Series 7.
It's safe to say that the Apple Watch Series 8 isn't the most affordable smartwatch around, especially outside of the US, but there is something to be said about the high-end experience on offer.
If you're tempted, you can buy the Apple Watch Series 8 from the Apple Store alongside retailers like Best Buy in the US and Amazon in the UK.
We cover where to buy the Apple Watch Series 8 in more detail separately, and to see how the Apple Watch compares to the competition, take a look at our selection of the best smartwatches.
Dominik Tomaszewski / Foundry
Verdict
Apple hasn't thrown out the rule book when it comes to the Apple Watch Series 8. It does everything you'd expect an Apple Watch to do, along with a few new features to tempt those yet to indulge in Apple's wearable.
That said, there's not enough here to entice someone with an Apple Watch Series 7 because, realistically, the two smartwatches are near-identical. Sure, there are new perks including car crash detection and ovulation tracking, but the chipset, design and experience are largely unchanged.
It's instead targeted at new customers or people still rocking an older Apple Watch that'll enjoy the upgraded display and design introduced with the Series 7, along with the car crash detection, ovulation tracking and improved fitness tracking of the Series 8.
The Apple Watch Series 8 might not be the most remarkable update in Apple's history, but it's still the best smartwatch for iOS users.  
Specs
41/45mm casings
41mm x 35mm x 10.7mm, 32g (41mm)
45mm x 38mm x 10.7mm, 38.8g (45mm)
IP6X dust resistant
50ATM water resistance
Always-on retina display, up to 1000nits
Blood oxygen, ECG, heart rate and temperature monitoring
Cycle tracking
Car crash detection
GPS
Barometer
Always-on altimeter
Optional cellular connectivity with international roaming
18-hour battery life
Up to 36 hours of use with Low Power mode