Devious Machines' envelope-controlled multi-effects plugin Infiltrator gets a massive update. If you are looking for 'the' swiss army knife of envelope-based multi-effects plugins, it's right here. Here are eight things we can't get enough of in Infiltrator 2.
No matter the genre of music you make, you really do need an envelope-based multi-effects processor. From filter wobbles to sidechain-like volume pumping, synced automation effects can add movement and variation to tracks and help spice up static loops.
There are plenty of them out there (Effectrix, ShaperBox etc) but one that should definitely be on your radar is Devious Machines' Infiltrator. It's recently been updated to version two and now comes with double the effects, double the presets, and double the modulation power. Is it also double the fun? Let's just say that we can't get enough of it.
Rather than write up a typical review with exhaustive explanations of all the parameters in minute detail, we thought instead that we'd highlight eight ways that we like to use it in our productions – including audio examples, of course.
If you like what you see and hear, Attack readers get 32.5% off, rather than the 25% sale price, using the discount code below:
A Brief Overview
Before we dive into it, let's take a quick tour of the plugin.
Infiltrator 2 is a multi-effects plugin with a loopable envelope/LFO at its core. There are 54 different effects modules, from filters to pitch modules, and modulation to out-there spectral effects.
These can be loaded into up to 10 swappable effects slots. Each effect has a number of parameters, the main of which is mapped to the looping envelope in the center of the screen.
You can freely change the shape of the envelope and control its speed either in beat divisions or unsynced. There's also an envelope follower, which uses the audio signal as a trigger, for modulating effects parameters.
Effects can be turned on and off manually, via MIDI trigger, or according to a 32-step sequencer for glitch-style patterns. Effects combinations can also be mapped to the four macro controls for quick adjustment or DAW automation.
Lastly, there's a Master section with a Drive module, Compressor section, low shelf EQ and output.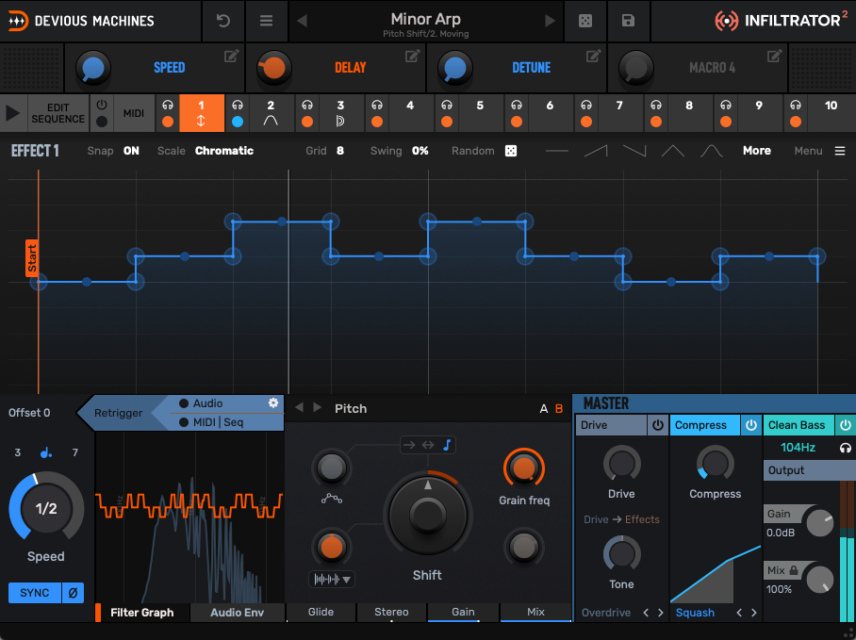 Infiltrator 2 is a deep plugin so there are loads more – too much to list here – but the best way to get a feel for what the plugin can do is to hear it in action.
Here then are eight things we love to do with Infiltrator 2.
Pitch Snapping
There are many ways to program a synth line. You can play it from a keyboard, sure, but that's going to yield extremely predictable results.
When we want something that we probably wouldn't have come up with naturally, we use pitch snapping in Infiltrator 2. By loading the Pitch effects module and snapping the envelope to the grid by pressing the shift key when clicking, we can get a series of precise musical notes that conform to the envelope shape.
Here, we've taken a long, flat D note and turned it into a musical phrase. It's a one-stop trip to trance heaven.
The original note from Analog in Ableton Live:
And with pitch snapping in Infiltrator 2: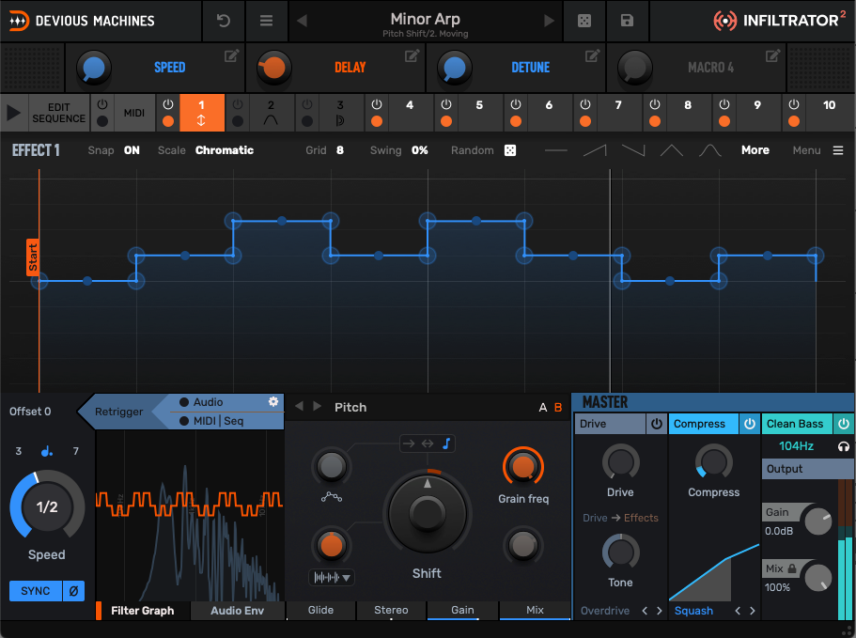 SH-101 Filtering
Infiltrator 2 is at its heart a filter, and so it has 15 multimode filter types, from Moog-style Ladders to specialized ones like formant.
One that we particularly love is the 101, which was modeled off the super famous Roland SH-101 filter. It's got a nice tone and some delicious squelch in the resonance.
We've taken our pitch-snapped synth line from earlier and added the 101 filter. We're using it in bandpass mode with a wild, stepped modulation envelope. As a finishing touch, the Reflect slap-back delay doubles it for extra width.
Heavy stepping: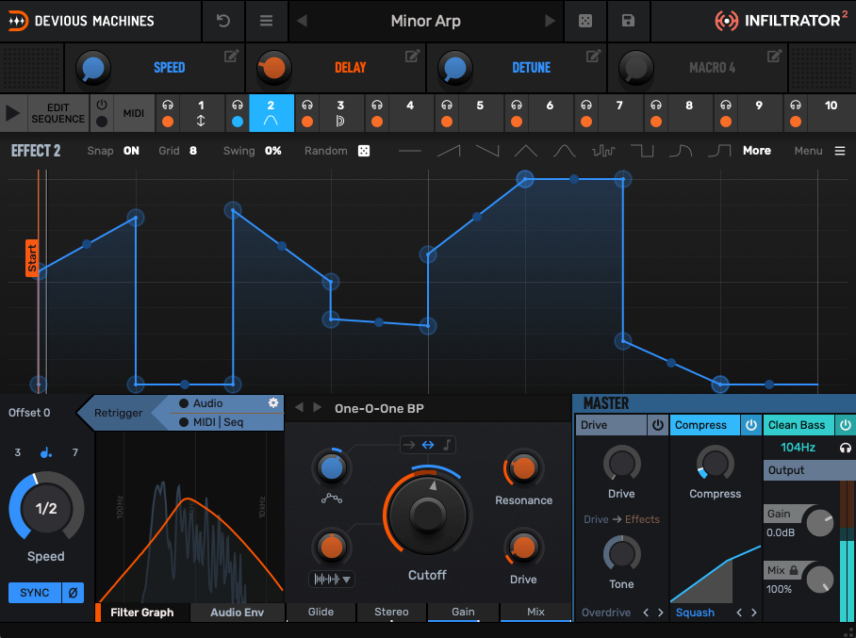 Micro Pitch Shifting
A classic trick to add width to a signal is by combining small amounts of pitch shift and delay.
Infiltrator 2 can do this, mimicking pitch shifters like Eventide's H3000 hardware effects unit and SoundToys' MicroShift plugin.
We've taken a female vocalization sample and added Infiltrator 2 to it with just the Pitch effect module loaded. By using the B setting we can dial in small pitch changes. We then use the Stereo control to widen the effect and the Mix amount in the output section to balance it with the original audio.
The original audio sample:
And with pitch shifting: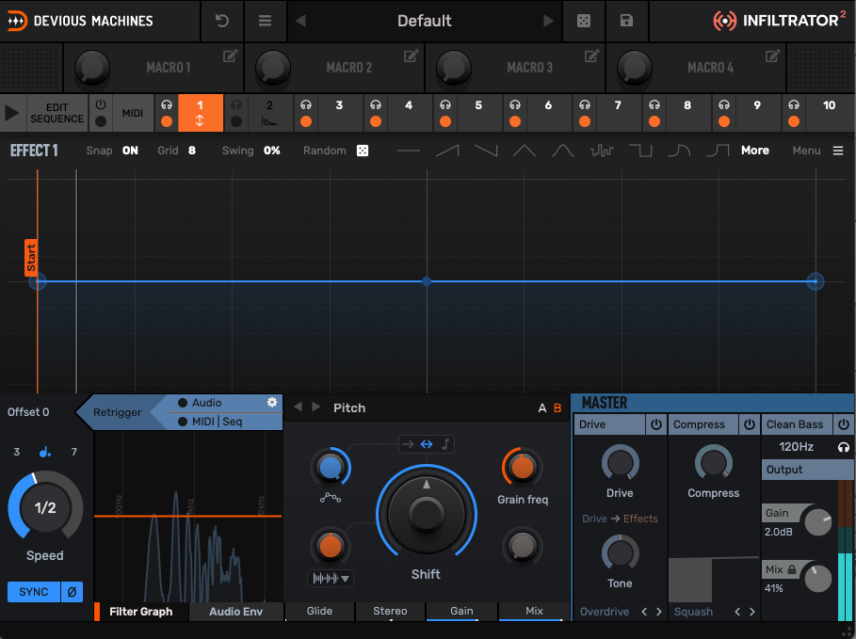 Spectral Effecting
Infiltrator 2 comes loaded with 14 spectral effects. These use FFT filtering, which "selects frequency components from a signal, giving a more specific style of filtering typically for designing sounds," according to the manual.
We'll come clean….we're not sure what that means! But that really doesn't matter as they're very unique and perfect for adding some atmosphere to a sound.
In this patch, we've combined Spectral Smear, Spectral Spread, and Spectral Reverb with a lowpass Ladder filter and standard reverb to coat this ambient synth patch in gauzy layers.
The original synth chords:
And with Spectral effects: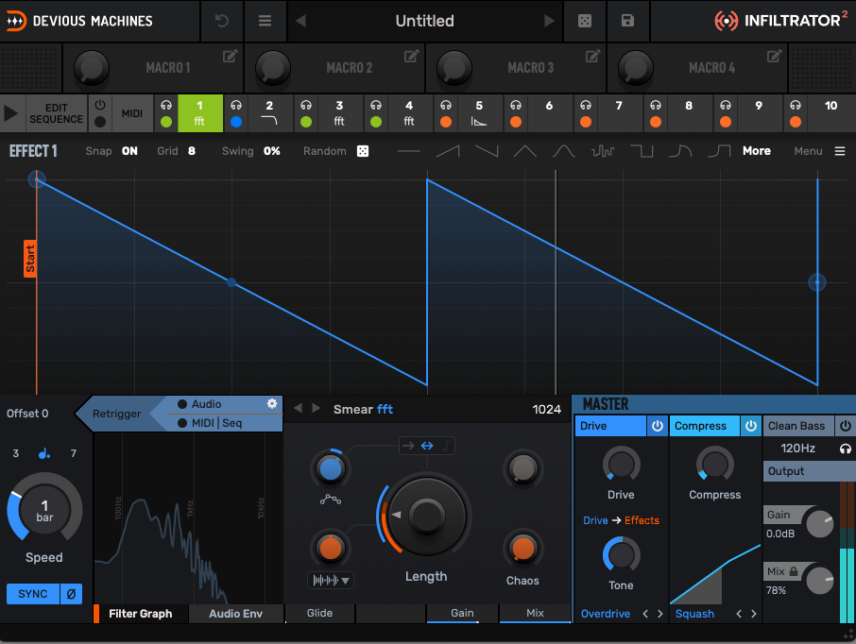 Padifying
So far we've been using Infiltrator 2 for fairly restrained effects. It can also fully transform sounds.
We like to use the reverbs and other modules to turn plucks and bells into washy pads. Here we have a lowpass Ladder filter going into a modulated Delay module and then into the Reverb, with a final stop at the Gain utility modulated to duck rhythmically.
The original bell patch:
And turned into an undulating pad: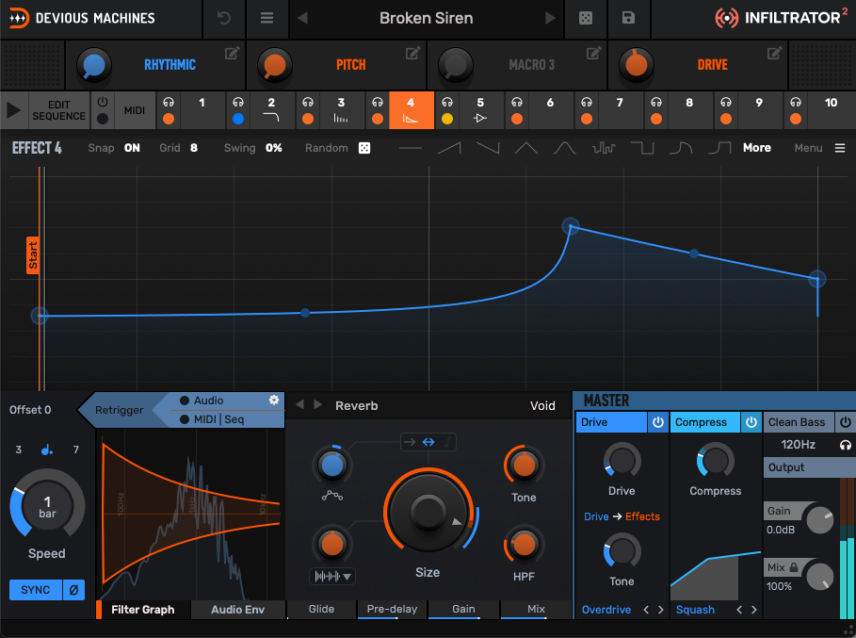 Golden Resampling
Resampling is when you process something, bounce it out, and use the audio in new ways. Here, we've taken a rhythmic synth line and added the Glitchy Gators preset, which is full of tightly synced Gain modules that chop up the sound.
After bouncing out the audio, throwing it into Live's Sampler, and playing it back chromatically, we can get a new melody from it.
The original line:
Processed by Infiltrator 2:
And played in Sampler with reverb and delay added: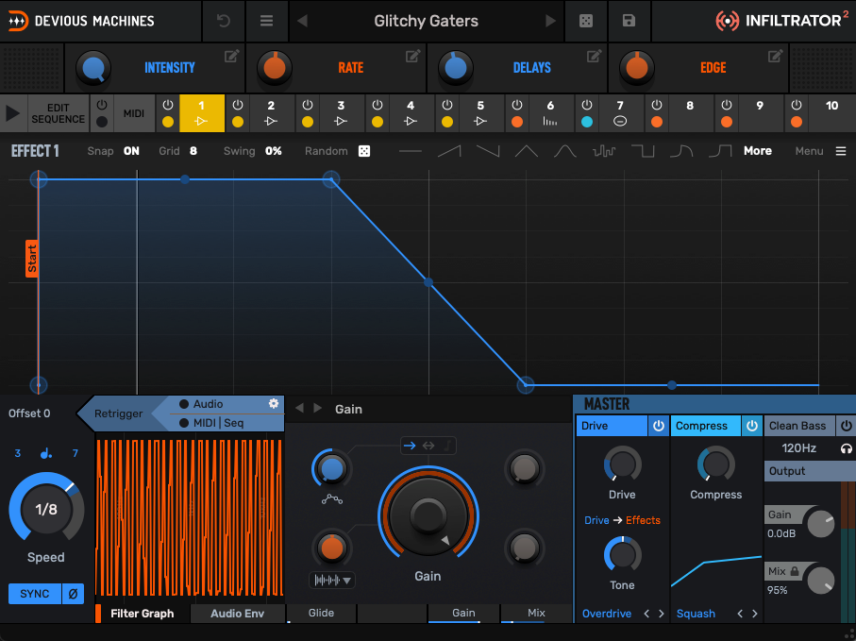 Bass Processing
Infiltrator 2 is solid for bass processing. (Get it, solid bass? Anyway.)
We've taken a basic FM house bass sound from Live's Operator and used Infiltrator 2 to filter out some of the highs via the Digital lowpass filter.
We've also assigned the resonance to the audio follower and programmed it so there's a slight wobble at the end of every note. Because it's being triggered by the audio and not looping, the wobble stays in the tail of the note. We also have a Compress module working, compression again at the output stage, and the Clean Bass shelf engaged so nothing below 120Hz is affected.
The original bass:
Processed by Infiltrator 2: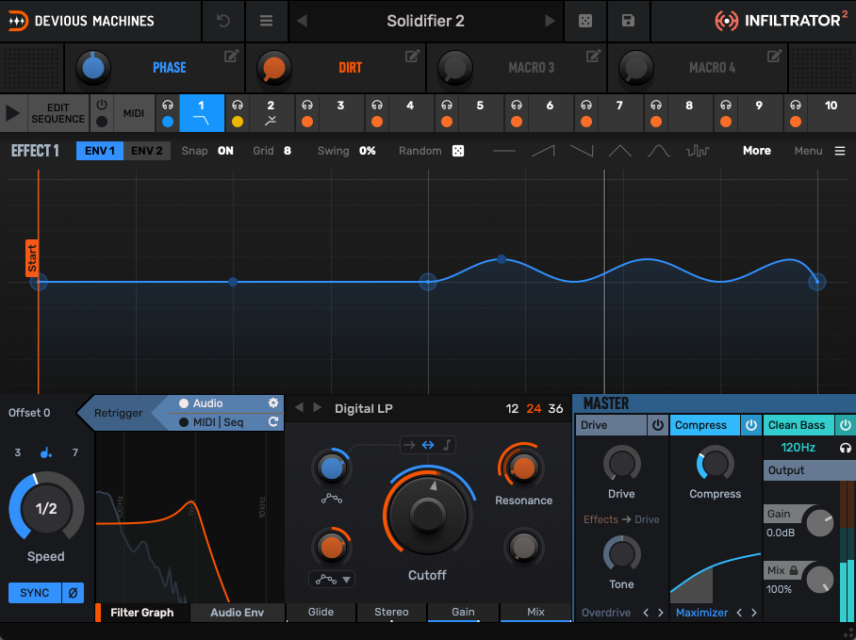 Beat Processing
Infiltrator 2 can help punch up drums too when employed as a static multi-effects processor.
Here, we've strapped it across our drum bus to tighten things up with compression and gate effects. We've also used the Delay module to give it some width and movement. By bringing the Clean Bass setting up to 600Hz we can make sure that the lower frequencies aren't affected.
The original drum loop:
And processed with compression, gate and delay: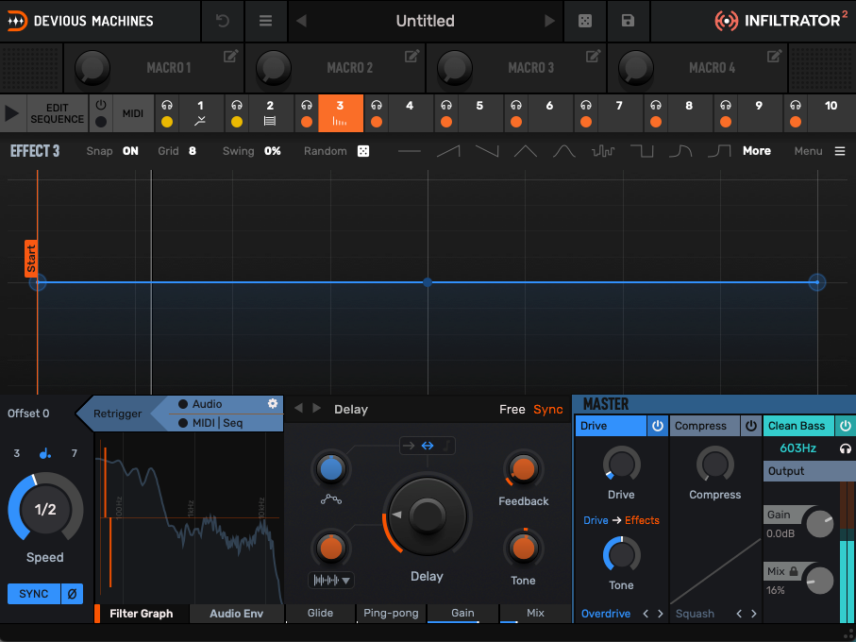 The Final Word
As you've probably figured out, there are many different ways to use Infiltrator 2.
From basic filtering and modulation to bread-and-butter mixing duties like compression, there's very little it won't do.
Versatility is only part of what makes a multi-effects plugin good. The other part is fun, and Infiltrator certainly is that.
It's a blast to use; simple and intuitive enough to get started without much fuss but deep enough that you'll be discovering new effects and parameters every time you use it. At £99.99 it's not a bargain-priced plugin but considering all that it does, we think that it's a fair price. Also at the moment Attack readers, using discount code "attack-mag-2022" get 32.5% off!
In short, we can't recommend Infiltrator 2 enough.
*Attack Magazine is supported by its audience. When you purchase through links on our site, we may earn an affiliate commission. Learn more.
FOLLOW ATTACK MAGAZINE
Related