Without any dispute, Dynamics 365 Business Central can improve the way you run your company. From inventory management to financial reporting, this solution's wealth of capabilities can do so much to enhance your company. However, we frequently receive inquiries like, Hey, you know Dynamics 365 Business Central has two options? Which one should I pick? What distinguishes Dynamics 365 Business Central Premium from its Essentials counterpart? What exactly is Business Central Premium? Are there any significant differences between Business Central Premium and the Essentials Edition?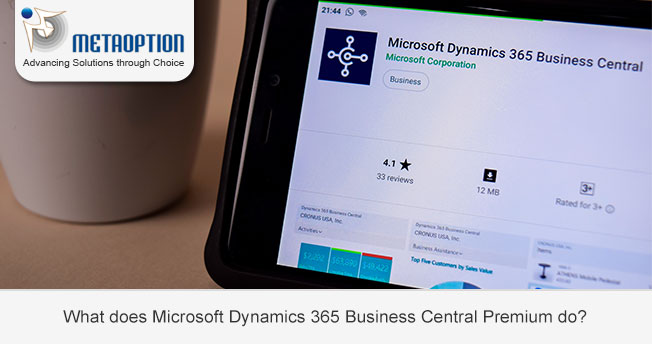 And inquiries like these are frequent when you are about to make a technical leap that will ultimately have a favorable impact on the expansion of your business. In this blog, we'll explain What is Dynamics 365 Business Central Premium and its features and functionalities?
What does Microsoft Dynamics 365 Business Central Premium do?
Business Central is a robust and customizable system that satisfies all of your requirements, including project and service management, production management, supply chain management, and finance administration. Also, these modules, which offer a plethora of advantages, are those that are now available:
Financial Management
Customer Relationship Management
Project Management
Supply Chain Management
Warehouse Management
Manufacturing
What differentiates it from Microsoft Dynamics 365 Business Central Essentials?
The following sections will help you determine how this incredibly powerful product can benefit a variety of industries thanks to its several languages and modules, as well as how it differs from Microsoft Dynamics 365 Business Central Essentials.
Financial Management
When you use Dynamics 365 Business Central Premium, you get additional modules that assist your business manage its finances at every stage of the process. Also, these modules include budgeting, a basic general ledger, bank account reconciliation, and more.
Customer Relationship Management
By choosing Business Central Premium, businesses may manage contacts, campaigns to improve brand recognition, and all-encompassing connections with customers to boost client retention.
Project Management
With Microsoft Business Central Premium, you can go beyond timesheets and task estimates, and perform even more. Also, you can find all you need to handle individual projects and get an understanding of what's going on in a specific department from here!
Supply Chain Management
Employees can manage invoices related to both purchasing and selling, basic inventory budgeting, and more by implementing Dyn365BC Premium, which can support appropriate supply chain management.
Warehouse Management
It has never been easier or easier to do the work thanks to Microsoft Dynamics 365 Business Central Premium's data-capturing systems and different warehouse management features.
Manufacturing
What manufacturing strategies have been successful for your company? What difficulties did you overcome? It is simpler to say than to execute this duty. Also, Dyn365BC Premium includes this hot feature that enables you to manage all aspects of manufacturing from a single location, including demand forecasting, production schedules, fundamental supply planning, and more to keep the mill running smoothly. One mistake here could end up costing you dearly down the road.
More practically, Dynamics 365 Business Central Premium plays a role in regulating finances and planning and forecasting in these areas. And aren't those precisely what is needed to manage the seamless operation of the firm across all departments? Also, for more information and a tailored demonstration contact us today at MetaOption.