What is the best security camera system for my home or business? Myself and the entire team at CCTV Camera Pros help customers answer this question everyday. Watch this above video to hear my initial thought process on how I answer this question when I speak to customers. I also go over the questions that I ask and more details below.
Here are the main categories that customers shopping for a security camera system fit into:
Brand New System / No Cable Installed or Existing Network Cable
Replacement System / Existing Network Cable Installed
Replacement System / Existing Coax Cable Installed
Here are some questions that we ask customers to:
Is this a new camera system installation or replacing at existing one?
If it is a replacement, what type of cable is in place? Network cable or coaxial cable.
Is your existing cable in good working condition?
If your existing cable is coax, is it pre-made BNC cables or RG59 Siamese cable from a spool?
Do you have any special requirements such as license plate recognition, PTZ cameras, or other?
---
New Security Camera System
If you are installing a new security camera system, I recommend that you install CAT5e or CAT6 network cable go with one of our Viewtron IP camera systems. If you have existing network cable installed, my recommendation is the same – IP cameras.

Our Viewtron IP camera NVRs have built-in PoE (Power over Ethernet) ports which means that you run the network cable from the back of the NVR to the IP camera and both power and connectivity are provided by the one cable. This makes these system very easy to setup.
In most cases high resolution IP cameras can record at a higher frame rate compared to high resolution BNC cameras. For example, our Viewtron NVRs can record 4K IP cameras at 30 frames per second. Our BNC DVRs are limited to 8 frames per second at 4K resolution.
AI  Camera System (my top pick)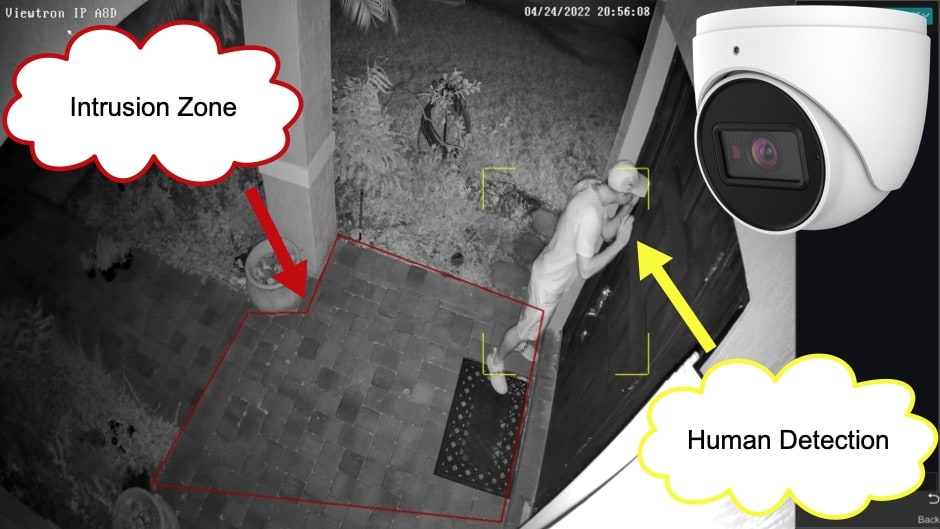 If it is within your budget, I highly recommend that you choose one of our Viewtron AI camera systems, or use some AI cameras in the areas where you want to record based on human or vehicle movement. AI cameras are network IP cameras with built-in artificial intelligence software for object detection. Object detection works so much better than video motion detection. Please watch the above video demo of the human object detection using this 4K AI dome camera installed at the front door of my house.  You can watch additional AI camera video demos here.
In addition to the pre-configured systems our our website, CCTV Camera Pros can also design a custom system and quote for you.  Some customers may want some AI cameras and some non-AI. Or maybe they need one PTZ camera or a license plate recognition camera.
---
Using Existing Coax Cable
If you already have coax cable installed that you want to use for BNC cameras, you should conform that the cable is in good working condition. Otherwise, if it needs to be replaced, I installing network cable for IP cameras. Also, if you have pre-made BNC cables, from an older system purchased from retailers like Costco or Best Buy, you most likely will not be able to use 4K BNC cameras because the cable is not a thick enough gauge.
If you have high quality cable from an RG59 Siamese spool, then I recommend our Viewtron 4K BNC camera Systems. If you have pre-made cables or the 4K systems our outside of your budget, then you should consider our 1080p BNC camera systems.
Please note that all Viewtron systems (IP and BNC) have the same easy to use interface and the same remote camera monitoring apps for iPhone, Android, Mac, and Windows. You can still have a great system with BNC cameras. CCTV Camera Pros still sells many BNC systems. The main thing that you will miss is the ability to use AI object detection instead of video motion detection.
---
Have Questions? / Need Help?
I hope this article will help most home and business owners in deciding what is the best type of security camera system for their needs. The main thing is choosing between an IP camera system vs a BNC / coax camera system. If you would like to speak with me in detail about requirements that you have. I am available for free phone consultations and quotes. I can be emailed directly at mike@cctvcamerapros.net.
---
Video Transcript
What is the best security camera system?
Good morning everyone. Mike from CCTV Camera Pros here. I've been asked this question literally thousands of times over the last 18 years and although it's a complicated question, in some cases because sometimes specialty cameras are needed given certain situations, it generally comes down to this question. Is this a brand new system with no cable in place, or are you replacing or upgrading a existing system that already has cable?
Let's take option A. If you have no system in place, no cable in place, then go with a IP camera system using CAT5E or CAT6 cable. Real quick, what are the advantages? Well, the Viewtron NVRs we sell have built-in power over Ethernet, so when you run the network cable from the NVR to the cameras, it provides both power and connectivity from the NVR to the camera, so it's really plug-and-play.
In addition, these modern IP cameras are a lot more powerful and can record at a higher speed than coax cameras. For example, our Viewtron AI security cameras have built-in artificial intelligence software for object detection. The advantage of object detection is if you want to record only when someone is intruding in a certain area, or a person is detected or a car is detected and you want to record only in those situations, or you want to be alerted via alarm when those situations happen, the AI cameras are great because with object detection, it works so much better than the video motion detection provided by BNC cameras. If you've worked with these before, you know that video motion detection, there's a ton of false positives that can be very frustrating.
Okay. If you have existing cable in place and assuming it's not CAT5, because if you have CAT5, again, just go with an IP camera system, and I do highly recommend our Viewtron AI camera systems, but let's say you have a bunch of money invested in coax cable. Okay. What type of coax cable is it? Is it these inexpensive pre-made cables that came with these systems that are sold at Costco and Best Buy from QC or Lorex? Those cables sometimes in most cases can't handle the latest 4K BNC security cameras because they're not a thick enough gauge for all of the bandwidth that's required, and you don't know until you test them if the cables are thick enough.
If you installed cable from an RG59 Siamese cable spool, then you're in good shape because RG59 Siamese can handle the latest 4K BNC cameras and you can have a great system with BNC cameras still. The only thing that's missing is the artificial intelligence, which some people don't need, and if you have a whole bunch of money invested in your cable via RG59, then in that case going with the BNC security camera system probably makes sense, which I recommend our Viewtron BNC systems. They're excellent. It's actually the same software, the same remote viewing apps, whether you go with BNC cameras or IP cameras, and you can even use both.
So again, what is the best security camera system? It could be a more complicated question than what's covered in this video, because we have license plate recognition cameras, we have auto-tracking PTZ cameras, we have alarm security cameras. There's a lot of other variables, but generally it comes down to, is it a new system or do you have cable in place?
Guys, if you have more questions for me on this subject or anything related to video surveillance systems, please reach out to me anytime. I can be reached at mike@cctvcamerapros.net. If you want to learn more about our Viewtron AI security camera systems, our BNC systems, our license plate recognition systems, please visit www.cctvcamerapros.com/Viewtron.
Thank you for watching.