Nowadays, the professional services industry is driving towards innovative ways of working digitally. With this digital transformation, professional services firms can deliver better quality services, maximize their return on investment by reducing unnecessary costs, and discover new ways of enhancing their services in the future. In this blog, we'll explore the benefits of digital transformation for the professional services industry.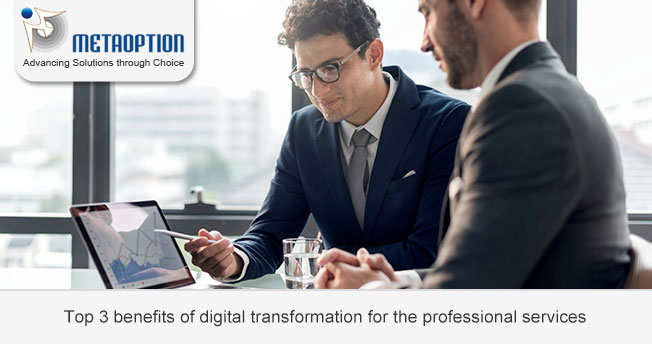 Benefits of digital transformation for the professional services
With digital transformation and the right business solution such as Business Central, a cloud ERP for the professional services industry. Whereas, by connecting business processes across all the necessary and essential departments in the company, Dynamics 365 Business Central enables a truly integrated and combined business with real-time data at your fingertips. Also, you can:
Get ahead of your competition
Through evaluating project risks with advanced technology, you can make better and more informed decisions to sort out any problems down the line. This can be based on a single, real-time view of over-budget projects, unachieved milestones, unpaid invoices, and pending proposals.
Manage projects effectively
It helps to deliver the work on time and under budget to fulfill customer expectations. Clients require flexibility in their delivery models, whether valuing, planning, or forecasting the project in a way that meets the delivery date and profit goals.
Improves your project portfolio
Gain effective forecasting and visibility into more than the details of a single project. Professional service companies must also be able to manage pipelines, resources, and materials across all active and future projects.
Ensure your business stays agile, resilient, and competitive
Moving through a digital transformation process and implementing new technologies might appear to be an overwhelming possibility. However, in today's world, the only way that companies can stay competitive. Likewise, it provides the opportunity for professional services firms to look at the way they work and challenge themselves to become more agile.
Thinking about how you can improve business agility? Go for our Solution i.e., MetaPro an ERP solution for professional services, you can contact us today at MetaOption.