There's never been a better time to join the world of 3D printing or, for experienced makers, to upgrade. With the right printer, you can make models, toys, hooks, stands, replacement parts for electronics or a new case for your Raspberry Pi. You can get one of the best 3D printers and plenty of material for well under $300 in 2022, so consider what you'll be making with it and read on to learn more. 
The two most common types of home 3D printers are resin MSLA (Masked Stereolithography) and filament FDM (Fused Deposition Modeling). The best 3D printers for beginners or those with children, FDM printers use reels full of plastic filament that is fed into a hot nozzle and extruded out layer-by-layer to form a solid model. MSLA printers use a UV-cured resin material to form a model layer-by-layer as it rises from a vat of liquid that requires very careful handling.
There are several factors to consider before buying the best 3D printer for you, so be sure to consider the questions before making a choice.
Resin MSLA or Filament FDM? The two most popular styles of desktop 3D printing, resin MSLA and filament FDM 3D printers offer various strengths and weaknesses, and choosing the style more suited for your application will help you get better results. For many , especially beginners, filament 3D printers are a better choice because they are easier to use and offer a wide variety of colors. They are also far safer for anyone with children or pets around.

Resin 3D printers can provide a bit more detail, so they are popular among folks printing out game pieces. However, you need to handle toxic chemicals and wear a mask when setting up a print and, after the printing is over, you must wash and cure your prints. We have some resin printers on this list but also maintain a more detailed article where we name all of the best resin 3D printers.

How much build volume do you need? If you want to print out large parts in a single print, you'll need a printer with ample build volume. This is usually directly tied to the price of the machine, so a larger printer is going to cost more money. Printers with a 100mm cubed or less build volume are on the smaller side, 150 to 220mm cubed are average, and 250mm inch cubed and above are considered large format.
Manual or automatic bed leveling? Leveling the bed of a 3D printer is an important but very annoying part of the process. Many printers have auto-leveling capability, which saves you most of the work.
What materials are you printing with? If you're buying an FDM printer, you'll want to use one of the best filaments for 3D printing so you can get good models. However, some substances require higher temperatures that not every printer can achieve. PLA filament, the most common type, can print on anything but more durable or flexible plastics such as PETG or TPU need extruders that can hit 220 to 230 degrees Celsius while ABS and Nylon require 240 or 250-degree heat.  Resin printers have fewer material choices.
Best 3D Printers You Can Buy Today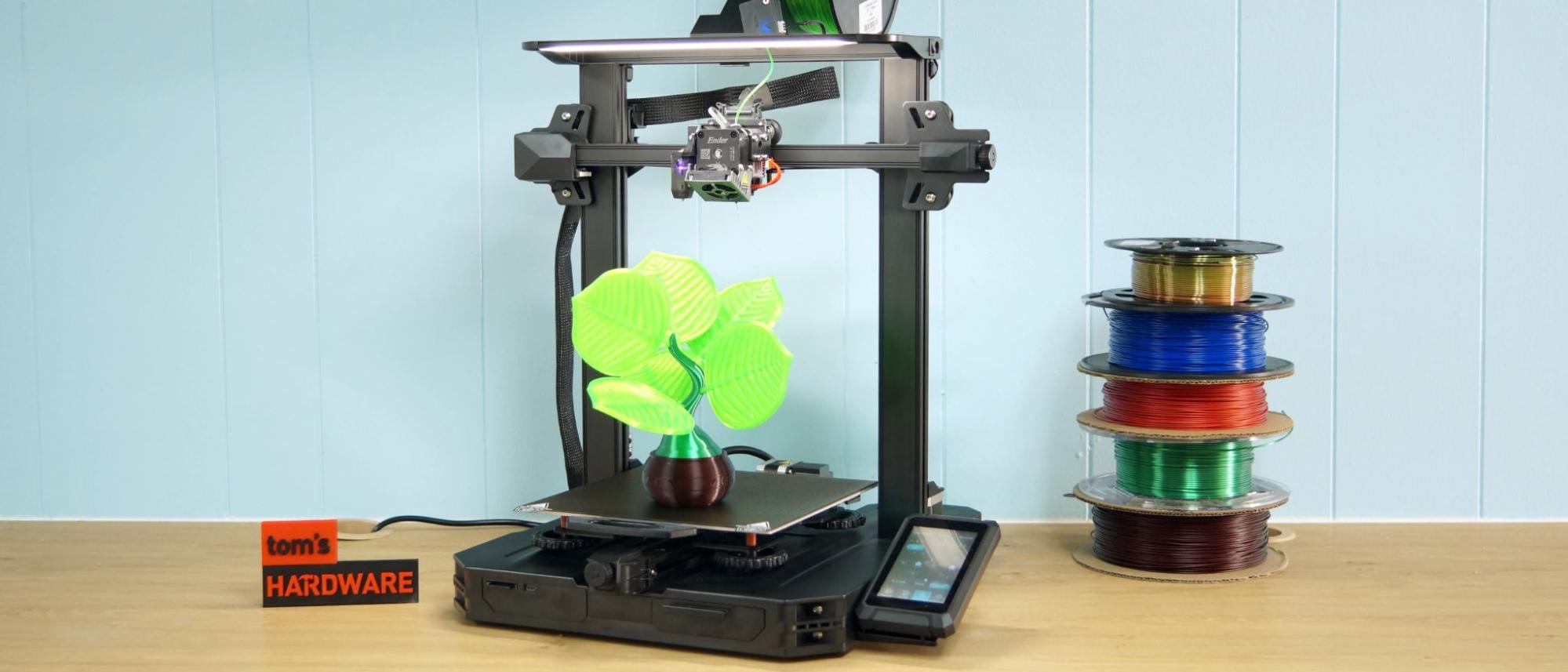 Creality's Ender 3 S1 Pro is the latest, and most impressive, iteration of the popular Ender 3 line. Not a cheap DIY 3D printer in need of upgrades like its predecessors, the $479 S1 Pro arrives fully loaded, delivering an out-of-the-box experience that's simple for beginners and powerful for experienced makers
The Ender 3 S1 Pro comes mostly assembled and only took us about 15 minutes and a handful of bolts to put together. Bed leveling – the bane of makers new to the hobby – is no longer a worry with Creality's CR Touch probe. This is by far one of the easiest auto leveling systems we've tested. 
The list of improvements the Ender 3 S1 Pro has over the humble Ender 3 is massive. It has a Sprite direct drive with an all metal hotend, a PEI coated steel flex plate, a color touch screen, tension knobs, a storage drawer, a light kit and even a better spool holder. The S1 Pro also comes with a swappable tool head, allowing you to add the optional laser module for engraving.
But all of its bells and whistles wouldn't land the Ender 3 S1 Pro at the top of our best 3D printers list if it didn't also provide amazing output. When we printed a variety of detailed models such as a toy dolphin, a vase and a beckoning cat, prints were extremely sharp, with fine lines and little-to-no stringing. In addition to the great models we printed with PLA filament, we got really strong results when we worked with TPU and PETG filaments. Some green TPU produced life-like leaves on a potted plant model.
More: Creality Ender 3 S1 Pro Review
---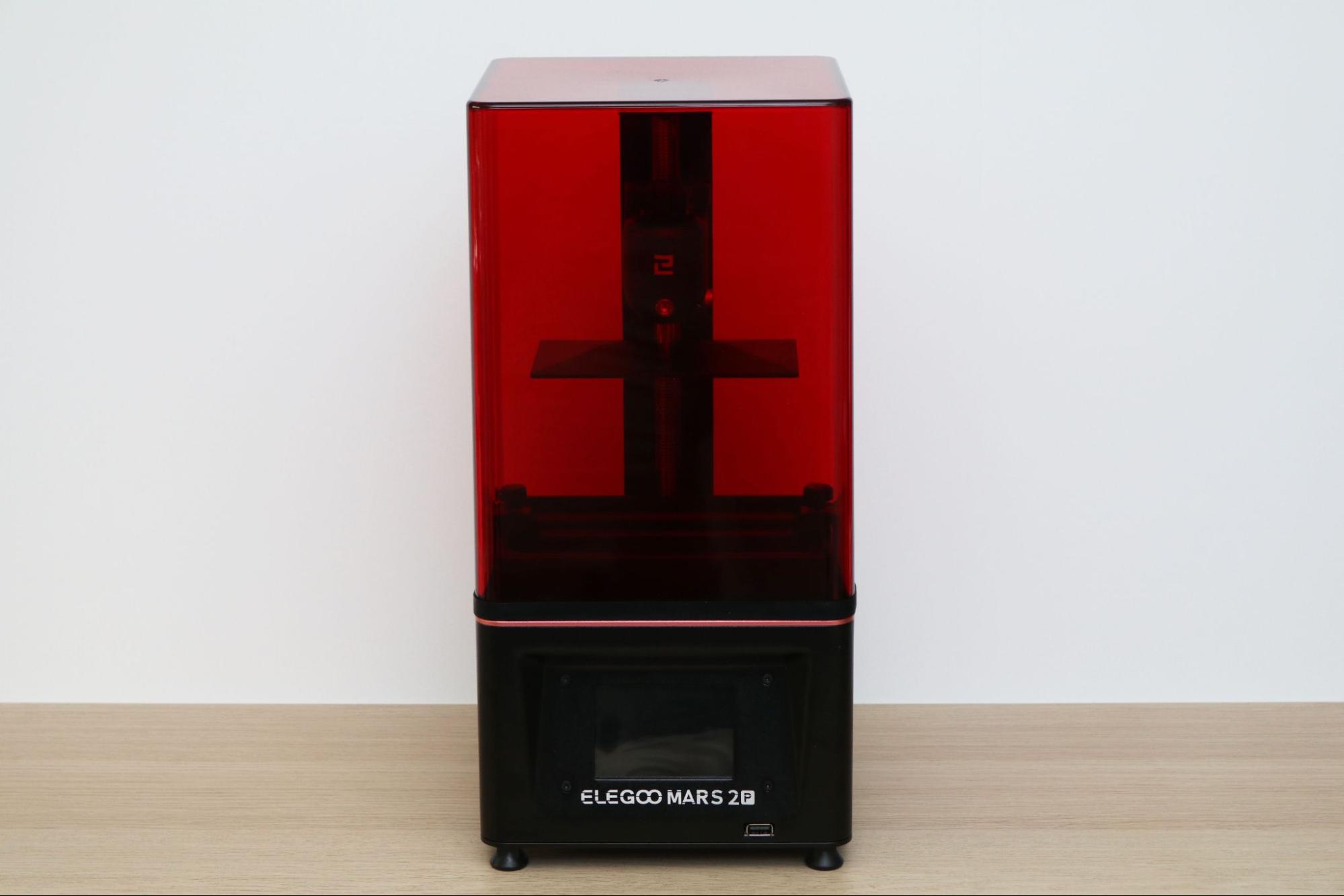 If you're getting into resin 3D printing for the first time, you have an overwhelming number of options and price points. The good news for beginners is you don't have to sacrifice your budget for quality. You can find the easy-to-use Mars 2 Pro on sale for as little as $200. 
Its smaller build volume is perfect for gaming miniatures and trinkets but not larger models. And though its 2k resolution may not be the most detailed among resin printers, it is miles ahead of the quality you can achieve with a filament-based machine.
The Mars 2 Pro comes with a built-in filter system that I found really helps with fumes associated with resin printing. Its spring-loaded self-leveling build platforms is hands down the easiest system we've ever used.
More: Elegoo Mars 2 Pro 3D Printer Review
---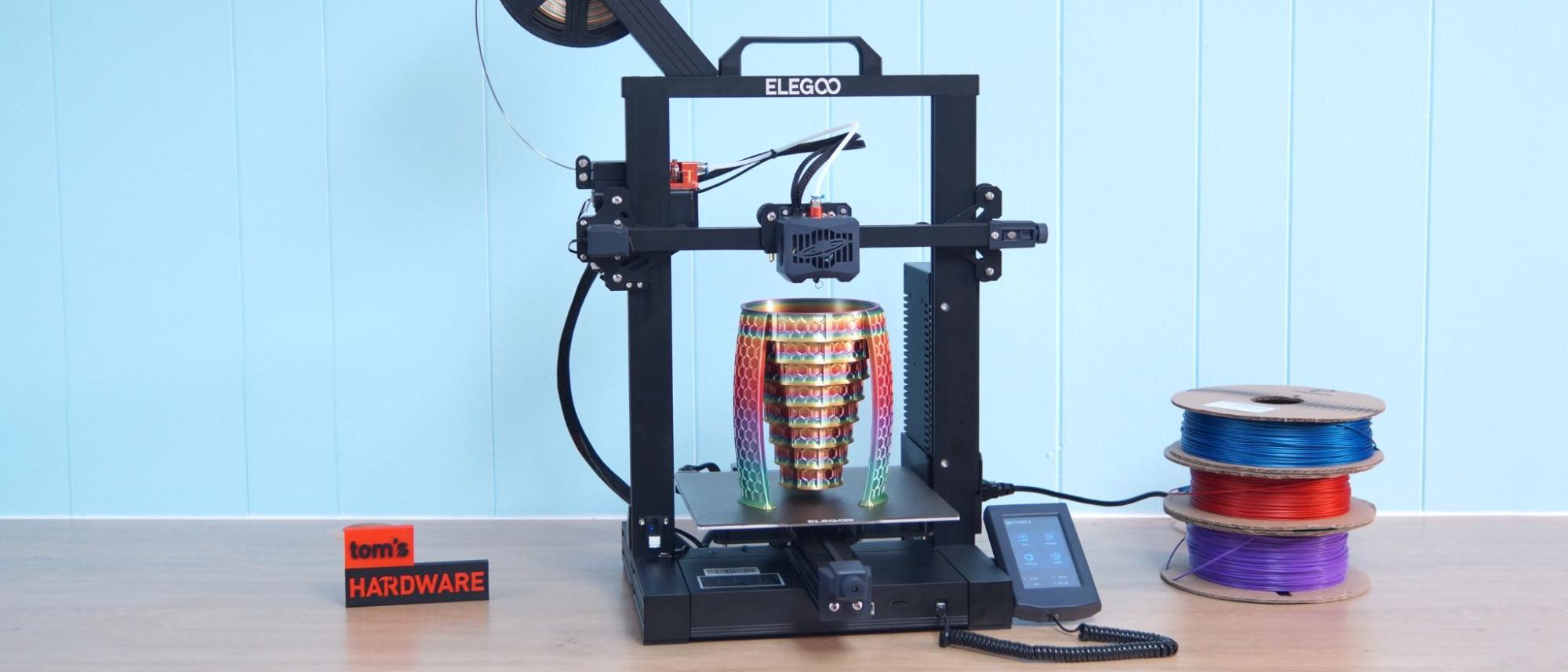 Shopping for a 3D printer on a budget no longer means resorting to a bare bones DIY kit. The Neptune 3 offers a lot of features – and quality prints – in a tidy package that's easy on your wallet. You'll get auto bed leveling, an easy to remove flexible build surface and a color touch screen all for a pre-order price of $209.99 and a regular price of $220.
The Neptune 3 arrives as a mostly assembled modular system that we were able to put together in about 20 minutes. The printer has a hard-mounted hot bed without any adjustment knobs – we found the auto bed leveling system extremely easy to use and very accurate. The bed wasn't as sticky as we would have liked, but after a light scuffing with steel wool it worked as it should.  
We also like the dual gear Bowden extruder, which handled soft TPU filament as smoothly as PLA in our tests. The advanced filament sensor impressed us with its ability to detect jams by looking for motion along the filament path. This means the machine can alert you to jams when the filament stops moving as well as sense when it's run out of material.
More: Elegoo Neptune 3 3D Printer Review
---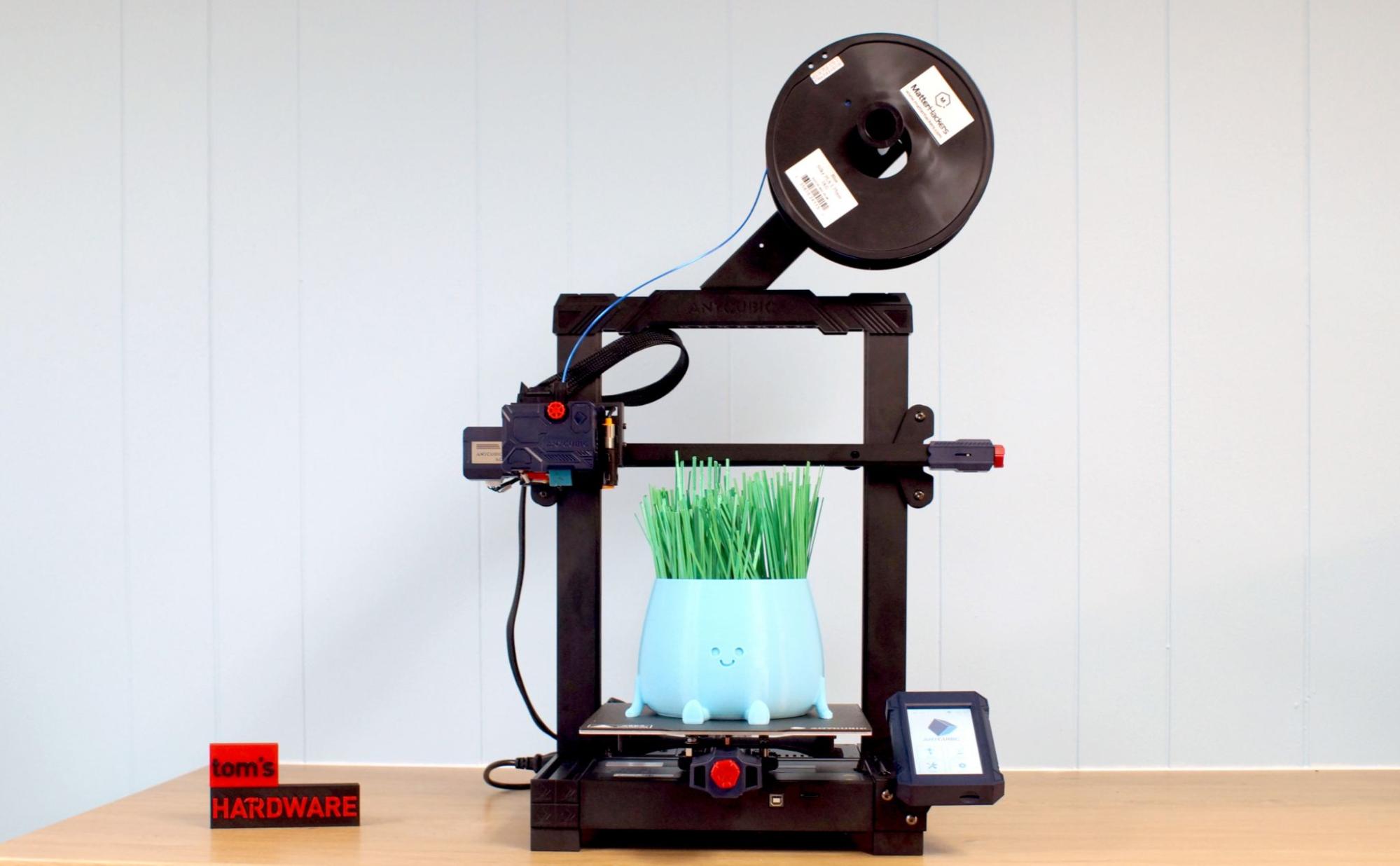 If you're looking for a 3D printer that delivers excellent quality while also being easy to operate, the Anycubic Kobra is for you. a fun hobby.  
It's so easy to assemble, you'll be printing within 30 minutes of unboxing. It has an easy to load direct drive and an auto bed leveling system that takes the headache out of achieving a perfect first layer. The print surface is a magnetic plate with a PEI coating that grips while hot and magically releases when cool.
Be sure to add a roll of filament to your cart when buying the Anycubic Kobra because you'll be printing up a storm on its generous 220 X 220 X 250 print volume.
More: Anycubic Kobra Review
---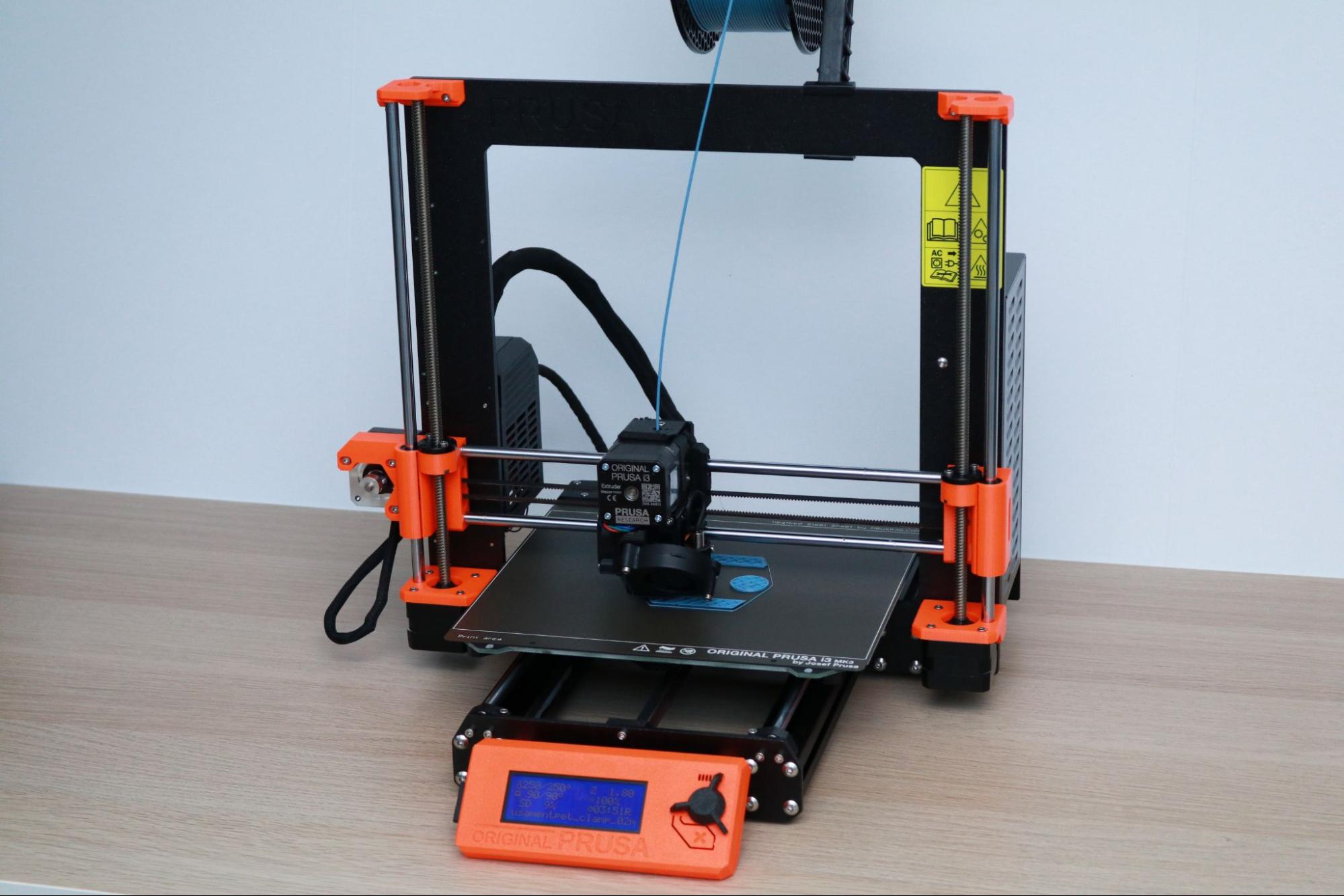 Considered the best 3D printer overall by many aficionados, the Prusa MK3S+ has received countless industry accolades and awards, and with good reason. The MK3S+ is a powerhouse 3D printer that combines reliable hardware, feature-rich software, and a support channel that makes the Prusa signature black and orange hardware a common sight in 3D printing farms. The MK3S+ is based on the i3 platform and has benefitted from several generations of incremental upgrades which have resulted in one of the best 3D printers on the market.
Silent stepper drivers, removable textured build platforms, automatic bed leveling probe and more; the list of features that come stock on the Prusa MK3S+ is certainly impressive, but that's only part of the story with the MK3S+. Prusa has developed their own slicer app, PrusaSlicer, for processing 3D models and is actively adding new features requested by the community. Features like the ability to paint-on support material, create variable layer heights and generate custom printer profiles are examples of how PrusaSlicer enables the MK3S+ to leap ahead of the competition.
At a price point of $999 for an assembled printer and $749 for a DIY kit, the MK3S+ is one of the most expensive machines on this list. That price may raise some eyebrows among 3D printing enthusiasts who have become accustomed to printers in the sub-$300 price range, but for power users who need uncompromising performance and industry-leading documentation and support, the MK3S+ is at the top of the list. 
More: Prusa MK3S+ 3D Printer Review
---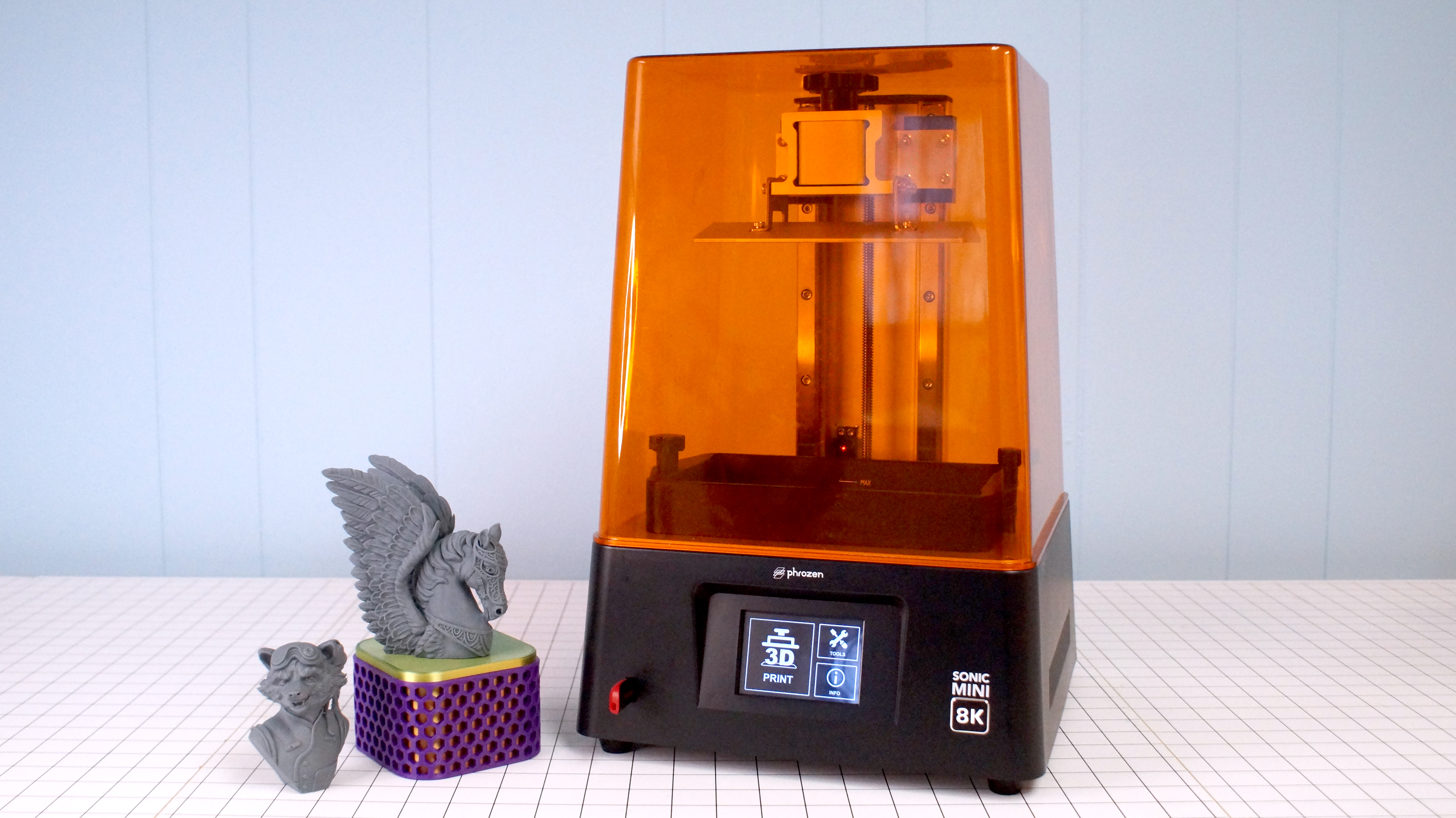 If you're looking for the most precise prints around, the Phrozen Sonic Mini 8K is your best choice. This MSLA resin 3D printer sports a 7.1-inch mono LCD screen that operates at 7500 x 3240, which results in a show-stopping 0.22mm XY resolution, the highest on the market. It comes fully assembled and is easy to use, just calibrate and go. 
It also boasts native integration with both the ChituBox and Lychee Slicer apps. Combine the Sonic Mini 8K with Phrozen's Aqua Gray 8K resin and you'll see smoother prints with more crispy details than ever before.
The Phrozen Sonic Mini 8K has a sturdy metal build, dual rails and an all-metal vat with feet that prevent the FEP sheet from touching your work surface. The build plate is laser etched for amazing adhesion.
Selling for a retail price of $599.99 the Phrozen Sonic Mini 8K is targeted towards miniature makers and jewelry designers who are ready to level up their prints. For beginners looking for a high-resolution machine at a lower cost, the Phrozen Sonic Mini 4K offers .035mm XY with the same speed and precision for $349.00.
More: Phrozen Sonic Mini 8K Review 
---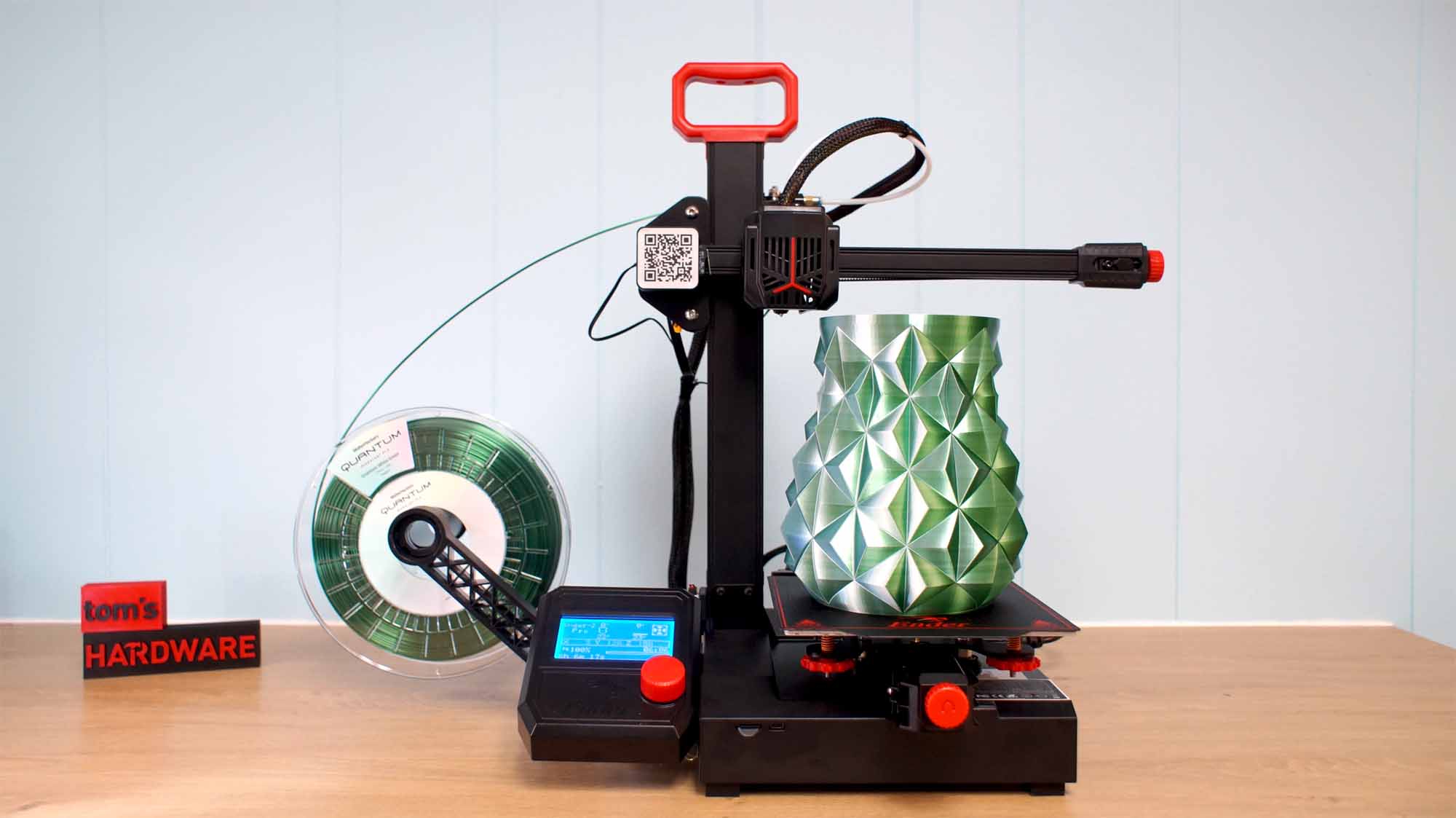 If you're looking for your first 3D printer and don't want to spend a lot of money, the Ender 2 Pro is a great choice. The machine retails for $169, but can often be found on sale for much less (we bought it for just $129 at Micro Center). Many printers at this price point are novelties built of cheap plastic, but the Ender 2 Pro is a solid workhorse (or perhaps pony) that shares many parts with its big brothers of the Ender 3 line. 
In our tests, the Ender 2 Pro delivered great print quality when used with decement filament and a slicer. Our prints of 3D Benchy (a model of a boat people often for testing) and a crystal dragon looked fabulous. 
Need to move the printer around the house? The Ender 2 Pro is a compact machine that weighs under 10 pounds. Its top mounted handle makes it portable enough to be stashed in a closet when not in use – perfect for the weekend hobbyist. The main trade-off is that the 165 x 165 x 180mm build volume is tiny compared to most printers.
Putting together the Ender 2 Pro was a breeze for us. It comes 90% assembled – screw in a few bolts and the machine is ready for use. It has silent stepper drivers and quiet cooling fans, making it a pleasant office companion. The flexible textured bed holds models tight while printing and peels right off when finished. 
The Ender 2 Pro can be easily upgraded with 3rd party hotends and more durable bed surfaces, making this a machine that can grow with you.
More: Creality Ender 2 Pro Review
---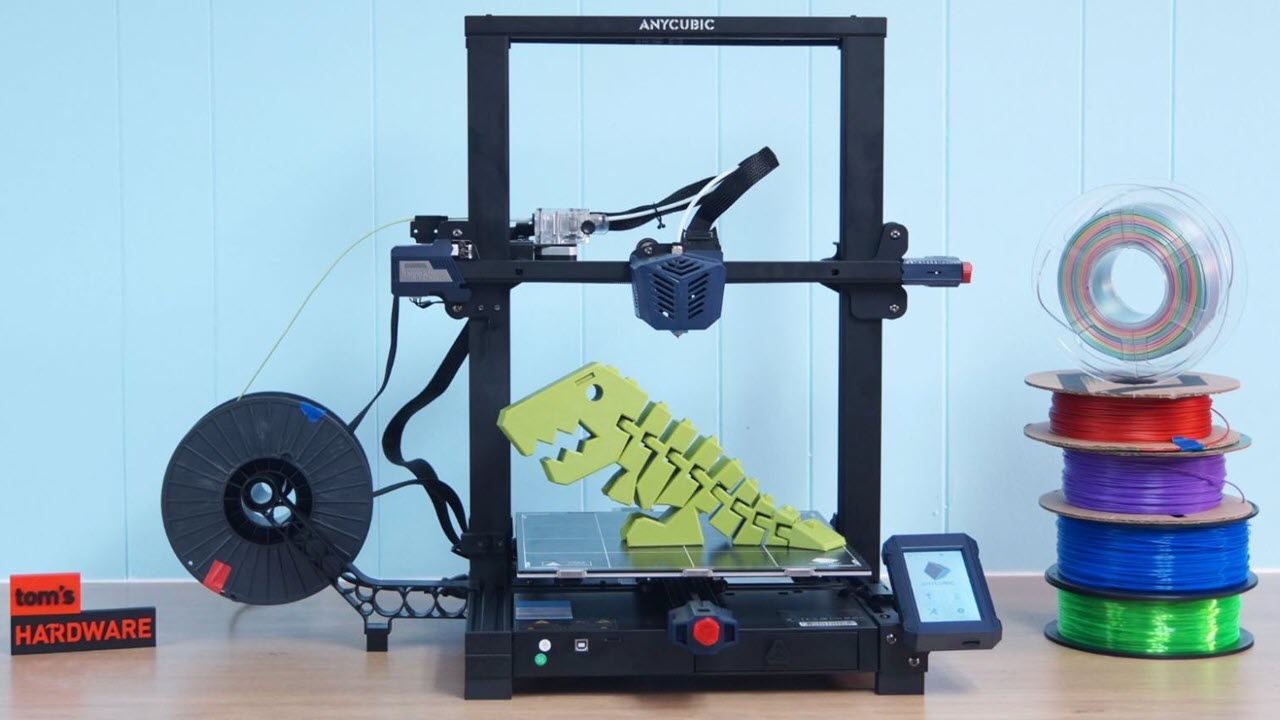 When you want a little more elbow room than the average 3D printer, the Anycubic Kobra Plus has your back. With a generous 300 x 300 x 350mm build volume and a near perfect auto bed leveling system, the Kobra Plus is the perfect tool for big projects.
Competitively priced at $499, the Kobra Plus has a lightweight Bowden extruder paired with a Volcano-style hotend for faster printing. Big glass beds can be a problem on some printers, but Anycubic's formula for carborundum coating is just right. When it was heated up, we found the Kobra Plus bed to be tacky to the touch, which really grabbed onto the prints. If you allow the bed to cool thoroughly, prints release easily and only need a tiny bit of persuasion from a scraper. 
The Kobra Plus is a great all around machine. We were able to print string-free TPU models and it handled PETG as easily as PLA. Our only problem with this printer was having to manually create a profile in Cura as it was not included. However, if you only have room for one printer in your workshop, this is the one.
More: Anycubic Kobra Plus Review
---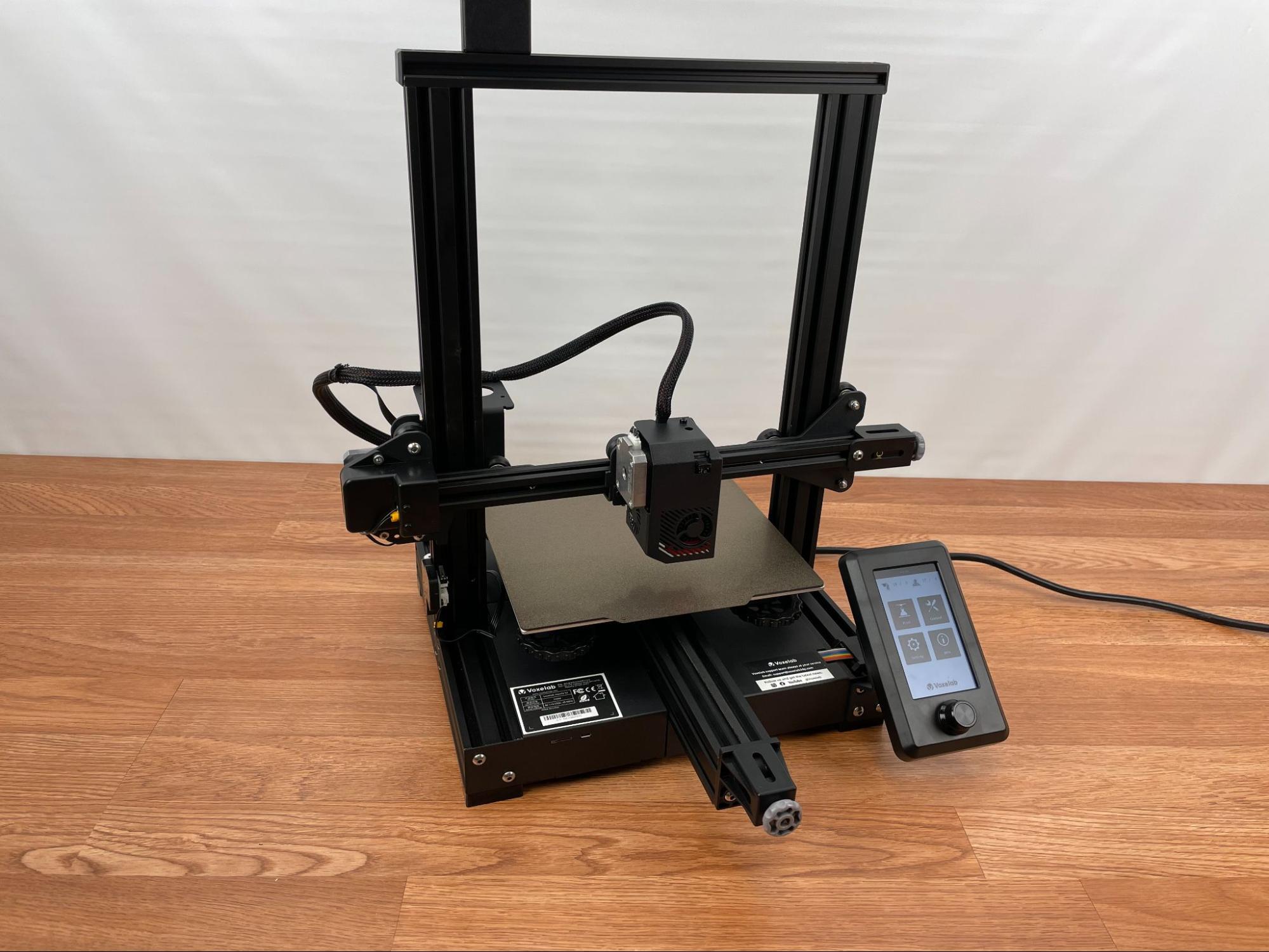 If you want to print with PLA filament, any competent FDM printer can get the job done. ABS and PETG materials are a bit more demanding, but still usable on a high-quality machine. But if you want to use more exotic materials such as nylon or carbon fiber, you'll need a printer that can get much hotter than the 240-degree cap we see on popular models like the Creality Ender 3 Pro.
Able to reach up to 300 degree temperatures thanks to its aluminum nozzle, the Voxelab Aquila S2 can produce gorgeous prints with filaments that other models can't handle. In our tests, it produced a highly-detailed print of "benchy," a boat commonly used as a test model, in nylon. It also provided strong output when we tried a detailed bust of Groot with PLA.
Aquila S2's magnetic build plate is flexible, with both a textured side and a smooth side. The open-air printer is fairly easy to set up and uses a 4.3-inch display with a dial as its interface. It  comes with two different slicer apps: Ultimaker Cura and VoxelMaker, though the former is the industry standard and the one you'll most likely want to use. The biggest downside to Voxelab's printer is that it requires manual bed leveling so you'll need to do that work if you want to ensure you get a good first layer.
More: Voxelab Aquila S2 Review 
---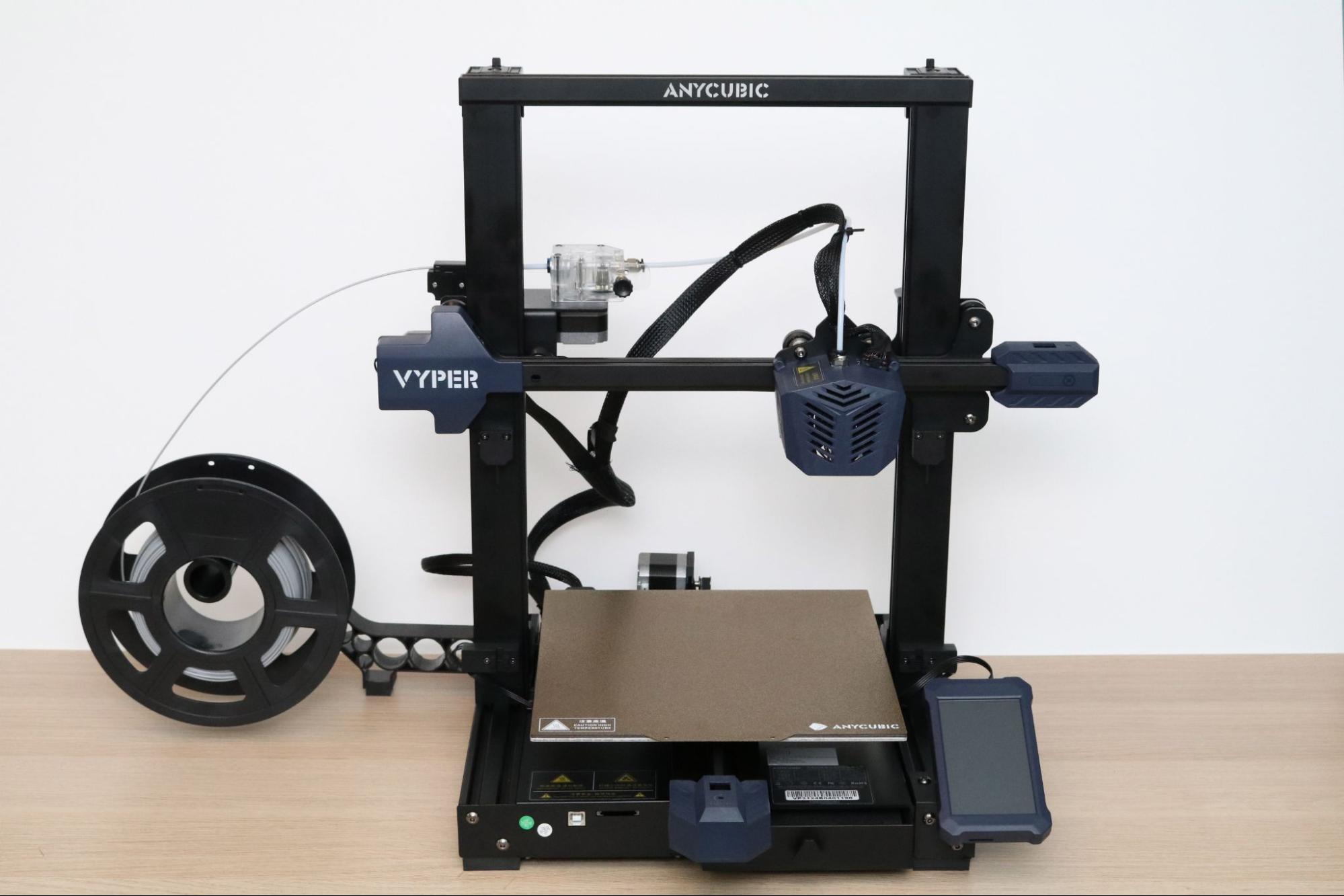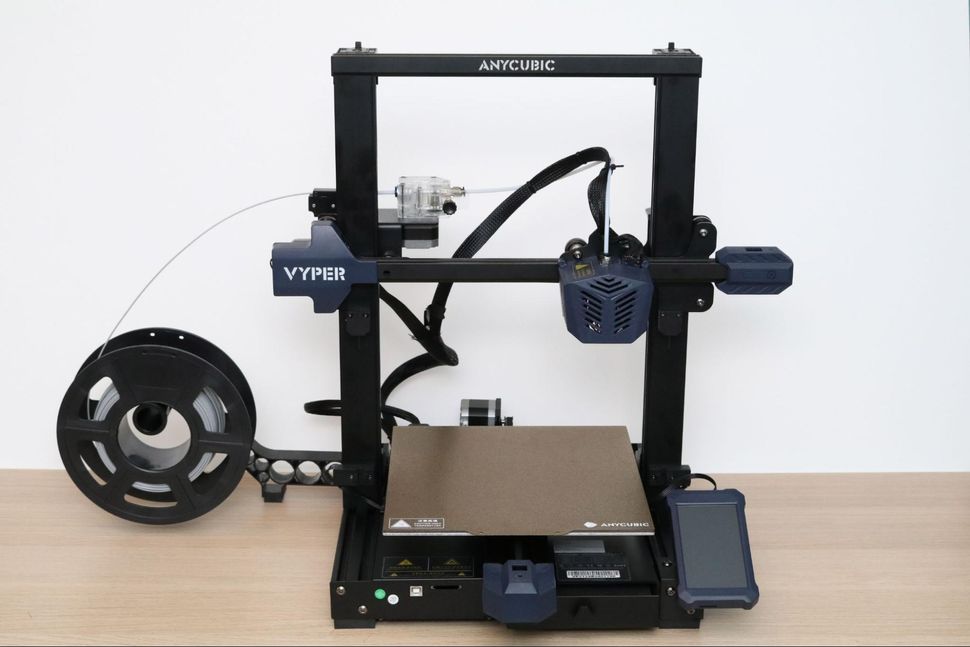 The Anycubic Vyper is designed for high-throughput 3D printing, and impressed us with its rock-solid build construction and impressive list of features. Silent stepper drivers, dual Z threaded rods and a high-airflow part cooling system are just a few of the many features that make the Vyper an easy choice for anyone interested in printing out large quantities of parts.
The strain-gauge bed leveling system allows the Vyper to quickly and accurately complete an automatic mesh bed calibration. This form of calibration is ideal for anyone who doesn't want to spend a lot of time tweaking or calibrating the printer, and it worked well during testing and didn't require any further adjustments to get an even first layer. 
The Vyper isn't the cheapest printer on this list, but it earned its place by providing a fast setup and trouble-free operation throughout our testing. The Vyper was designed with an impressive level of attention to detail, and the various areas on a 3D printer that would require adjustment (extruder, X/Y belts, etc.) are all easily accessible and adjustable. The included Cura slicer app is easy to use, but the printer profile that ships with the machine might require some tweaking that beginning users may struggle with. 
More: Anycubic Vyper Review 
---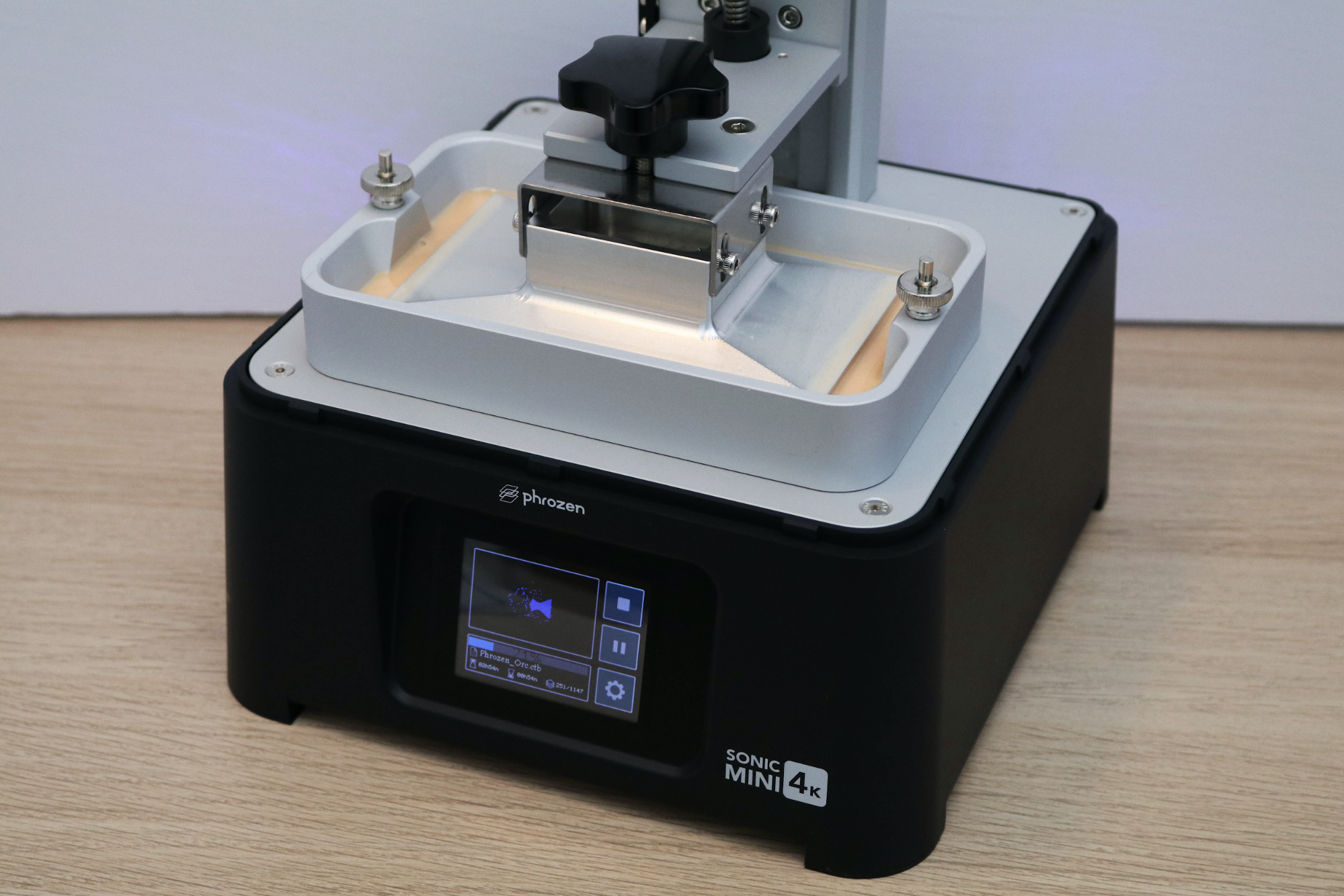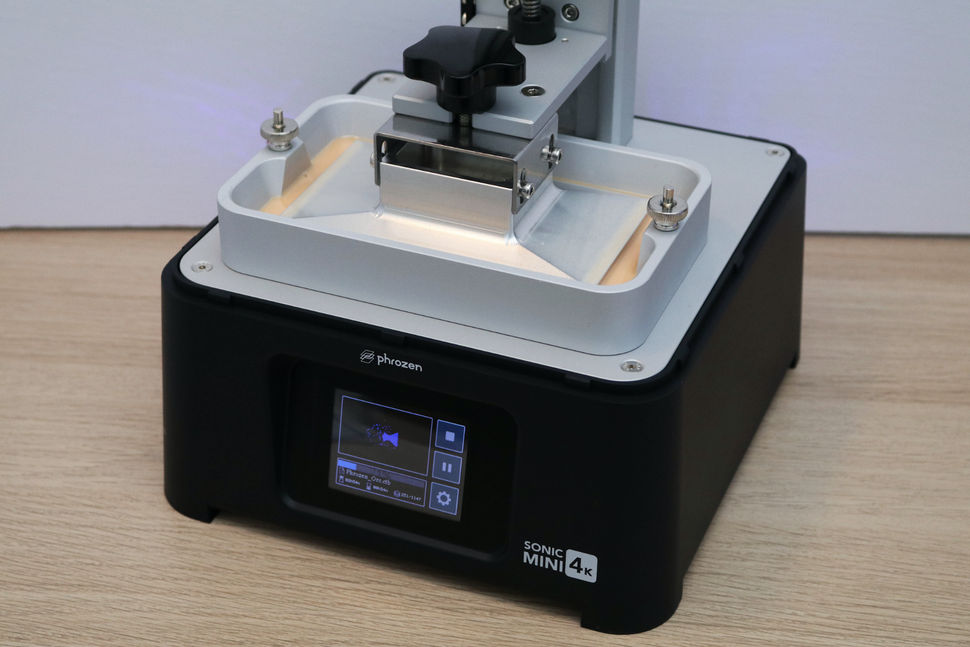 If you're interested in printing models with lots of fine detail, the Phrozen Sonic Mini 4K should be on your short list. Using a 4K mono LCD screen, the Sonic Mini 4K is capable of printing high resolution models with a per-layer cure time of just over 2 seconds per layer. This translates to high detail and high speed, but you'll pay for it in the difference in cost between the Sonic Mini 4K and other MSLA 3D printers like the Anycubic Photon.
In our testing, we found the Sonic Mini 4K's ability to produce fine features to be as-advertised, so printing table-top gaming miniatures and small sculptures is something this printer excels at. In addition to the high XY accuracy, the Z-stepping is barely visible even at a standard 50-micron layer height due to the software-enabled anti-aliasing provided by the ChituBox app.
Leveling the build platform on the Sonic Mini 4K was a little tricky, and the conflicting information provided by Phrozen can make the process intimidating for a first-time user. The quality of a print can depend heavily on the initial build platform calibration, so be prepared to spend some time getting this printer dialed in.
More: Phrozen Sonic Mini 4K Review 
---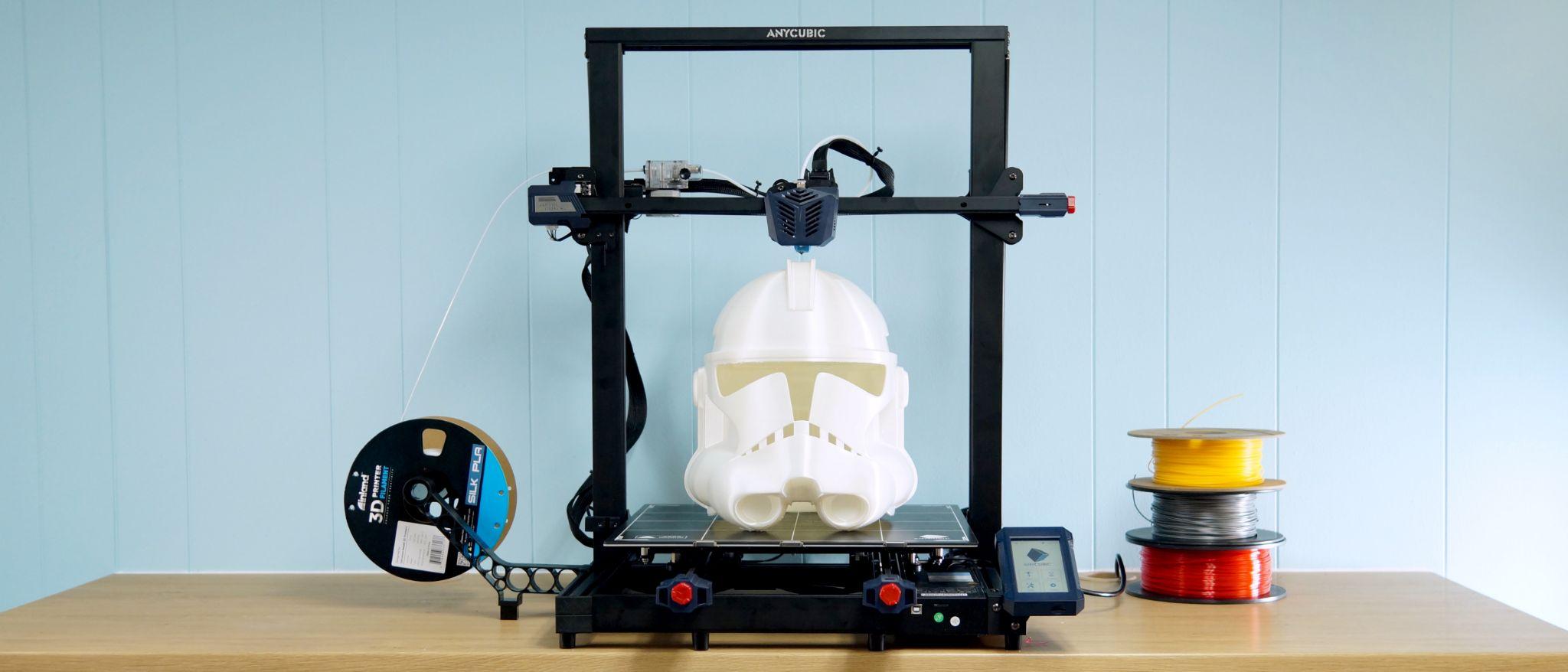 Do you want to print helmets, props and large pieces of cosplay armor – but you don't want to slice them up into a jigsaw puzzle? Then the Anycubic Kobra Max is your dream machine. It has an enormous 400 x 400 x 450 mm build volume that can only be beat by the endless CR-30 belt printer. 
Warning – this is a beast of a machine that needs three square feet of operating space. We had some trouble finding a good spot for it, because it was too big for our workshop counter. The Kobra Mas makes up for it's gigantic footprint by being incredibly easy to assemble. It comes as a mostly assembled modular kit, and after placing a few bolts and screws, we had it unboxed and printing in about 30 minutes. 
Available at $569, the Kobra Max pumps out smooth prints with the help of a Volcano-style hotend and dual gear extruder. The bed is carborundum coated glass that gets tacky when heated. It has excellent adhesion while hot and if you listen closely as it cools down you can actually hear the prints crackle as the glass releases it's grip.
Giant beds like the one on the Kobra Max would be difficult to level by hand. Thankfully, Anycubic's system makes it easy with a hard mounted bed and an auto leveling sensor built right into the hotend. The nozzle physically taps the glass surface to make a very accurate mesh – we only had to tweak the Z height to adjust for the difference in filament types.
The one significant fault on the Kobra Max is the lack of an included profile in Cura, leaving us to manually plug in dimensions and puzzle out the perfect settings. We feel that Anycubic's suggestion to use Cura defaults moves the heavy print bed way too fast so we borrowed settings from a Creality CR10s profile and then got perfect prints.
More:  Anycubic Kobra Max  Review 
---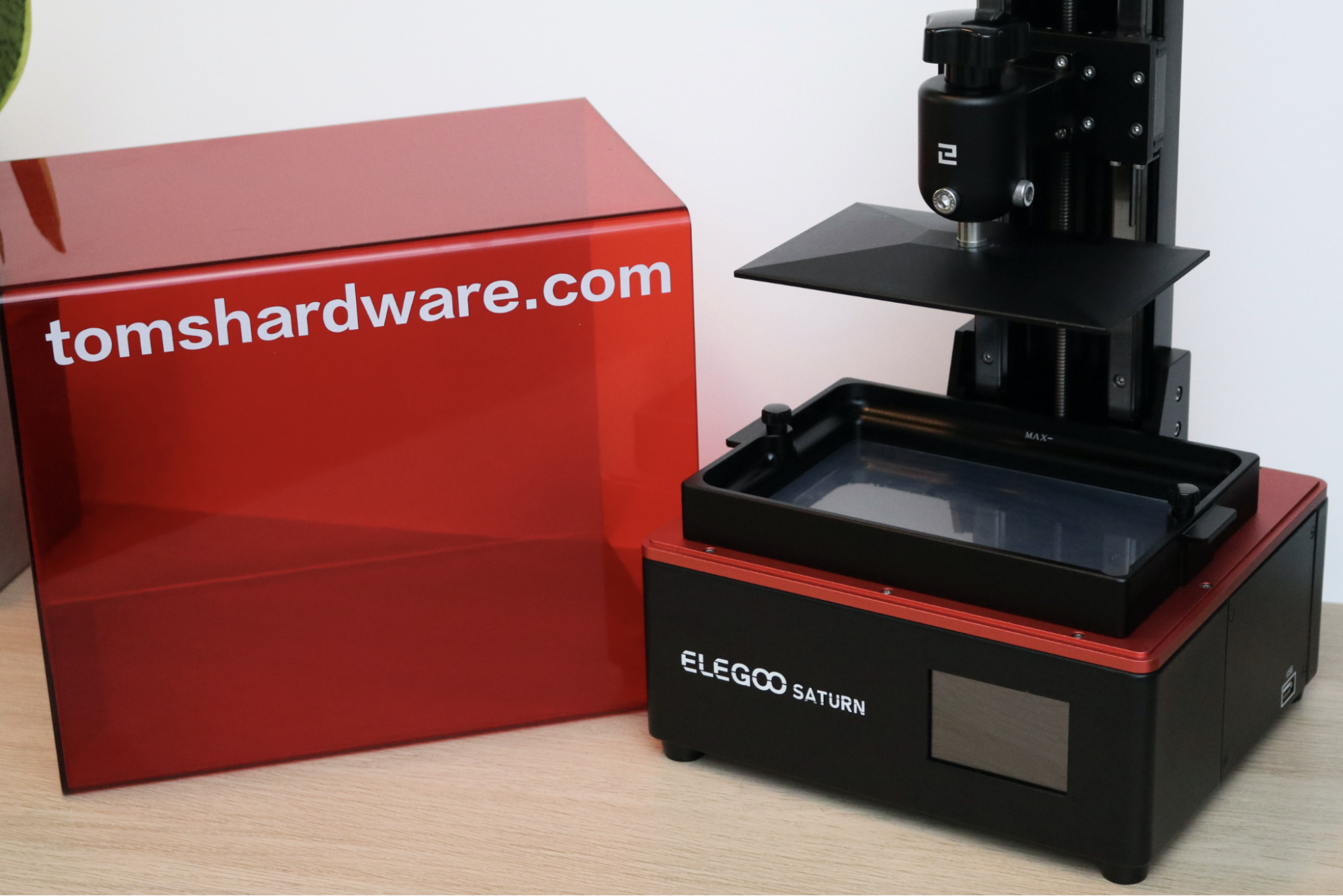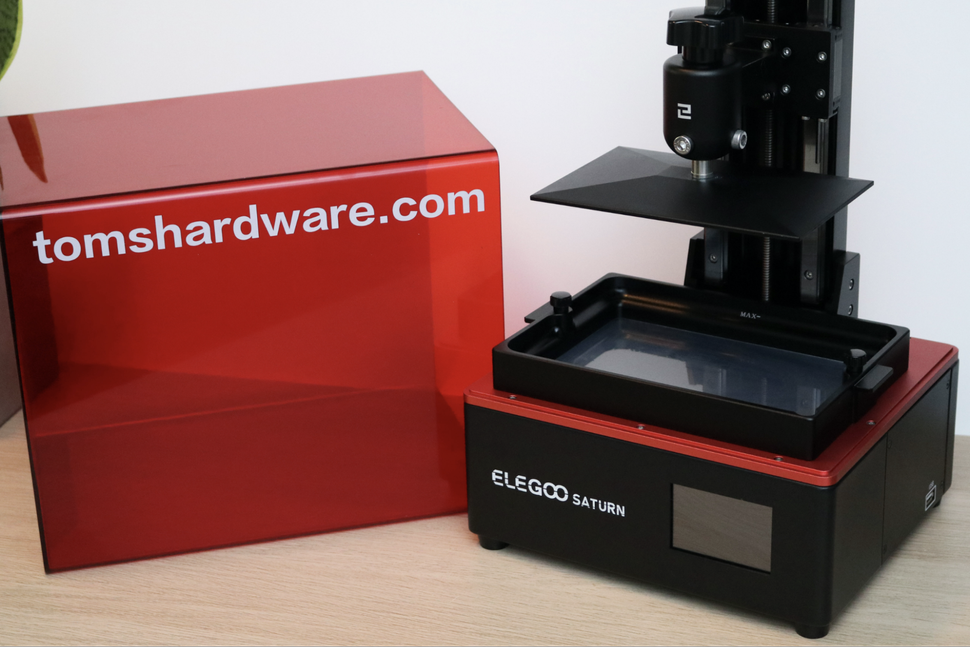 The Elegoo Saturn is the counterpart to the smaller Elegoo Mars series of printers, which offer solid build quality for a reasonable price. The Saturn takes this formula to the extreme by offering a large 7.55 x 4.72 x 7.87-inch build volume while simultaneously increasing the resolution of the masking LCD. This, combined with the 2.5-second per-layer cure time from the Mono LCD, means that the Saturn can print more parts in the same amount of time as the smaller format Mars series of printers. 
Elegoo has developed a two-bolt bed leveling solution for the Saturn that makes the leveling process a quick and painless process. This, combined with the native integration with the Chitubox slicer app, makes setting up and using the Saturn a simple process that is ideal for both beginners as well as experienced users. 
The Saturn has a build volume of 280.46 cubic inches, a dramatic increase from the 100.81 cubic inch build volume of the smaller Elegoo Mars 2 Pro. If you're looking for a resin printer that offers a large build volume but you don't want to compromise with a lower quality print, the Saturn is an ideal solution but you might have to check Amazon several times before you can find one.
More: Elegoo Saturn Review
---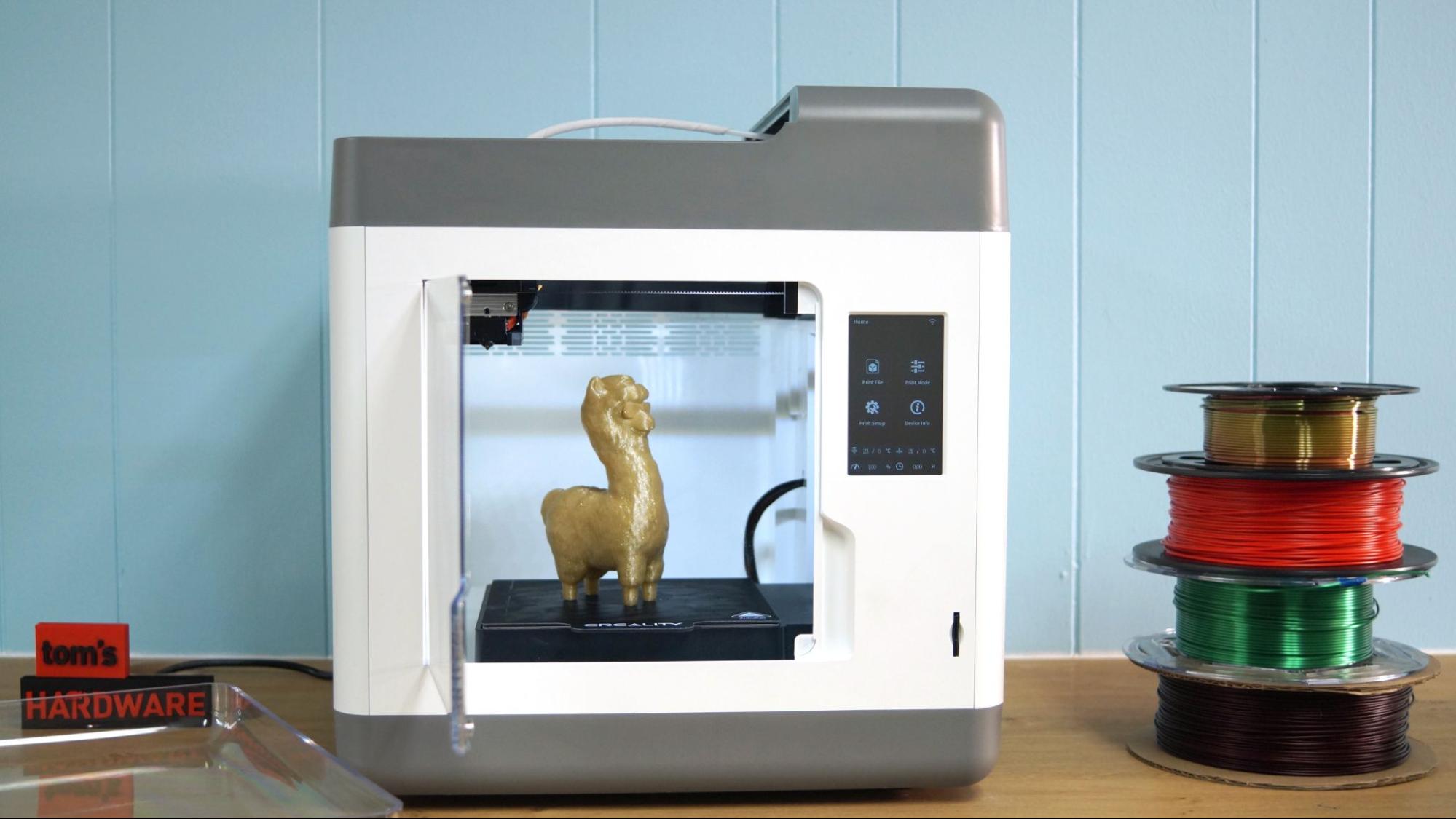 Creality's Sermoon V1 Pro is a plug-and-play 3D printer with safety options useful for families, schools and libraries. Unlike cheap "toy" printers aimed at young makers, this $539 deluxe machine delivers quality results with a simple-to-use interface.
The build volume is smaller than average, but it makes up for it with a direct drive, flex plate, heated bed and built-in camera. It also arrives pre-leveled from the factory, something we rarely see. It's a great machine for beginners who only need to unbox it, load up filament and start printing. Our test machine went from box to first print in under 20 minutes. 
The Sermoon V1 Pro is fully enclosed in a white case with several windows, making it look more like a counter top appliance than any DIY kit. The case serves to hide all it's moving parts, while also keeping the print area warm and draft free. The door has a sensor that pauses the printer – further protecting curious children from moving parts. 
Its Core XY design keeps the print head at the top of the machine while the bed slowly lowers downward. Combined with its lightweight direct drive, the Sermoon provides smoother, string free prints than a typical bed slinger while also keeping the hot nozzle in a difficult to reach area. We found output quality impressive, whether we were printing a sample Spaceman print or a set of Maker Coins with the St. Louis arch on them. We were even able to print a translucent wallet using TPU filament. 
Our only complaint is the need to use a phone app – the Creality Cloud – to take advantage of the built-in camera and Wi-Fi capabilities. The machine also works with a full sized SD card for offline use.