Today, Apple has announced the biggest shift to their Apple Watch product lineup since launch, by announcing the new Apple Watch Ultra, which is targeted at the endurance athlete. This new watch has increased battery life, an added button, larger digital crown, dual-frequency GPS, redesigned compass, night mode, dive computer mode, and plenty more. It's Apple's first go at competing with companies like Garmin and others in the endurance sports watch market.
However, that's not the only watch Apple announced today. They also announced a revamped Apple Watch Series 8, which adds in a temperature sensor for improved cycle/ovulation tracking. Plus, added crash detection for vehicular driving (it already has sports-focused crash detection). Further, this watch has a new Low Power Mode which doubles the battery life.
And finally, there's a slightly updated Apple Watch SE (now 2nd gen), that updates the internal chipsets and adds in crash detection, all while reducing the price.
With that, let's dive into the Ultra model first in this post, with the Apple Watch Series 8 and SE coming in two more posts momentarily.
Apple Watch Ultra Specs: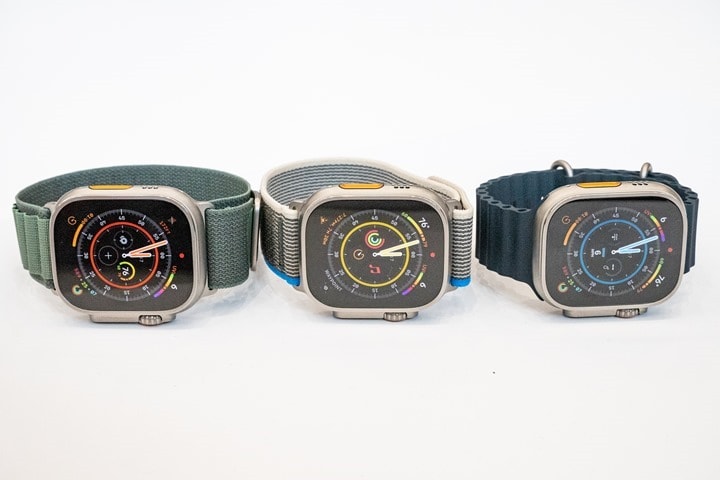 This is Apple's newest product line, which carries the Apple Watch Ultra name, and is specifically designed for the endurance athlete and adventure crowd. I'll walk through the watch below, but first up, a quick hit list of key differences:
– Increased display size to 49mm
– New titanium case with sapphire glass display
– Added a new button, called the Action button, designed for glove usage
– Increased size of the rotating digital crown for glove usage
– Increased water resistance to WR100 (100m) for dive usage
– Added an extra speaker for louder outside volume
– Now has three microphones for wind-cancellation audio
– Added an 80db alarm siren, for emergency usage/attention
– Cellular is built into every Apple Watch Ultra
– Increased standby battery life to 36 hours, or up to 60 hours in Low Power Mode
– Added Low Power Workout Mode, which Apple says can handle an Ironman race (with GPS).
– Increased Display Brightness to 2,000 Nits
– Added temperature sensor for improved cycle tracking (also on Watch 8)
– Added revamped compass app with track back option
– Added new dive computer mode, along with a partnership for a dedicated dive computer app
– Added vehicular crash detection (also on Watch 8/Watch SE 2nd Gen)
– Price is $799USD, shipping on Sept 23rd
This is all in addition to all the existing Apple Watch related features.
Apple Watch Ultra Hands-On:
So, let's dive through all these things individually. First up is that titanium case, with a front sapphire glass crystal (similar to most high-end watches), with a new larger 49mm display – the largest Apple Watch to date. Here it is compared to an Apple Watch Series 8 (45mm).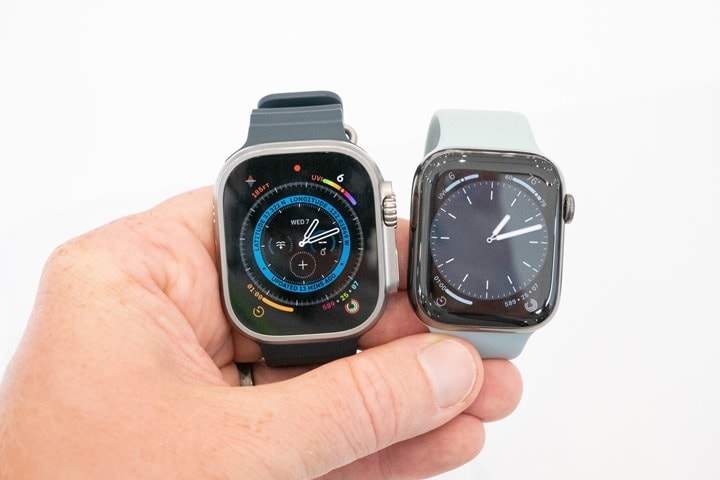 New added button, the so-called Action Button, while the digital crown has been increased, with both designed for glove usage. You can use the action button to precisely start the run (versus the 3-second countdown), as well as change sports in a triathlon, or to mark laps.
Later in 2022, Apple will add Track Running mode, to ensure that laps are accurately recorded. This sounds similar to what we've seen from COROS/Garmin/Wahoo in recent years.
Next, they've added an extra speaker for louder volume, while having three concurrent mics for better audio quality (mic quality) by using those mics to do wind cancelation. This is similar to what most action cams on the market do.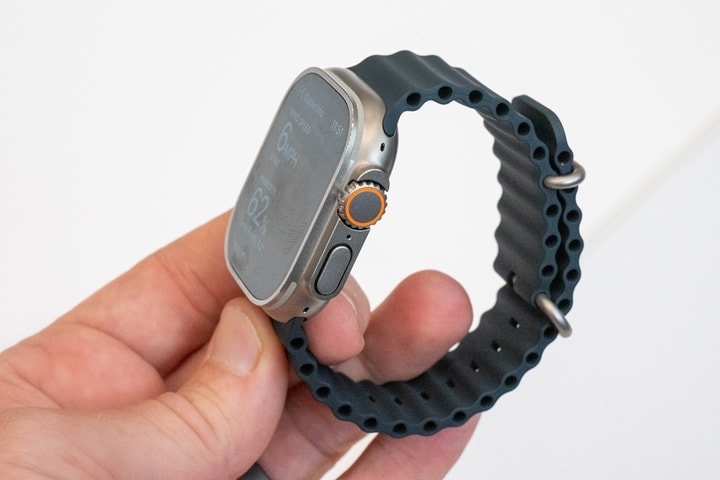 Additionally, as part of this new speaker arrangement, there's a new 80db emergency siren in case you need to alert people nearby (such as falling off the trail).
Cellular is built into every Apple Watch Ultra, with 36 hours of battery life on a single charge, or up to 60 hours of battery life with a new battery setting that'll launch later this fall. There's a new low-power workout mode too, which they claimed will (specifically) be able to do an Ironman event on a single Apple Watch charge. However, there's no details yet on exactly what is reduced in that low-power workout mode (in other words, what sacrifices you have to make), more on that soon.
Apple Watch Ultra includes a new multi-band/dual-frequency GPS chipset, across both L1 and L5. Multi-band is potentially useful in deep city environments, as well as cliffs and other satellite blocking scenarios. In doing so, they've joined the COROS/Garmin/Huawei camp when it comes to higher GPS track accuracy. Of course, this is something I'm keen to put to the test in the coming weeks. As we've seen with other multi-band implementations, accuracy can range from astounding to meh.
There's a new watch face called "Way Finder", which has a built-in compass.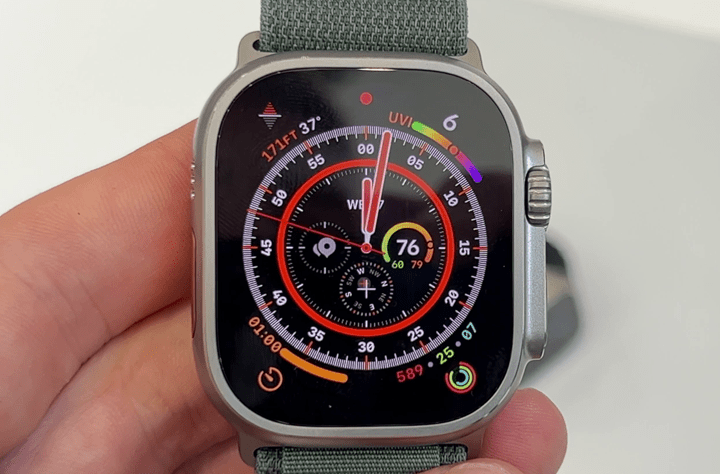 However, the bigger deal here is actually the revamped compass app. That app does more than just be a compass, it also includes the ability to save waypoints, navigate back with a Back Track, and otherwise keep track of where you've been using GPS when outside doing a hike/walk. I can tap to save any point I want, give it a name and label color, and then refer/navigate back to it later.
For scuba divers, they've added a WR100 rating, including a new depth gauge app showing water temp, underwater time, and current depth. It's been certified to EN13319 for dive computers.  However, they've also partnered with Huish Outdoors to create a dive computer app, called Ocean+ dive app, for recreation diving, down to depths of 120ft: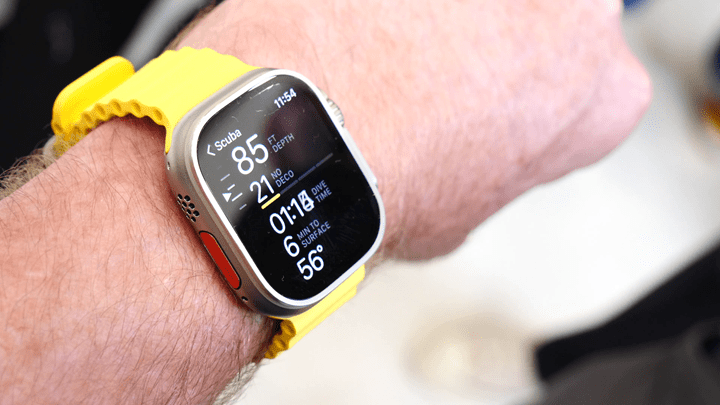 This includes a full dive app that covers the most common dive features that you'd find on most recreation-focused dive apps. It includes decomp limits, ascent/descent rates, and a safety stop. The app is designed to use the new button and digital crown with gloves, so you won't have to worry about the whole touchscreen mess underwater. That app will come later this fall.
Finally, each of the three Apple Watch Ultra editions comes with one of three different Loop watch bands. These are Ocean Loop (left), Trail Loop (middle), and Alpine Loop (right). I show them extensively in the video above, along with the different colors they have for each.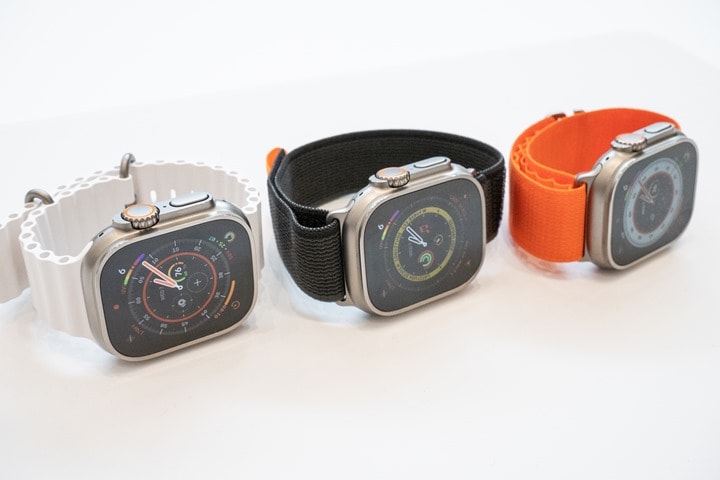 In trying on these watches pretty extensively for the better part of 2 hours, my hands-down favorite is the Trail Loop. The Ocean Band is good too. I'm not a fan of the Alpine Loop though. More specifically, I'm not a fan of taking it on and off. I think it looks brilliant by itself, or once on my wrist, but it's a solid PITA to take on/off. Perhaps that gets better over a longer duration of usage.
Apple Watch Ultra is priced at $799 (just one model, but different bands), and available starting September 23rd (ordering today).
Wrap-Up: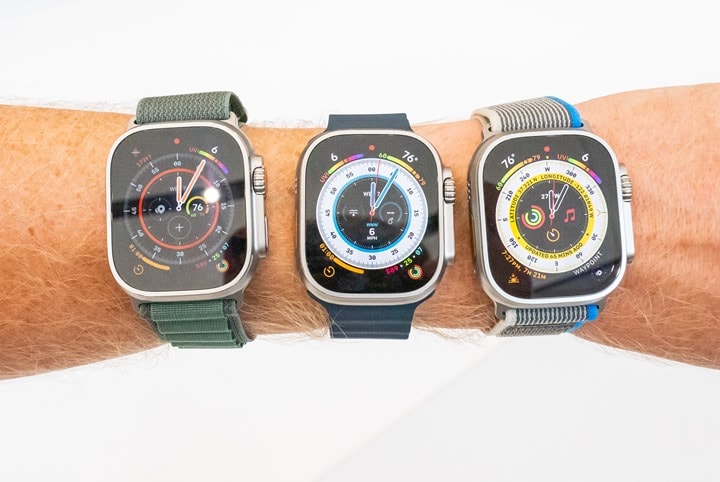 Apple Watch Ultra makes clear that Apple is getting into that outdoors/ultra/adventure realm. The hardware features they've added around ease of use in tough conditions, such as snow/rain/underwater, will set them on a course to clearly start making gains in this realm.
One has to keep in mind that the outdoors/ultra/adventure realm is massive, not just in market, but more specifically, in application. Meaning, there's countless use cases here, and Apple appears to be lightly dipping into many of them. Take for example the triathlon or ultra running scenarios. Here, they provide the foundations for those sports and the ability for you to use Apple Watch Ultra to complete those activities successfully. However, Apple stops short of the depth of sport analytics and deeper fitness software features that you'd find in endurance-sports focused watches.
The assumption of course being that the Apple App ecosystem can build some of that out, which is definitely true. Yet in other areas, Apple seems keen to do that themselves, even for ostensibly niche things like running power and running efficiency metrics. Obviously, this is just the start of Apple's interest in deeper outdoors-focused sport adventures, so they have to start somewhere on that massive list, and Apple Watch Ultra seems well poised to begin that journey.
Stay tuned for a full in-depth review down the road!