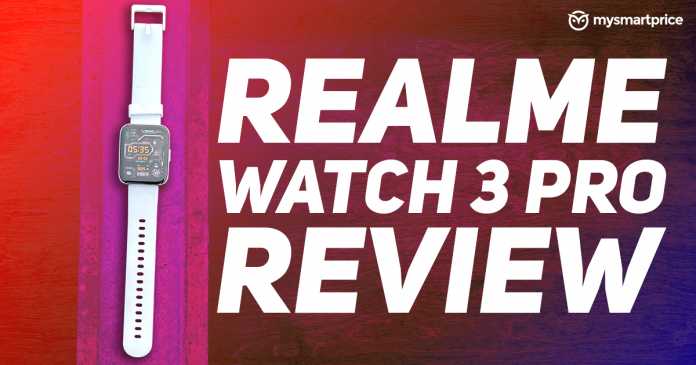 The Realme Watch 3 Pro has made its debut in India – a Pro version of the Realme Watch 3 that we reviewed a couple of days ago. The Realme Watch 3 Pro is identical to the Watch 3 in terms of features, but the major differences come in hardware. The Pro moniker packs a higher resolution AMOLED display, an in-built GPS, and an increased battery unit. Other features of the smartwatch include Bluetooth v5.3 support, an always-on display, 110+ sports modes, an IP68 water resistance rating, Bluetooth calling, heart rate, and SpO2 measurements. At Rs 4,999, is the Realme Watch 3 Pro a better value-for-money smartwatch than the vanilla Watch 3? Read our review to know more.
Realme Watch 3 Pro Review: Design and fit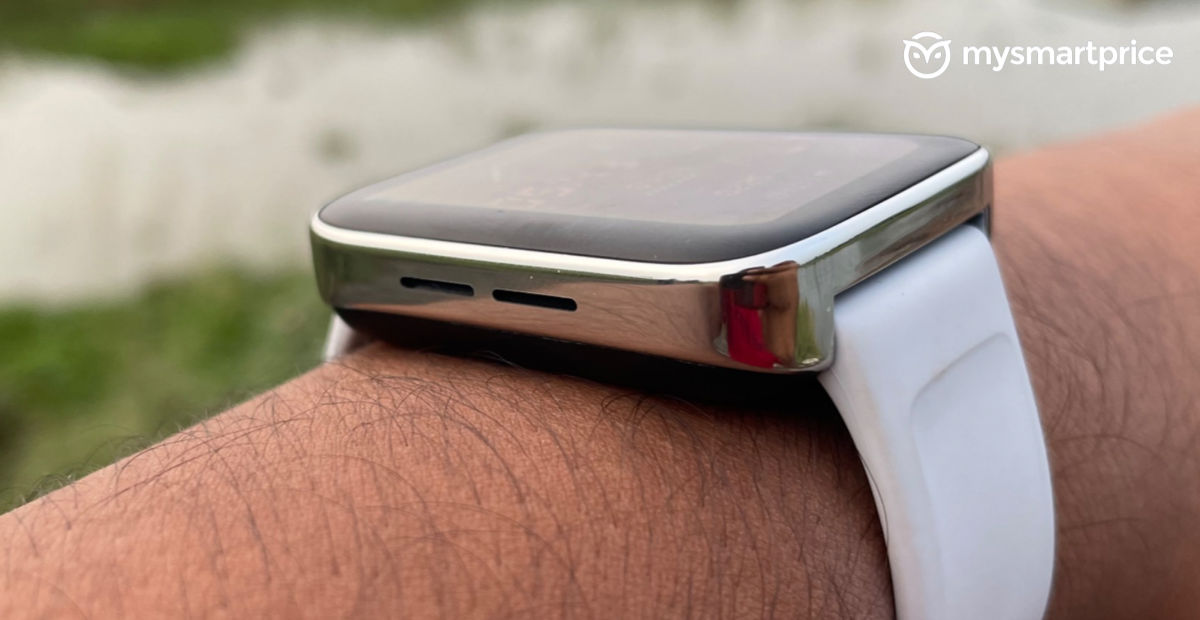 At first glimpse, the Realme Watch 3 Pro looks stylish and premium. It has a rectangle-shaped display with reflective sides around it. The reflective frames are made of plastic and consist of two speaker grilles on the left. There is a physical button and a microphone on the right side. The physical button can navigate the UI, return to the homepage, or call the app drawer. The entire back of the watch is made of plastic and packs a couple of sensors, including the heart rate monitor and the SpO2 sensor. The back also has two magnetic pins to charge the device.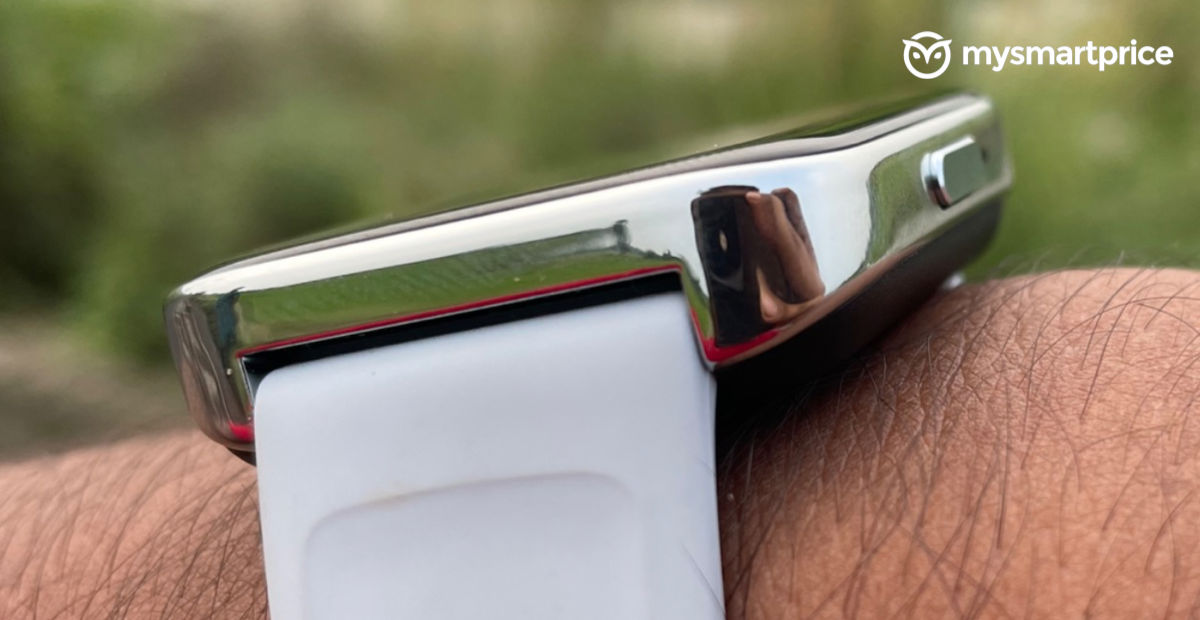 The Realme Watch 3 Pro is attached with two silicone straps that seem to be of good quality. Despite wearing it continuously all day and night, we didn't face any irritation. Moreover, these straps can be replaced with any other 22mm straps.
The watch is available in two colours – black and grey. We received the latter and found it appealing to look at. But you can also check out the black variant if you are not a fan of shiny devices.
The watch is IP68 water resistant, meaning that you can submerge it up to a maximum depth of 1.5m underwater for up to thirty minutes. We took out the watch during rain and showers, and it didn't show any unusual activity. However, due to the absence of a swimming workout mode, we suggest you not take it anyway near a swimming pool.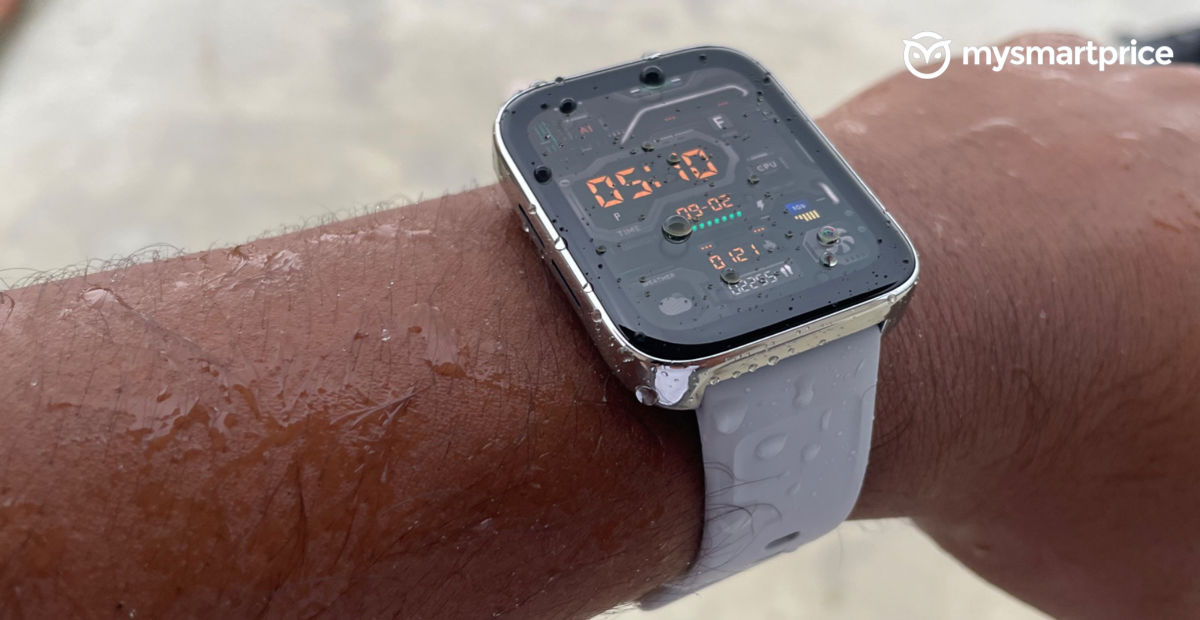 With a weight of 40 grams, it is light and comfortable to wear for a long duration. We have been wearing this watch for four days now and didn't face any issues.
Realme Watch 3 Pro Review: Display and watch Faces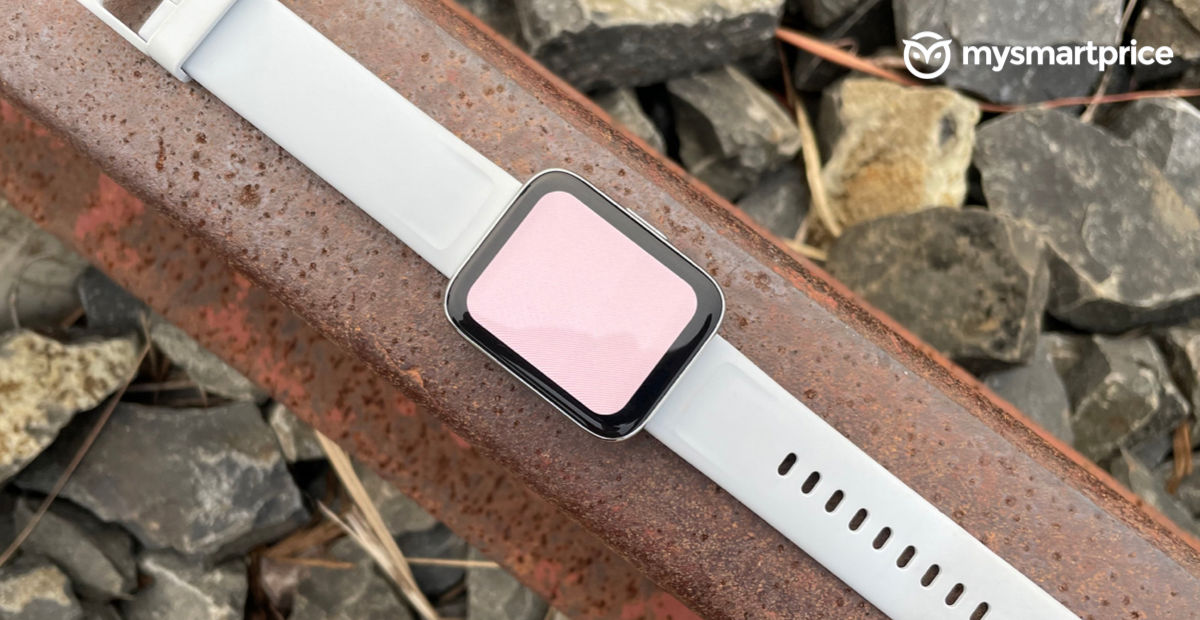 To summarise this in layman's terms, the Realme Watch 3 Pro has a fantastic display. Why? The Realme Watch 3 Pro screen has most of the features you need at this price – an AMOLED display with a high refresh rate and high resolution, always-on display support, and high brightness. It is one of the best displays we have used for under Rs 5,000 till now.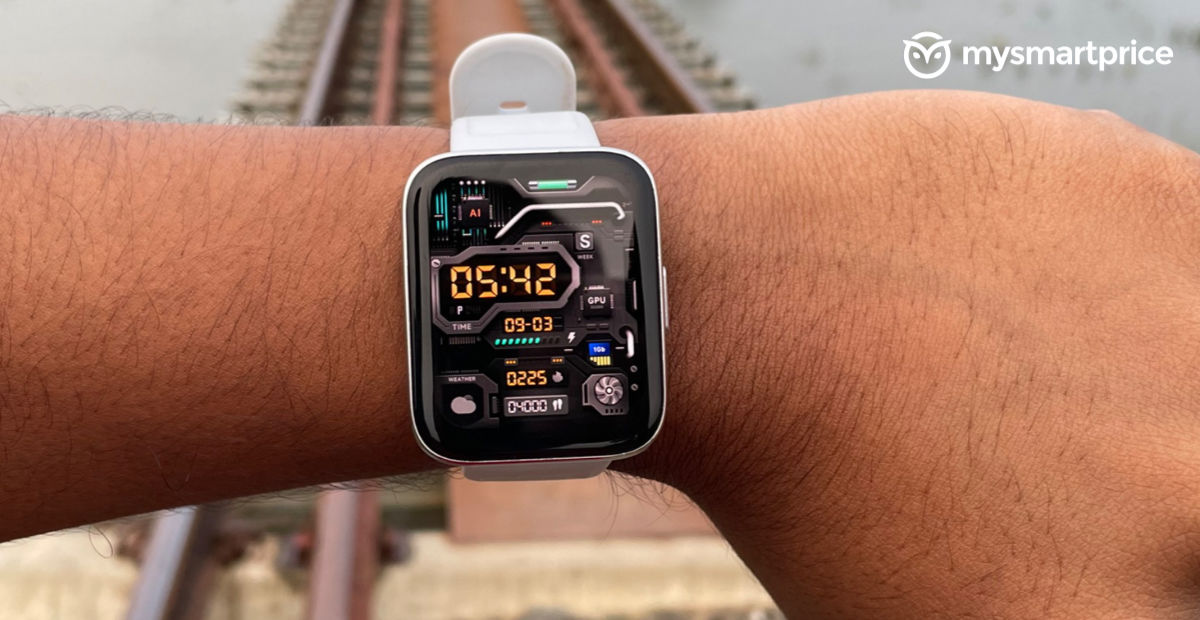 The Realme Watch 3 Pro boasts a large 1.78-inch display with thick bezels around it. It's an AMOLED display, so you get to see vibrant colours and deep blacks. With 500 nits of peak brightness, the contents on display are clearly visible under direct sunlight. However, while the brightness level is high, it misses out on auto brightness due to the lack of an ambient sensor. Further, the rise to wake feature works swiftly.
Realme has kept the refresh rate of the Watch 3 Pro display between 50Hz to 60Hz. We didn't face any stuttering, and the scrolling experience was buttery smooth. The icons and texts are sharp and vivid thanks to a higher resolution display of 368 x 448 pixels and 325 PPI. The touch screen is responsive as well.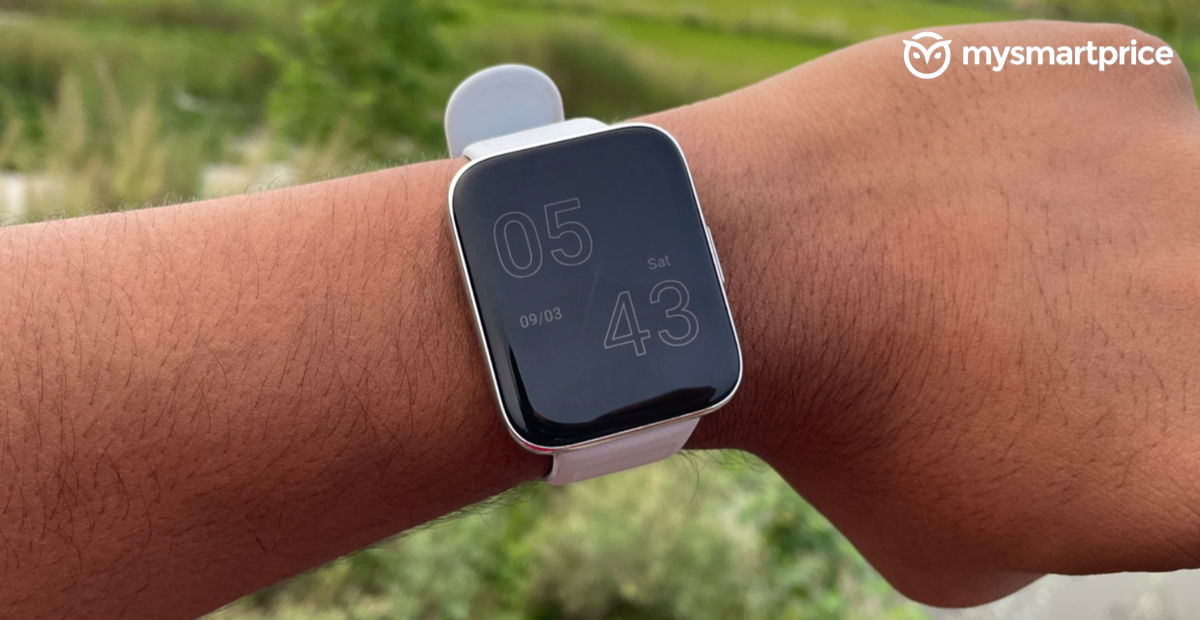 The Realme Watch 3 Pro gets the support for an always-on display which we feel is a great addition only when you are indoors. However, if you observe, the brightness of the always-on display watch face is low, so when you step out, you will find it hard to look at. The watch style is currently limited to just two faces, but we hope to see more styles via OTA updates. The AoD can be enabled via scheduling or smart mode. The smart mode turns off AoD when you are sleeping or after you have turned off your smartwatch. Even though the feature has space for improvement, there is no denying that Realme deserves full marks for the attempt.
The addition of dynamic watch faces on the Realme Watch 3 Pro adds the cherry to the top of the cake. Dynamic watch faces are animated wallpapers on the watch that seems to be moving. Besides these, you can also choose a bunch of watch faces or set up a custom photo via the Realme Link app.
Realme Watch 3 Pro Review: Battery life and charging
The Realme Watch 3 Pro is claimed to last 10 days with its 345mAh battery unit. To test the claims, we used the watch with 40-60% of brightness, always-on display enabled and phone connected for most of the time. Our usage included trying out workout modes for an hour, all health-based measurements set to automatic and notifications on. We tried the Bluetooth calling feature sometimes during this period but not consistently.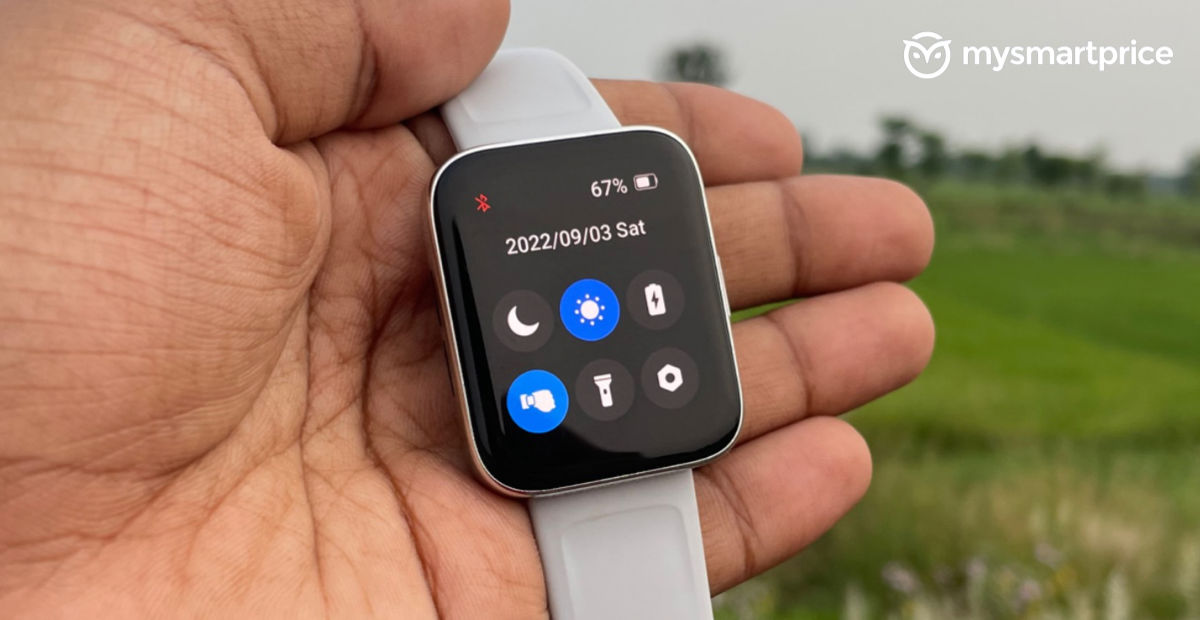 All of these gave us a battery life of six days which we think is less. But, you can try switching off some features to get a day or two of extended battery life. For example, if you keep the Bluetooth calling feature on every time, the watch battery will likely drain in 3 to 4 days.
The watch takes 2 hours and 30 minutes to fully charge, which is a very long duration. Charging takes place with a pogo-style connector, but Realme has provided a charging base, so you don't need to worry about the pins moving from their place in the charger.
Realme Watch 3 Pro Review: Bluetooth calling
The Realme Watch 3 Pro, like the Watch 3, gets the Bluetooth Calling feature. The Watch 3 Pro packs a dual-mode Bluetooth chip which is said to manage Bluetooth connection, audio transmission and display while the user is on the call. This lowers the power consumption of the watch.
To use the Bluetooth calling on the Realme Watch 3 Pro, press the physical button and choose Phone in the app drawer. First, make sure that your phone is connected. It will show you three options; call history, frequently used contacts and dial-pad. Call history shows four of your recent dials, whereas the dial pad allows you to call any number from the watch. You can add up to 10 of your favourite contacts from the Realme Link app in the frequently used contacts. We tried all of these features, and they were working well.
However, our calling experience on the watch was a bit disappointing. The receiver had no issues while listening to our words, but the speaker was terrible – the sound was low and unclear, which made it hard to understand even a word clearly. Therefore, we recommend you look for other options if you use Bluetooth calling frequently.
Realme Watch 3 Pro Review: UI and App Support
The Realme Watch 3 Pro has a decent-looking UI. It feels smooth while scrolling and is well-organised. The fonts and texts have a good amount of separation. In addition, it offers a bunch of features.
Swiping down shows you a few shortcuts, such as brightness, raise to wake, flashlight, and more. Swiping up brings the notification panel, although it only displays the notifications and doesn't allow you to reply to them, which is a bummer at this price point. The notification panel has icons of various social media apps and comes with limited emojis support.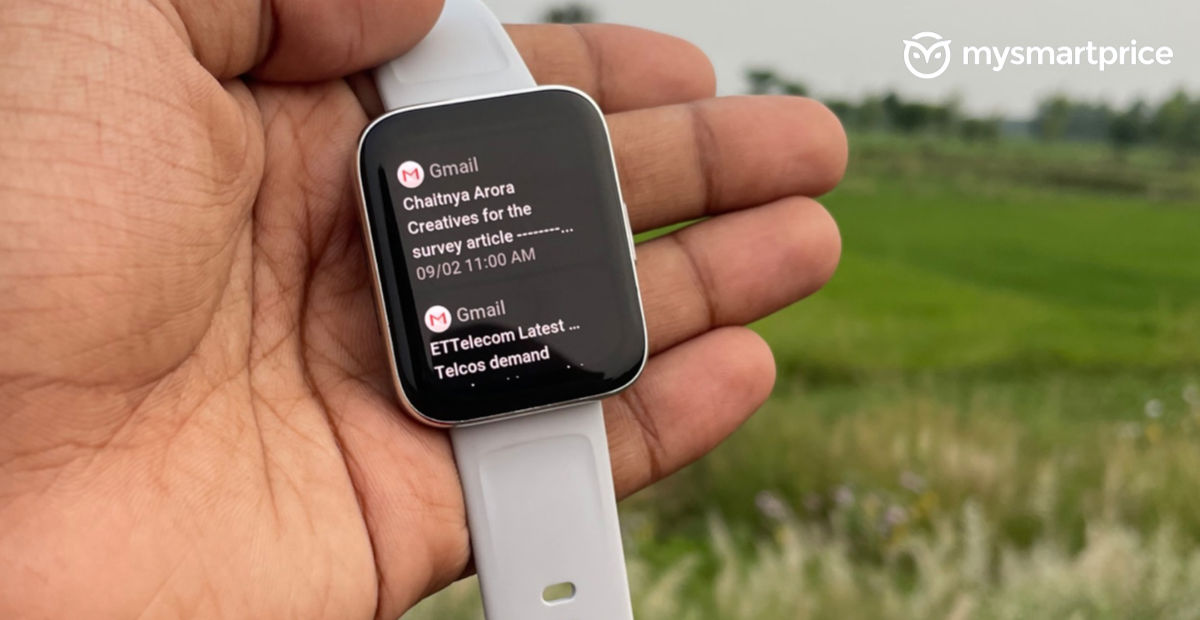 Swiping either left or right brings app shortcuts such as steps tracker, sleep, heart tracker, weather, and music player.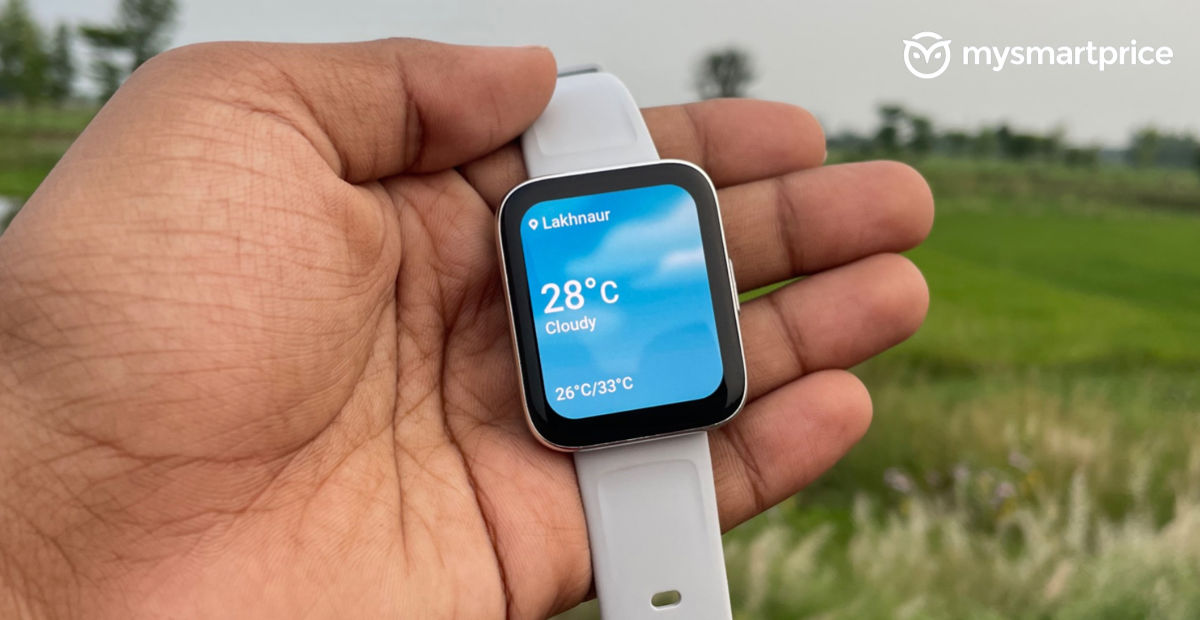 Pressing the physical button calls out the main app drawer and shows activity data, phone, workout, heart rate, SpO2, stress, sleep, workout records, breathing, alarm, weather, event reminder, women's health, tools, and settings. The tool option consists of a stopwatch, timer, music control, camera control, find my phone, and flashlight. We tried all these features, and they worked well.
The Realme Watch 3 Pro gets the latest Bluetooth v5.3 and connects to the phone via the Realme Link app that is available on Google Play Store and Apple App Store. The Realme Link, apart from a health tracker, is a multipurpose app from the company. Therefore, we will be talking about watch-related features only. Till now, we have received one update on the Watch 3 Pro.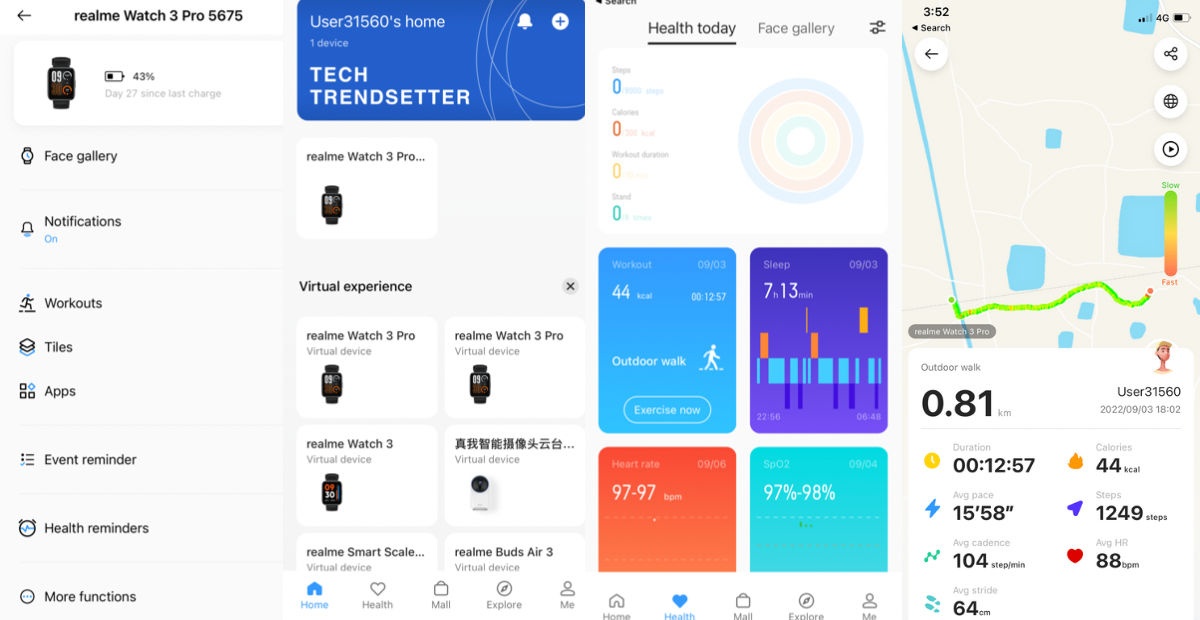 Connecting the watch is a straightforward affair through the Realme Link. Once connected, all the data will be synced. In the Health section, you can know about your health tracking details such as steps counter, sleep tracker and exercise modes. Tapping the watch name will show you various options such as face gallery, notifications, tiles and apps. You can add events from here as well. Female users can also add their menstrual cycle dates from the app only. In the Health reminder section, you can turn on automatic health tracking and water and stand-up reminders. We wish the app was cleaner and better organised, and it would have made more sense if they paired it up with the Realme Fit app instead, which is a hub of fitness wearables.
The Watch 3 Pro, despite being a premium offering from Realme and having a mic, skips on voice assistants of any kind.
Realme Watch 3 Pro Review: Health-based features and workout modes
Realme has fitted the Watch 3 Pro with a slew of health-based features. These include your heart rate tracking, SpO2 tracking, sleep tracking, stress tracking, breath training and female menstrual cycle tracking.
The heart rate and SpO2 trackers take a long duration to record measurements. So we compared the results to an oximeter and found the results to be close each time – there was a difference of 2-3bpm in heart rate and 1% in blood oxygen level.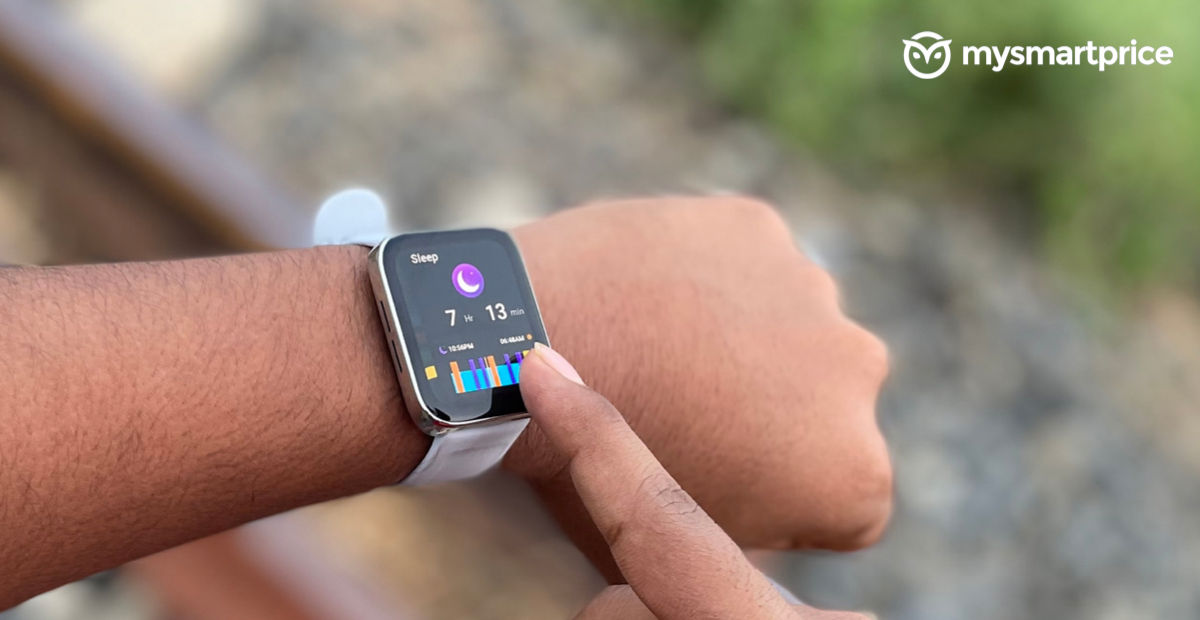 Sleep tracking is accurate on the Realme Watch 3 Pro and shows how good your sleep was. The stress tracking also seems to be working well as it shows us normal levels each time. We found the 'Breathe' training feature to work well.
The Realme Watch 3 Pro is packed with over 110 sports modes, out of which only 16 can be added to the watch at a time. The workout modes can be replaced accordingly in the app. Some of them include running, walking, cycling, yoga, cricket, hiking, wrestling, softball, etc. Despite having so many workout modes, the watch misses out on swimming mode, which is pretty common even in budget smartwatches.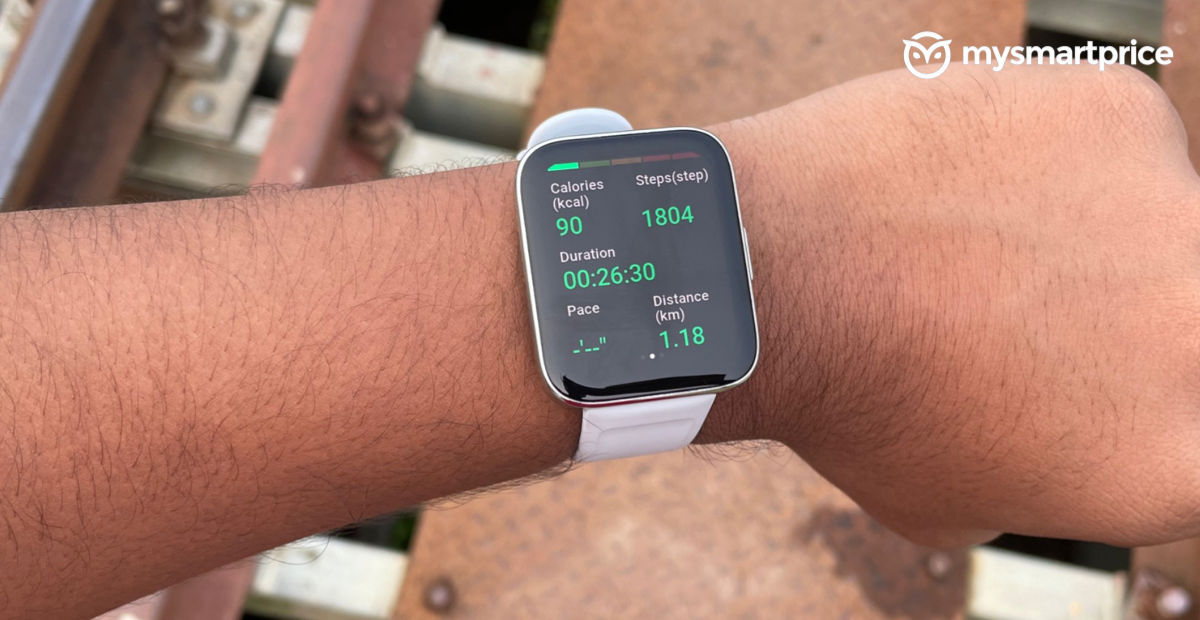 The Realme Watch 3 Pro packs a GPS inside, which was missing in the Watch 3. It takes 5 to 10 seconds to locate. We tried outdoor walk modes twice to test its workout feature. The GPS was pretty impressive and tracked our movement accurately. Once finished, the watch shows your movement on the map, a detailed report on your health that includes heart rate, pace, step frequency, etc., in the Realme Link app. However, we observed that the step counter counted 8-10 extra steps every 100 steps when we matched them with our numbers.
Realme Watch 3 Pro Review: Verdict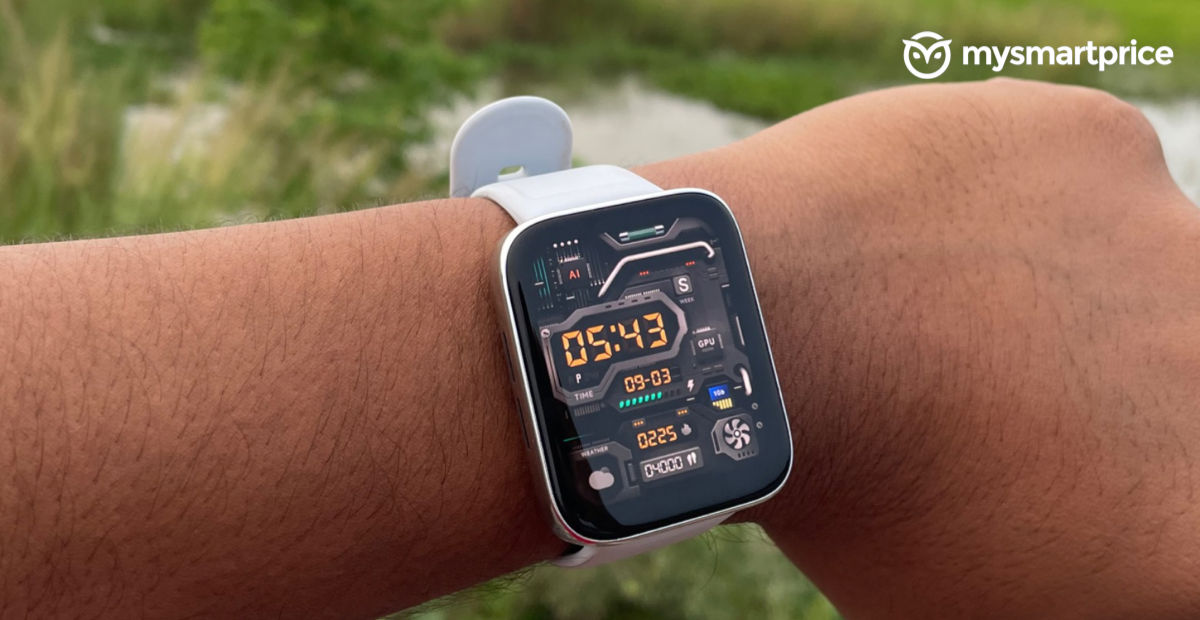 The Realme Watch 3 Pro is a stylish and feature-rich smartwatch that packs a ton of value. It has one of the finest displays at this price segment with an always-on display. The workout modes are reliable, have built-in GPS support, and show a detailed view of your activities. Even though the Watch 3 Pro provides a smooth scrolling experience, we feel that Realme could make the UI more attractive.
It would have been better if Realme had opted for the Realme Fit app instead of the Link app, as it is clutter free and is dedicated to wearables. We also loved the addition of dynamic watch faces on the Watch 3 Pro and hope to see this further across the budget segment. The battery life can be stretched to eight days, so that's decent battery life. However, you will have to deal with that long charging duration.
Bluetooth calling is another mixed experience, where the mic performs well, but the speaker doesn't. That said, the Realme Watch 3 Pro is clearly an effective upgrade over the previous gen Watch 2 Pro.
In terms of alternatives, if you want an excellent Bluetooth-calling smartwatch at this price segment, you can check out the Noise Colorfit Pro 4 or Pro 4 Max (review). Otherwise, the Realme Watch 3 Pro emerges as a clear winner in all other regards.
Realme Watch 3 Pro
Rs 4,999
What Is Good?
Stylish looks
Fantastic screen
Always-on display
Reliable health tracking
Accurate GPS
What Is Bad?
Poor quality speakers
Realme Link companion app needs improvements
Slow charging
Plastic frame
Thanks for reading till the end of this article. For more such informative and exclusive tech content, like our Facebook page