Business Central's automation features are one of its key selling factors. You and your team can easily use its in-built approval process workflow capabilities to automate complex and time-consuming business processes in addition to its ability to seamlessly link to Microsoft Power BI. Also, in this article, we'll look at how Business Central's approval process can benefit your company.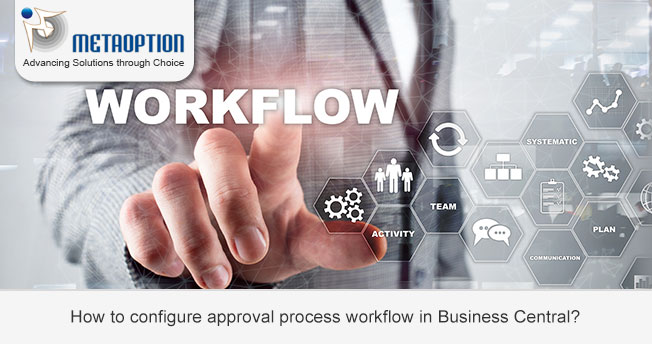 How Does an Approval Process Workflow Work?
Within Business Central, we can automate the approval processes by using an approval workflow. Starting from approval users, we can choose who needs to approve a document to continue the established procedure. We can also send overdue requests and create notifications to notify moderators that an action is required.
Benefits of implementing Business Central's approval process workflow
There are many benefits to utilizing business process automation in Business Central, such as approval process workflows, in Business Central. Here are some of these benefits:
Greater productivity
Better client service
Improved compliance
Reduced costs
How to set up a Business Central approval process workflow
There are multiple steps involved in setting up a new approval process workflow in Business Central.
Configure the workflow users
Before creating a workflow, you must configure the users who will be a part of it. Whereas, you can set up the user and specify the user's number in a process sequence on the Workflow User Group page.
Setup the workflow approval users
At this point, you must configure the workflow users who will participate in the approval procedure. You can designate a backup approver to whom approval requests are forwarded in the absence of the primary approver on the Approval User Setup page, as well as quantity limits for particular types of requests.
Configure workflow notifications
After creating the approval users, you must specify how and when they will get to know you. On the Notification Set up page, this is possible.
Create the workflow
After setting up each user and configuring the notification preferences, you are prepared to build the workflow itself. On the Workflow page, workflows are constructed by outlining the necessary steps involved in the workflow. Also, workflows can be created by copying the steps from existing workflows that are using the workflow templates that are present in the generic version of Business Central. For a step-by-step demo on creating a new workflow, click here.
If you want to know more about Microsoft Dynamics 365 Business Central and how MetaOption can help you with your approval process workflows and beyond, please contact us today.