Many cars or trucks are starting to add wireless charging options today. Some are offering Magsafe-style wireless charging but there is still many cars and trucks which don't have this type of wireless charging capabilities. ESR Gear has a solution for iPhone 12/13 users, and it's called HaloLock Wireless Car Charger with CryoBoost. The company sent us a unit to test and here are the results.
What is HaloLock Wireless Car Charger with CryoBoost?
The HaloLock Wireless Car Charger with CryoBoost is a magsafe car charger for iPhone 12 and 13 smartphones as well as Apple AirPods. This portable wireless car charger comes with CryoBoost fast charging, a fast magnetic wireless charging technology. It also has the HaloLock universal ring, a powerful magnet ring which secures your iPhone or AirPods case on the car charger.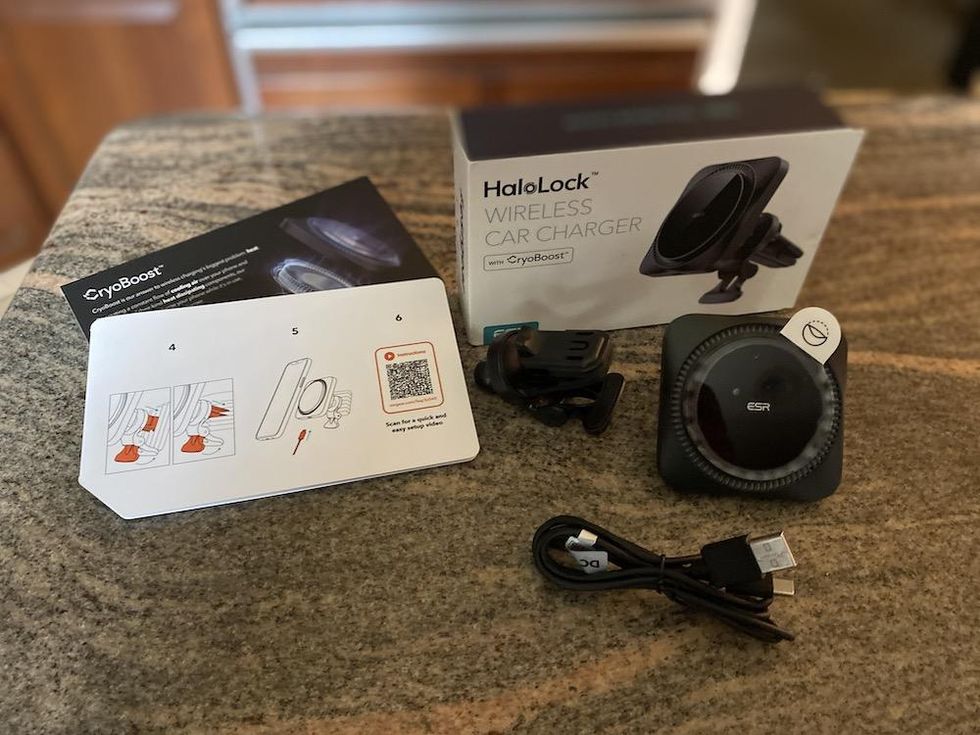 HaloLock Wireless Car Charger with CryoBoost unboxedGearBrain
How does CryoBoost fast charging work?
CryoBoost is ESR's wireless charging technology that combines a phone cooling fan and heat dissipating tech to keep your iPhone from overheating while fast charging on the ring in your car or truck.
How fast can HaloLock Car Charger charge your iPhone?
According to the company, it can charge your iPhone 13 in 70 minutes. This is quite fast especially when compared to other magsafe chargers. You do need a 18W of power and a power adapter for fast charging since it doesn't come with your HaloLock Car Charger. The HaloLock comes with an air vent mount, 3.3 feet (1 meter) USB-A to USB-C cable and a manual.
How to use HaloLock Wireless Car Charger
The HaloLock Wireless Car Charger with CryoBoost is designed for you to mount on the vent of your dashboard so you can use your smart phone for navigation. The mount allows you to position your smartphone in either portrait or landscape modes. The car charger has a notable rotatable ball joint which makes it easy for you to find any desirable angle.
The car charger is compatible with iPhone 12 and 13 smartphones, official magsafe cases, ESR HaloLock smartphone cases and ESR HaloLock Universal Ring. It's not compatible with any other smartphone cases, metal attachment phone cases, smart phone cases with credit card pouches and any metal plate case or trackers. Also make sure you have the right vents on your car dashboard to attach the Halo lock car charger prior to purchase.
How much does Halo lock wireless card charger cost?
The HaloLock Wireless Car Charger with CryoBoost costs $45.99 and is available on Amazon and the company's website. The company sells bundles with the HaloLock Car Charger that include compatible smartphone cases for additional $27.00.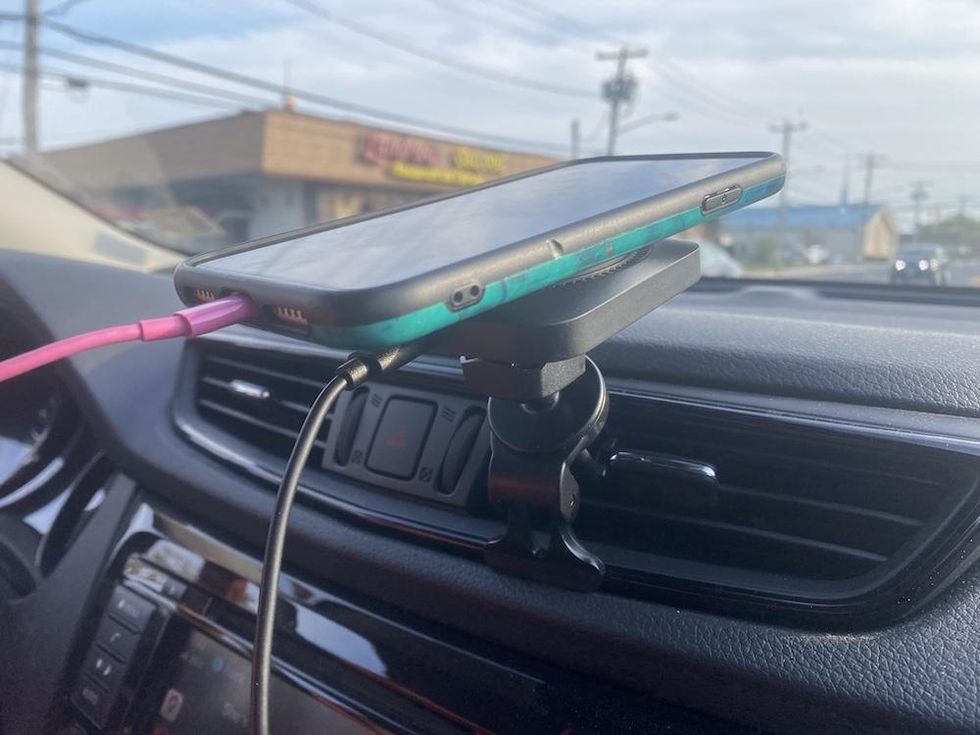 HaloLock Wirerless Car Charger fit nicely on our car's dashboard.GearBrain
How well did the HaloLock Wireless Car Charger perform?
The HaloLock Car Charger was very easy to set up. We were able to install it on the dashboard of a Nissan Rogue since the vents were compatible and the USB port was within range of our charging cord. The HaloLock magnetic ring was very strong and able to hold our compatible iPhone on it, but it was not strong enough to hold or iPhone 11's. We know the HaloLock is designed for iPhone 12 and 13 but we wanted to see if other iPhones could work with this wireless car charger.
What we have found is unless we had a magsafe case, our smartphones were not able to stay on the charger. We were able to find angles for our phones to stay on the charger even though the cases were not compatible. We positioned the HaloLock as a magsafe wireless charging pad by putting it in a cup holder. Making it a flat surface to charge your iPhones was very easy for us but you end up losing a cup holder. However, it was not optimal, and you really need to have a 12 or 13 with compatible cases for the car charger to work properly.
Summary
The HaloLock Wireless Car Charger with CryoBoost is a very good wireless magsafe charger for your car or truck if you have an iPhone 12 or 13 with magsafe or a compatible HaloLock smartphone case. If you have an Android smartphone or an older iPhone, you will need a magsafe compatible case to use this charger. The car charger is easy to set up. Just make sure you have a power source with USB-C port within three feet of your HaloLock location. Also check your vents before purchasing. If your vents look like a checkerboard or star and they are not vertical or horizontal, the car charger will not mount securely on your dashboard.
We like the design, ease of use and how strong the battery is on the HaloLock. We just wished it worked with older iPhone and Android smartphones and not just iPhone 12 and 13.
Pros
Ease of use
Magsafe wireless fast charging
Powerful magnet to hold phone in place
Cons
Works only with iPhone 12 or 13 smartphones
No Android solution
Don't forget to use The GearBrain, our compatibility find engine for smart devices. It can also help you find car chargers, power chargers and any other smart device.

How to Find Products in The GearBrain, Our Compatibility Find Engine for Smart Devices

www.youtube.com

From Your Site Articles
Related Articles Around the Web