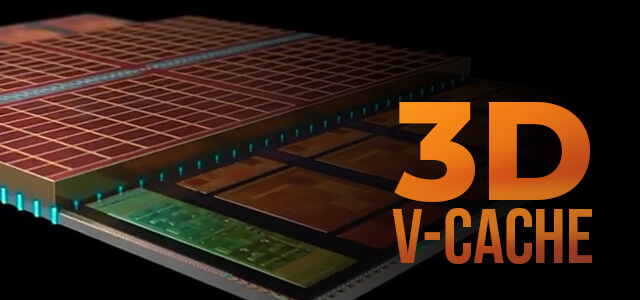 With the release of Intel Alder Lake processors including the i9-12900KS and AMD Ryzen 5800X3D with 3D V-Cache, now is a great time to be a PC gamer or content creator in search of an upgrade. But since one of the key selling points on the 5800X3D is that new cache technology, it's important to understand exactly what AMD 3D V-Cache is and how it impacts system performance.
What is Processor Cache
Processor cache is a bank of super-fast storage on the CPU. It essentially acts as a bridge between the system RAM (aka DRAM) and the processor, acting as system RAM when capacity allows and reducing the time it takes to access that system RAM when it doesn't. We won't go into the complex science of specifically how this works, but it's important to know that CPU cache does effectively speed up recuring or common calculations and overall system performance by significantly reducing memory latency. It's often ignored as a CPU spec in favor of core count and frequency, but it's a very important factor when determining overall CPU speed.
Processor cache comes in three levels ­­— 1, 2, and 3 (aka L1, L2, L3) — with L1 being the fastest but smallest capacity and L3 the slowest but largest capacity.
What is AMD 3D V-Cache
3D V-Cache may be the biggest innovation to CPU cache in a decade. By stacking the cache vertically and reducing the width of the CPU die, AMD has been able to pack around 3X the total L3 cache on their new CPUs. For example, the Ryzen 7 5800X3D has a stunning 96MB of L3 vs the 32MB of AMD's own Ryzen 5800X and 25MB on the Intel Core i7-12700k.
And AMD has not relegated this new technology to their consumer chips only. Server and datacenter solutions like select 3rd Gen Epyc models such as the Epyc 7773X and 7573X use 3D V-Cache as well, totaling a whopping 768MB of L3.
How Does it Impact Performance?
Generally speaking, more cache means better performance, especially with applications that consistently and repeatedly fetch data from the CPU. This is especially true with gaming. Because games are essentially a collection of random (for the PC) calculations and recalibrations, they're constantly hitting the CPU to run those processes. Being able to get a much faster response from the cache vs waiting on system RAM can significantly improve performance. This is why AMD is billing their Ryzen 7 5800X3D as the "world's fastest gaming desktop processor." See a few of the benchmarks below which reinforce that claim. Based on these numbers, the 5800X3D should get serious consideration for gamers in the market for a new PC.
Interested in a gaming PC powered by 3D V-Cache? Check out the Ryzen 7 5800X3D on our Raptor Z55.
The following two tabs change content below.
Josh has been with Velocity Micro since 2007 in various Marketing, PR, and Sales related roles. As the Director of Sales & Marketing, he is responsible for all Direct and Retail sales as well as Marketing activities. He enjoys Seinfeld reruns, the Atlanta Braves, and Beatles songs written by John, Paul, or George. Sorry, Ringo.