The best Mac laptop for most people is the 13-inch MacBook Air with Apple's M1 processor. It's not the newest MacBook Air, but it's less expensive than the latest model and more than fast enough for the things most people use a computer for—web browsing, working on documents, coding, and light photo and video editing. And for a better screen, an extra charging port, a nicer webcam, and a slightly faster processor, we recommend the new MacBook Air with the M2 processor as our upgrade pick.
Our pick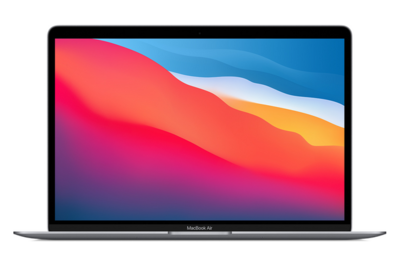 The M1 MacBook Air has a comfortable keyboard, good performance, and a reasonable amount of storage—things that haven't always been true of previous MacBook Airs.
Recommended configuration
| | | | |
| --- | --- | --- | --- |
| Processor: | Eight-core Apple M1 CPU | Storage: | 256 GB SSD |
| Graphics: | Seven-core Apple M1 GPU | Screen: | 2560×1600 IPS |
| Memory: | 8 GB | Tested battery life: | 14.4 hours |
We recommend the basic $1,000 version of the MacBook Air, which has enough speed, memory, and storage for most day-to-day computer tasks. Apple's new M1 processor is much faster than the low-power Intel processors in previous MacBook Airs, and its battery life is so good that you should almost never need to charge it during the day if you don't want to. And unlike previous MacBook Air models, the M1 version doesn't require a cooling fan, which keeps it dead silent even when you're maxing out the processor by exporting a video or playing a game. Like its predecessor, the M1 version of the Air includes a much-improved keyboard with a deeper, more satisfying feel and improved reliability compared with MacBook Air and MacBook Pro models released between 2016 and 2019.
The Air includes only two USB-C ports (which support Thunderbolt 3) plus a headphone jack—but Thunderbolt docks and USB-C hubs and adapters are common enough and inexpensive enough that this isn't as big of a problem as it used to be. The Air also omits the MacBook Pro's (situationally useful but largely unnecessary) Touch Bar in favor of a row of physical function keys and a standalone Touch ID fingerprint sensor.
Upgrade pick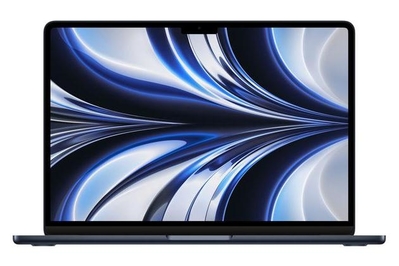 The 2022 M2 MacBook Air has an updated design, a brighter screen, and a better webcam, and restores the fan-favorite MagSafe port.
Recommended configuration
| | | | |
| --- | --- | --- | --- |
| Processor: | Eight-core Apple M2 CPU | Storage: | 256 GB SSD |
| Graphics: | Eight-core Apple M2 GPU | Screen: | 2560×1664 IPS |
| Memory: | 8 GB | Tested battery life: | 15.5 hours |
If you have $200 more to spend on a laptop, the M2 MacBook Air has a few great updates over the slightly older M1 model that we think make the device feel better to use. The 2022 M2 MacBook Air has a brighter display that lets you see the screen more clearly outside on a sunny day, and a higher-resolution webcam that makes you look a little bit more clear on video calls. Apple also added a MagSafe port, which allows a magnetic charging cable to securely stick to the MacBook Air and harmlessly detach if a passerby's foot catches it in a coffee shop.
However, this laptop isn't ideal for people who edit photos, videos, or otherwise process large media files. Our tests found the laptop would get hot to the touch even after a minute of exporting video or batch editing photos, to levels that would make the laptop uncomfortable to use. But for everyday work tasks, browsing the web, watching movies, and even playing App Store games, the M2 MacBook Air offers a bunch of great upgrades over the previous generation.