A phase in the lifecycle of your organization where your business is outgrowing QuickBooks and wants a more robust and advanced accounting system that is specifically made for the government contracting industry will probably come for growth-oriented government contractors. The four areas listed below are those where an accounting system modification may be necessary. While there are no set rules for when to switch from QuickBooks, a combination of the following factors may be able to lead you in the right direction.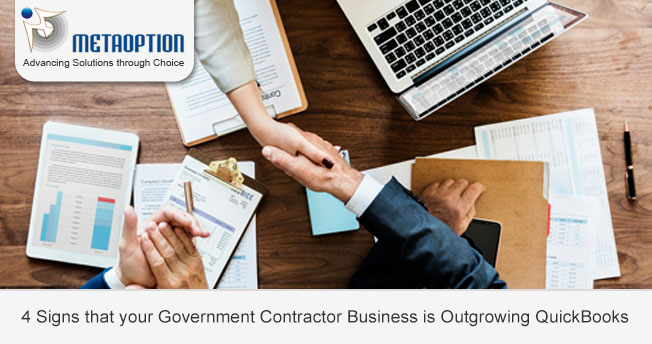 Signs that your business is Outgrowing QuickBooks
Manual procedures
Are you manually entering data into QuickBooks after collecting it from other systems? or exporting data from QuickBooks to Excel or another program for analysis? Some of this is acceptable, as your business expands and you have more contracts and spreadsheets, you'll start to make mistakes.
Different systems
Are you managing the business with many systems? Ideally, accounting, inventories, and assets, all come under a single ERP system. Specialty software frequently handles CRM and HR, but if you're not handling all financials in one location, you're probably wasting time and maybe making mistakes and problems.
Few user licenses
Every employee will likely receive a license from a standard ERP solution. Following that, the business determines the level of access that entails, granting project managers, HR, and management access to reporting, planning, and budgeting systems – allowing for collaboration and overall synch.
Compliance
It starts to get challenging to manage the special requirements for government contracts in QuickBooks. You must stay on top of requirements while comparing to the program is constructing and adapting for it. Because the majority of the work is done manually offline.
When you have outgrown QuickBooks, there is MetaPro.
It may feel out of reach to upgrade to a new system because of the price and resource requirements. But can you afford to wait? Think about the price of noncompliance, lost time, and low morale. With MetaPro you can stop wasting time on maintaining compliance and return to working on actually important tasks. MetaPro is a leading solution for Professional services that can help to secure your business by bringing automation to your project & services, controlling & manage your budget, and enabling transparency in time & expense management with Microsoft Dynamics 365 Business Central while taking care of government compliances. It is simple to adapt and use, assist you in business collaborations, and lets you make smart decisions.
For more details and a tailored demonstration of MetaPro contact us today at MetaOption.